September 28, 2015
Putin Ushers In A New Era of Global Geopolitics
Download the full report.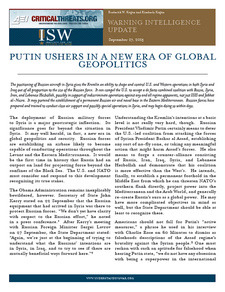 Russian President Vladimir Putin gives an interview in Moscow region, Russia, September 20, 2015. (Reuters)
The positioning of Russian aircraft in Syria gives the Kremlin an ability to shape and control U.S. and Western operations in both Syria and Iraq out of all proportion to the size of the Russian force.  It can compel the U.S. to accept a de facto combined coalition with Russia, Syria, Iran, and Lebanese Hezbollah, possibly in support of indiscriminate operations against any and all regime opponents, not just ISIS and Jabhat al-Nusra.  It may portend the establishment of a permanent Russian air and naval base in the Eastern Mediterranean.  Russian forces have prepared and trained to conduct close air support and possibly special operations in Syria, and may begin doing so within days.
Read the full intelligence update here.