November 15, 2015
Network Graph of ISIS's Claimed Attacks in Paris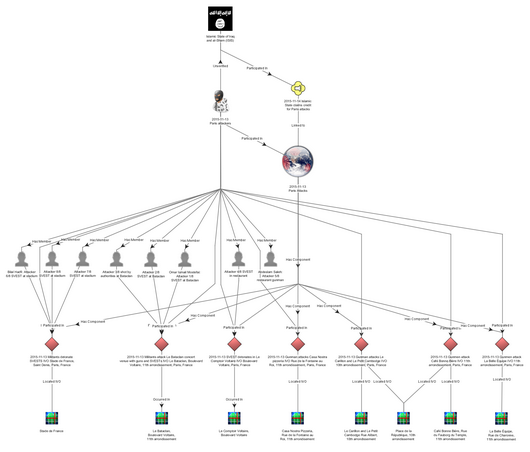 Click the image to explore the graph. Click on each icon for information on the specific attacks and attackers, the connections between and among them, weapons used, map grid references, and more.
ISIS's claimed attacks in Paris on November 13 mark the organization's most sophisticated assault in the West to date. This interactive graphic depicts the individuals, events and locations directly linked to the Paris attacks. Eight attackers in three coordinated teams attacked six locations in Paris including the Stade de France sports stadium and the Bataclan art center with AK-47s, grenades, and SVESTs. The assailants aimed to maximize civilian casualties, taking concert attendees hostage and attempting to launch a suicide attack in a soccer stadium. The total casualties inflicted by ISIS as of November 15 are 129 dead and 352 wounded, the second most deadly terrorist attack in the West since 9/11.
The eight attackers depicted in ISW and CTP's graphic likely enjoyed the support of a broader logistics and planning network active in multiple countries. Initial reports suggest that the attackers included French nationals living in France and Belgium as well as Syrian passport holders, one having entered Europe through a Syrian refugee camp on the Greek island of Leros. ISW and CTP will publish updates to this graph as the broader extent of ISIS's terrorist network in Europe becomes known.
The Paris attacks do not represent a shift in ISIS's strategy. Rather, they represent a major success in ISIS's announced plans to encourage, resource, and direct terror attacks in the West. ISIS seeks to punish Western and regional adversaries acting against it in Iraq and Syria. ISIS also aims polarize communities in the U.S. and Europe by inspiring fear and suspicion. Terrorist attacks may sharpen social cleavages in Europe and increase the strain upon refugees in a way that supports ISIS's aim. ISIS-linked operatives have attempted attacks in numerous European countries, including France, since January 2015. ISIS will likely continue using its foreign fighter networks to plot attacks in Europe and the wider world. 
ISIS will continue to export lethal capabilities from Iraq and Syria to foreign operatives plotting against the West. ISIS-linked individuals likely built the SVESTs deployed in Paris while in Europe, after receiving training in Iraq and Syria. This transfer of military knowledge undermines anti-ISIS strategies intended to contain ISIS within Iraq and Syria. The organization's global network is active, far-reaching, and expanding while ISIS sustains tactical losses within Iraq and Syria. 
This graph was produced with the Institute for the Study of War.