December 05, 2011
Map: Operation Linda Nchi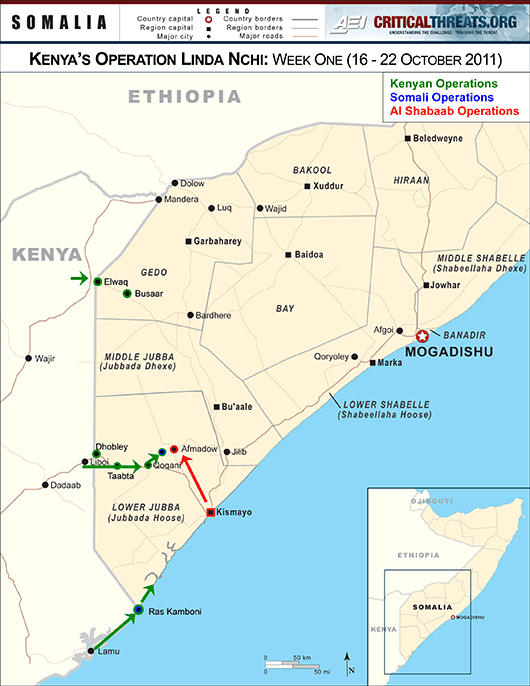 See a timeline of Operation Linda Nchi for further information. 
WEEK EIGHT (04-10 December 2011)
There has been an uptick in Kenyan airstrikes targeting al Shabaab positions, particularly in Bardhere in Gedo region. Residents reported that the strikes destroyed facilities used by the militants. Kenyan and allied troops have not advanced beyond established positions.
Al Shabaab is likely behind the repeated attacks in Dadaab refugee camp, which have targeted foreign aid workers and Kenyan police. Additionally, the fighting near Qoqani and Taabta in Lower Jubba region may indicate that al Shabaab has sufficient strength to regularly engage Kenyan and allied troops in skirmishes.
WEEK SEVEN (27 November-03 December 2011)
Kenyan and Somali forces did not secure additional territory in southern Somalia over the course of the past week. Their positions have remained susceptible to al Shabaab attacks; much of the fighting occurred behind Kenya's front line. Airstrikes targeted an al Shabaab base in al Adde village in Gedo region, which had previously been claimed to have been secured.
Al Shabaab militants continued to launch hit-and-run attacks on Kenyan and Somali positions, particularly in the area between Dhobley and Qoqani. The group banned the operations of 16 aid agencies in Somalia, which may be an attempt to limit the flow of information out of the region.
WEEK SIX (20-26 November 2011)
The Kenyan Air Force resumed airstrikes targeting al Shabaab positions in Gedo and Lower Jubba regions in southern Somalia. Kenyan military officials reported that the airstrikes primarily targeted known al Shabaab military bases and training camps. The airstrikes supported the movement of Kenyan and Somali ground troops against al Shabaab.
Al Shabaab has increasingly attacked Kenyan military targets inside of the Kenyan border. Militants are suspected of planting roadside bombs along transit routes and of conducting grenade attacks in Garissa, Kenya.
Ethiopian troops could open up a new frontline against al Shabaab in Somalia. Their participation in the offensive could also serve to rally Somali support for al Shabaab, given historical tensions between Somalis and Ethiopians.
WEEK FIVE (13-19 November 2011)
Kenyan and allied troops made minor territorial gains in southern Somalia and additional Kenyan troops were deployed toward the border. Heavy rains continue to affect ground movement. Explosions in Afgoi district allegedly targeted an al Shabaab meeting of top leaders; none have been confirmed dead.
Al Shabaab militants continued to attack Kenyan lines of communication (LOCs), particularly between Dhobley and Qoqani. Militants also struck Kenyan and allied forces' newly established positions in Somalia, but retreated ahead of troops' advances.
Kenyan diplomatic efforts have been geared toward gathering international support for the offensive. Further, Ethiopia has voiced its readiness to join in the offensive against al Shabaab and there have been increasing reports of Ethiopian troop incursions into Somalia.
WEEK FOUR (06-12 November 2011)
Kenyan troops' progress in southern Somalia continued to be slowed by heavy rains. Kenyan troops and allied Somali troops and militias have not secured additional towns in Somalia; however, they have been attempting to clear and secure territory gained in the initial push of the offensive.
Al Shabaab militants attacked Kenyan troops along the Somali border and have executed attacks inside of Kenya. Militants retreated in front of the Kenyan and Somali advance, but maintained a presence along the border to facilitate attacks on patrols and smaller units.
There is increasing concern that Kenyan military operations will negatively impact humanitarian aid operations in southern Somalia. Kenya has responded to this by claiming to assist the local Somali population in areas where Kenyan troops have a presence.
WEEK THREE (30 October - 05 November 2011)
Heavy rains continued to slow ground troops' progress in southern Somalia. Additional Kenyan ground troops were deployed to the Somali border to join in the offensive. The Kenyan Air Force conducted air raids on al Shabaab targets and the Kenyan Navy patrolled the coastline.
Al Shabaab militants attacked the Kenyan line of communication (LOC) that connects forward-operating troops to the supply route in Kenya. Further, al Shabaab used civilian deaths in Jilib to condemn the Kenyan offensive as an attack on the Somali people. There has been an increase in violent attacks in Kenya since the offensive in Somalia began, which Kenyan officials attributed to al Shabaab's activities.
Tensions between Eritrea and Kenya are high after Kenya accused the Eritrean government of flying supplies into Somalia to arm al Shabaab.
WEEK TWO (23-29 October 2011)
Heavy rains slowed troops' progress in Somalia against al Shabaab. Kenya and allied Somali forces have positioned forces along a southern, central, and northern route and have declared Kismayo the final destination. Al Shabaab's response has been to deploy fighters into Bula Haji and toward Afmadow to secure its positions.
The first military engagement occurred between al Shabaab militants and Kenyan troops along the road from Taabta to Qoqani on October 27. An estimated 45 al Shabaab militants ambushed the Kenyan soldiers. Kenya reported that nine al Shabaab militants and one Kenyan soldier were killed in the fighting; however, al Shabaab has reported that twenty Kenyan soldiers were killed.
WEEK ONE (16-22 October 2011)
Kenyan forces entered Somalia on three fronts: from Elwaq to the north, from Liboi in the center, and from Lamu in the south. Local allied militias groups, including the Ras Kamboni brigade, have coordinated with the Kenyan military in the offensive against al Shabaab. Somali National Army (SNA) troops are also cooperating with Kenyan troops in Lower Jubba region. Kenyan airstrikes targeted al Shabaab positions as troops progressed and particularly around al Shabaab's stronghold in Afmadow.
Al Shabaab confiscated trucks in Lower Shabelle region from residents to transport militants south toward Afmadow. Militants also departed Kismayo headed toward Afmadow, where al Shabaab has dug defensive trenches and constructed tunnels. Local residents report that al Shabaab commanders are conscripting young men from southern Somalia to fight the Kenyan troops.
Heavy rains have hindered movements in southern Somalia. There has not been a direct military engagement between al Shabaab and the Kenyan-Somali forces.