September 27, 2023
Iran Update, September 27, 2023
The Iran Update covers provides insights into Iranian and Iranian-sponsored activities abroad that undermine regional stability and threaten US forces and interests. It also covers events and trends that affect the stability and decision-making of the Iranian regime. The Critical Threats Project (CTP) at the American Enterprise Institute and the Institute for the Study of War (ISW) provides these updates weekly on Monday, Wednesday, and Friday. For more on developments and in Iran and the region, see our interactive map of Iran and the Middle East.
Key Takeaways
Iran deployed 50 reconnaissance officers to eastern Syria that could support Iranian efforts to prolong conflict between the SDF and Arab tribes and Operational security for Iranian and Iranian-backed forces, convoys, and positions.
Iran's Deputy Oil Minister Jalil Salari announced on September 25 that Iran, Syria, and Venezuela had signed a memorandum of understanding to build a new oil refinery in Syria, likely to aid the Iranian economy and further solidify Iran's economic influence over the Syrian regime.
Senior Iranian and Russian military officials reviewed Iranian advanced conventional weapons in Moscow and Tehran in August and September 2023, and may conclude a drone and missile sale agreement following the expiration of UN missile restrictions on October 18.
Iranian Activities in the Levant
Iran deployed 50 reconnaissance officers to eastern Syria as it pursues multiple operations to secure military assets, conduct counter terrorism operations, and expel the United States from Syria. The reconnaissance officers deployed to four major cities on September 26 in eastern Syria with unspecified orders, according to local opposition media.[i] The deployments could support the following ongoing Iranian lines of effort in eastern Syria.
Prolonging conflict between the SDF and Arab tribes. ISW has reported on how the Iranian-backed militias are contributing to the fracturing of the coalition between the Syrian Democratic Forces (SDF) and the Arab tribes in Deir ez Zor Province.[ii]
Conducting counter terrorism operations. Iran and pro-regime forces conduct regular counter terrorism operations to secure the central Syrian desert and major roads.[iii]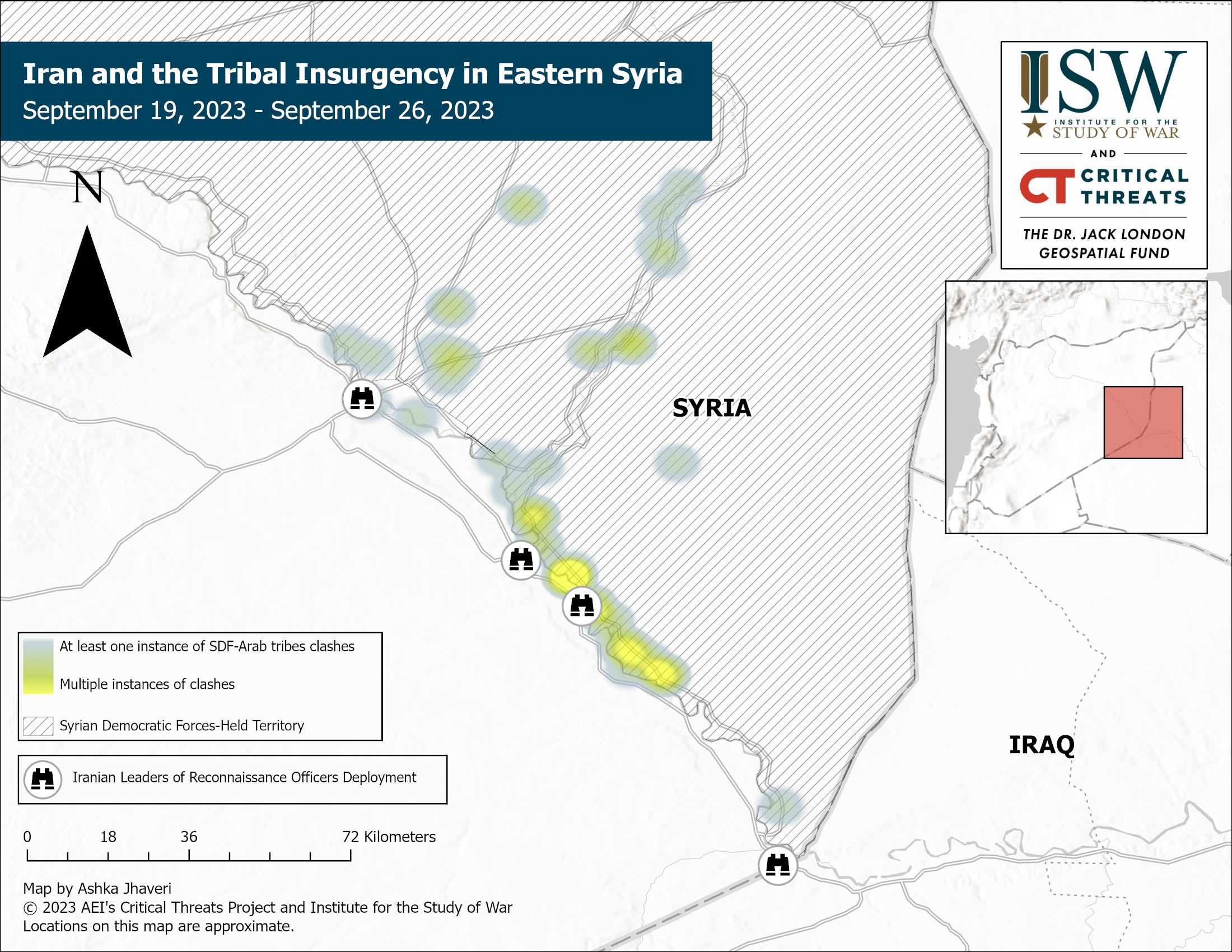 Pro-regime forces are taking advantage of a hostile environment toward the SDF. They have launched attacks and conducted sabotage in SDF-controlled territory in late August and early September. These actions are consistent with the coordinated campaign that Iran, Russia, and the Syrian regime began forming in November 2022 to expel the United States from Syria. The 50 reconnaissance officers could advance the pro-regime forces' efforts to fracture the SDF.
Pro-regime forces are harboring tribal fighters in eastern Syria amid a tribal insurgency against the US-backed Syrian Democratic Forces (SDF). The Syrian regime and Iranian-backed militias ordered their forces not to harm the tribal forces in Deir ez Zor Province.[viii] Another report says the regime is allowing tribal forces to enter its territory so long as they return to fight the SDF, which suggests the regime is offering a area for tribal forces to recuperate.[ix] This is a change from early September, when local regime security services were arresting people displaced during the SDF-tribal.[x] The pro-regime forces' decision to allow tribes to enter regime-controlled territory suggests that the regime is attempting to build trust with the tribal forces. The harboring of Arab tribesmen to prolong conflict with the SDF is consistent with ISW's assessment that the tribal insurgency will likely support Iran's efforts to establish a grassroots resistance to expel US forces from Syria.
ISW previously reported that pro-regime forces are pursuing multiple lines of effort to prolong conflict between the SDF and Arab tribes to threaten the US force presence in Syria. This includes forming a tribal militia to strengthen the Arab tribe's control of SDF-controlled territory and fight SDF forces, directing forces to conduct assassination attacks, and sending medical aid and weapons into SDF-controlled territory.
Iran's Deputy Oil Minister Jalil Salari announced on September 25 that Iran, Syria, and Venezuela had signed a memorandum of understanding to build a new oil refinery in Syria, likely to aid the Iranian economy and further solidify Iran's economic influence over the Syrian regime. Iran and Venezuela will export crude oil to the new refinery that is planned to process 140,000 barrels per day (bpd).[xi] Salari also announced Iranian engineers and companies would repair an existing oil refinery in Homs Province that was destroyed in the Syrian Civil War, adding another 100,000 bpd to Syria's refinement capacity.
Iran does not have sufficient domestic oil infrastructure to refine its internal and export needs and plans to upgrade facilities domestically.[xii] Iran is also looking to extraterritorial refinement to support its refining needs.[xiii] Exterritorial refinement would allow Iran to boost its export capacity. Iranian oil exports have reached near pre-sanctions levels in the past months.[xiv]
The Iranian assistant oil minister stated the refinery upgrades will supply fuel to the Axis of Resistance.[xv] Syria is currently facing an oil shortage and protests erupted in August after the Assad regime cut fuel subsidies.[xvi] The IRGC and Iranian-backed militias in eastern Syria have enraged locals by hoarding the limited gas supplies for their headquarters and military operations.[xvii] Iranian-backed militias also extract oil from eastern Syria but are hindered by low refinement capacity.[xviii]
Iran and Venezuela signed several oil-related agreements during Iranian President Ibrahim Raisi's visit to Caracas in June.[xix] Iran and Venezuela have not collaborated on oil projects in third-party countries, however.
Iran-Russia Relations
Senior Iranian and Russian military officials reviewed Iranian advanced conventional weapons in Moscow and Tehran in August and September 2023, and may conclude a drone and missile sale agreement following the expiration of UN missile restrictions on October 18. Russian Defense Minister General Sergei Shoigu traveled to Tehran on September 19 to discuss strengthening bilateral defense and military cooperation with Iran. IRGC Aerospace Force Commander Brigadier General Amir Ali Hajji Zadeh guided Shoigu on a tour of Iran's drone, missile, and air defense arsenal at the IRGC Aerospace Force (IRGCASF) Headquarters in Tehran on September 20. Shoigu also discussed the expiration of UNSCR 2231's missile restrictions with Iranian Defense Minister Brigadier General Mohammad Reza Ashtiani on September 20.[xx] UNSCR 2231 is the UN Security Council resolution endorsing the 2015 Iran nuclear agreement, which suspended nuclear-related UN sanctions and established sunset dates for missile and other arms-related sanctions on Iran.[xxi] The expiration of UNSCR 2231's missile restrictions in October will empower Iran to export missiles and missile-related technology without international oversight, providing Iran with an opportunity to fill Russian needs.
Shoigu's visit to Tehran is part of a broader trend of Russo-Iranian defense industrial interactions in recent weeks. Iranian Defense Ministry officials showcased miniature replicas of a variety of Iranian air defense systems, drones, and missiles at a Russian military exposition in Moscow in August 2023.[xxxix] The officials displayed a miniature replica of the Ababil ballistic missile for the first time. Hajji Zadeh subsequently showcased a life-size Ababil missile during Shoigu's visit to the IRGC Aerospace Force Headquarters on September 20.[xl]
Below is a table of some of the ballistic, cruise, anti-tank, and air defense missile systems Iranian officials have most frequently discussed or showcased to Russian officials since fall 2022:[xli]
Name

Type

Maximum Range

Payload

Accuracy

Sadid-365

ATGM

8 km

8.4 kg

Guidance system and accuracy rate unknown[xlii]

Almas

ATGM

4-8 km

6.8-14 kg

Infrared vector image guidance system; accuracy rate unknown[xliii]

Toofan

ATGM

3.5-3.85 km

3.6-6.14 kg

SACLOS guidance system; 95 % accuracy rate[xliv]

Ababil

CRBM

86 km

45 kg

Optical seeker guidance system; CEP unknown[xlv]

Zolfaghar*

SRBM

700 km

350-500 kg

GNSS guidance system; 10-100 m CEP[xlvi]

Raad-500 (aka Zuhair or Zohair)*

SRBM

500 km

350 kg

GNSS and INS guidance; 30 - 100 m CEP[xlvii]

Fattah*

MRBM

1,400 km

350-450 kg

MaRV; GNSS and INS guidance; 10-25 m CEP[xlviii]

Paveh*

LACM

1,650 km

Unknown

Unknown[xlix]

Fateh-110*

SRBM

200-350 km

450-650 kg

GPS and INS guidance; 100 m CEP[l]

Khordad-III

SAM

50-200 km fire range; 25-30 km fire altitude

Unknown

Active phased array radar[li] 

Sayyad (tactical version)

SAM

120 km fire range; altitude range unknown

Unknown

Exact radar system unknown but can detect up to 24 targets within a radius of 180 km[lii]

358

"Loitering" SAM**

Uknown

Unknown

Unknown[liii]

* Russia would violate its Missile Technology Control Regime (MTCR) obligations were it to acquire these missile systems. Iran would violate UNSCR 2231 were it to export these systems prior to the October 18 expiration. Iran is not an MTCR member-state even though UNSCR 2231 references the MTCR's banned Category I "complete delivery systems," systems with a 300 or more-kilometer range and a 500 or more-kilogram payload.[liv]

** There is a paucity of information on the 358 in the open-source. Iranian officials refer to it as the "Loitering SAM" or the loitering anti-aircraft munition.

Key: CEP: Circular error probable; SRBM: Short-range ballistic missile; MRBM: Medium-range ballistic missile; CRBM: Close-range ballistic missile; SAM: Surface-to-air missile; ATGM; anti-tank guided missile; LACM: Land-attack cruise missile; MaRV: Maneuverable re-entry vehicle; INS: Inertial Navigation System; GNSS: Global Navigation Satellite System; SACLOS: Semi-automatic command to line of sight; GPS: Global Positioning System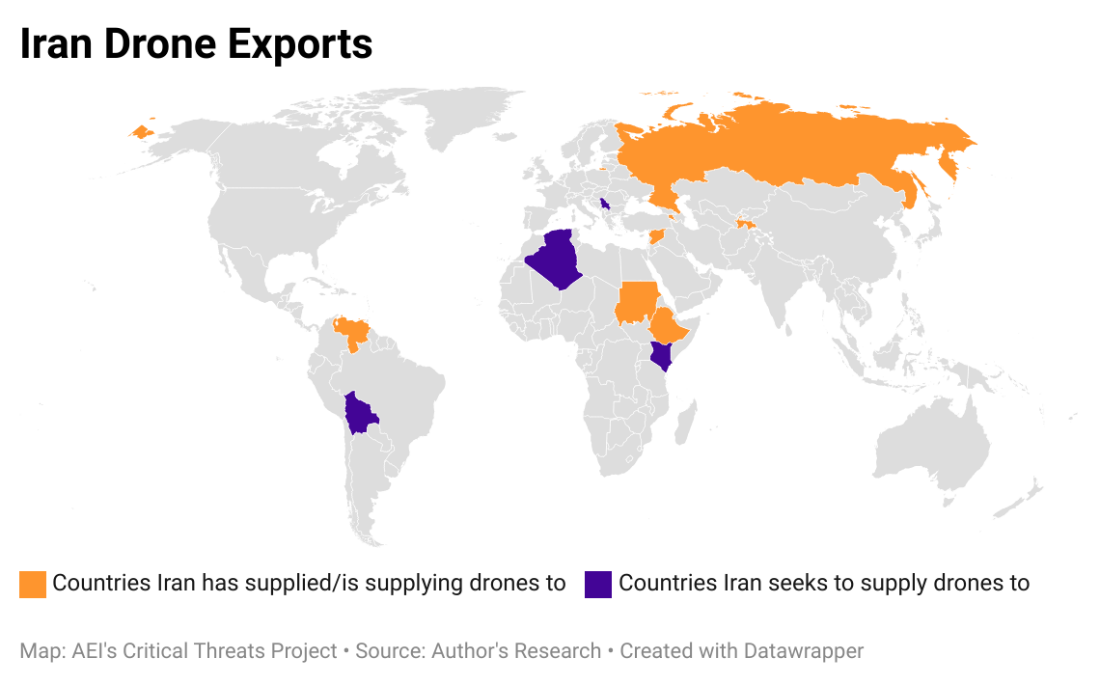 This map only depicts Iranian drone exports to internationally recognized governments. It does not include Iranian drone transfers to non-state Iranian-backed groups, such as the Houthi movement and Iraqi Kata'ib Hezbollah.
Iran possesses the largest and most diverse missile arsenal in the Middle East having heavily invested in the program over the past five to seven years.[lv] Iran has transferred missiles to its proxies across the region, demonstrating its production capabilities can address both domestic and foreign need.[lvi] Iran is still dependent on foreign suppliers for certain missile-related ingredients, components, and equipment.[lvii] A large number of MODAFL-connected organizations have successfully enabled the regime's foreign procurement of missile systems, associated technologies, and materials, however.[lviii] The expiration of UNSCR 2231's missile restrictions in October will enable these government-connected entities to more easily procure missile-related technology, goods, and materials without international oversight.[lix] Western media reported in April that Iran is engaged in secret negotiations with China and Russia to acquire a Chinese supply of Ammonium Perchlorate for its solid-fueled missiles.[lx] Western media speculated that the purpose of the agreement would be to enable Iran to provide solid-fueled ballistic missiles to Russia. This would make the Tondar-69, Dezful, Shahid Haj Qassem, Sajjil-1/-2, Fattah, Zolfaghar, and other Fateh family solid-fueled ballistic missiles candidates for transfer to Russia. Ukranian and Israeli intelligence reports have specified that Russia seeks to acquire Iran's Fateh-110 and Zolfaghar ballistic missiles.[lxi] Iran showcased the Zolfaghar and the Raad-500 (both solid-fueled Fateh variants) at the Russian military exposition in Moscow in August.[lxii]
The European decision to violate UNSCR 2231's missile-restriction sunset clause could further incentivize Iran to sell missiles to Russia. Britain, France, and Germany (known collectively as the E3), announced on September 14 that they would retain the existing missile restrictions on Iran past the October 18 sunset.[lxiii] The E3 will transfer the restrictions into domestic law and the EU will maintain its existing missile restrictions alongside all its other remaining sanctions. The Iranian Foreign Affairs Ministry characterized the decision as "provocative" and denounced it as a violation of UNSCR 2231 and the corresponding 2015 nuclear agreement.[lxiv] President Ebrahim Raisi stated during his address to the UN General Assembly that the decision had put Iran and Europe on the path toward confrontation.[lxv] Ashtiani told Shoigu during their meeting on September 20 that the European decision violates the nuclear agreement, potentially signaling to Russia that Iran is no longer bound by nuclear deal-related considerations.[lxvi] The potential for European noncompliance with the nuclear agreement had previously restrained Iran from selling missiles to Russia, as CTP reported.[lxvii]
Iran has regularly violated UNSCR 2231's missile restrictions since the 2015 nuclear deal's inception due to an absence of enforcement mechanisms and the resolution's vague definition of "nuclear-capable" missiles.[lxviii] The European restrictions, nevertheless, impose greater practical limitations on Iranian missile proliferation than the expiring UN restrictions as they restrict "all types" of weaponry and ballistic missile-related technology to Iran and designate more than 300 individual and entities connected to Iran's missile program compared to UNSCR 2231's 84 individuals and entities.[lxix]
The European decision, nevertheless, means that none of the signatories to the 2015 nuclear deal are now abiding by it. Western media reports also demonstrate that negotiations to revive the agreement are similarly failing.[lxx] The failure of the nuclear deal and subsequent negotiations to revive it leaves Iran with fewer options for generating much needed economic relief, including revenue from arms sales. The 2015 agreement had partially lifted international economic sanctions on Iran.
Iran could seek to acquire cash from Russia in return for supplying Russia with missiles. The British Secret Intelligence Service revealed in July 2023 that Iran seeks to acquire cash from Russia in return for Iranian drones. Iran is currently facing poor economic conditions, with the value of the rial hovering around 494,000 rials to one US dollar on September 27.[lxxi] The Iran Statistical Center reported on September 25 that Iran's inflation rate is approximately 46.1 percent.[lxxii] CTP previously reported that Iran is seeking to leverage arms sales to generate revenue for the Iranian economy.[lxxiii]
Revenues from missile sales to Russia are unlikely to have a serious impact on the Iranian economy as they will not solve the problems that underlie the country's economic instability. Fundamental economic reforms—such as reducing the dominance of para-statal organizations in Iran's economy and combatting corruption and nepotism—would be necessary to meaningfully improve Iran's economy. Iran's efforts to expand commercial and economic ties with regional and extra-regional countries will have a more meaningful impact on the Iranian economy than revenues from arms sales would. The Raisi administration has doubled down on its economic diplomacy efforts in recent months, as CTP has previously reported.[lxxiv]
Iran could seek further Russian assistance with its own missile and Space Launch Vehicle (SLV) programs in return for missile sales to Russia. CIA Director William Burns stated on July 20 that Russian technicians are assisting with the Iranian SLV and missile program inside Iran.[lxxv] Iran is developing its SLVs with lift capacity and boosters that could be capable of reaching inter-continental ballistic missile (ICBM) ranges, potentially reaching the United States, if they were reconfigured, according to the DIA.[lxxvi] Advancing Iran's space program would contribute to its development of ICBMs because SLVs use similar technologies. Iran can also use SLVs to launch satellites capable of collecting imagery and maintain an updated target bank for attacks abroad.[lxxvii] Iranian state media has reported that the IRGC used launched satellites to collect intelligence on US military positions in the region.[lxxviii] Russia, furthermore, launched a Kanopus-V satellite—alternatively referred to as the "Khayyam" in Iran—into orbit on behalf of Iran in August 2022.[lxxix]
View Citations