August 30, 2023
Iran Update, August 30, 2023
The Iran Update aims to inform national security policy by providing timely, relevant, and independent open-source analysis of developments pertaining to Iran and its Axis of Resistance. This update covers political, military, and economic events and trends that affect the stability and decision-making of the Iranian regime. It also provides insights into Iranian and Iranian-sponsored activities abroad that undermine regional stability and threaten US forces and interests. The Critical Threats Project (CTP) at the American Enterprise Institute with support from the Institute for the Study of War (ISW) provides these updates Monday through Friday. To receive Iran Updates via email, please subscribe here.
The Institute for the Study of War (ISW) with support from the Critical Threats Project (CTP) at the American Enterprise Institute launched an interactive map of Iran and the Middle East. The map depicts events in Iran that affect the stability of the Iranian regime, namely anti-regime protests and reported poisoning incidents. It also shows developments in Syria that jeopardize regional stability and pose threats to US forces and interests, including Iranian and Iranian-backed militia positions.
Key Takeaways
The Iranian foreign minister traveled to Damascus, where he discussed economic cooperation and political stability with Syrian officials. The trip comes two weeks after the start of daily anti-regime demonstrations that protest the Assad regime raising fuel prices.
Iranian officials are signaling that the regime will pursue nuclear negotiations, probably with the aim to achieve a comprehensive agreement.
Russia has begun transporting consumer goods to Saudi Arabia via Iran. The transit of Russian goods to Saudi Arabia via Iran is consistent with Iran's efforts to become a regional and international "transit hub."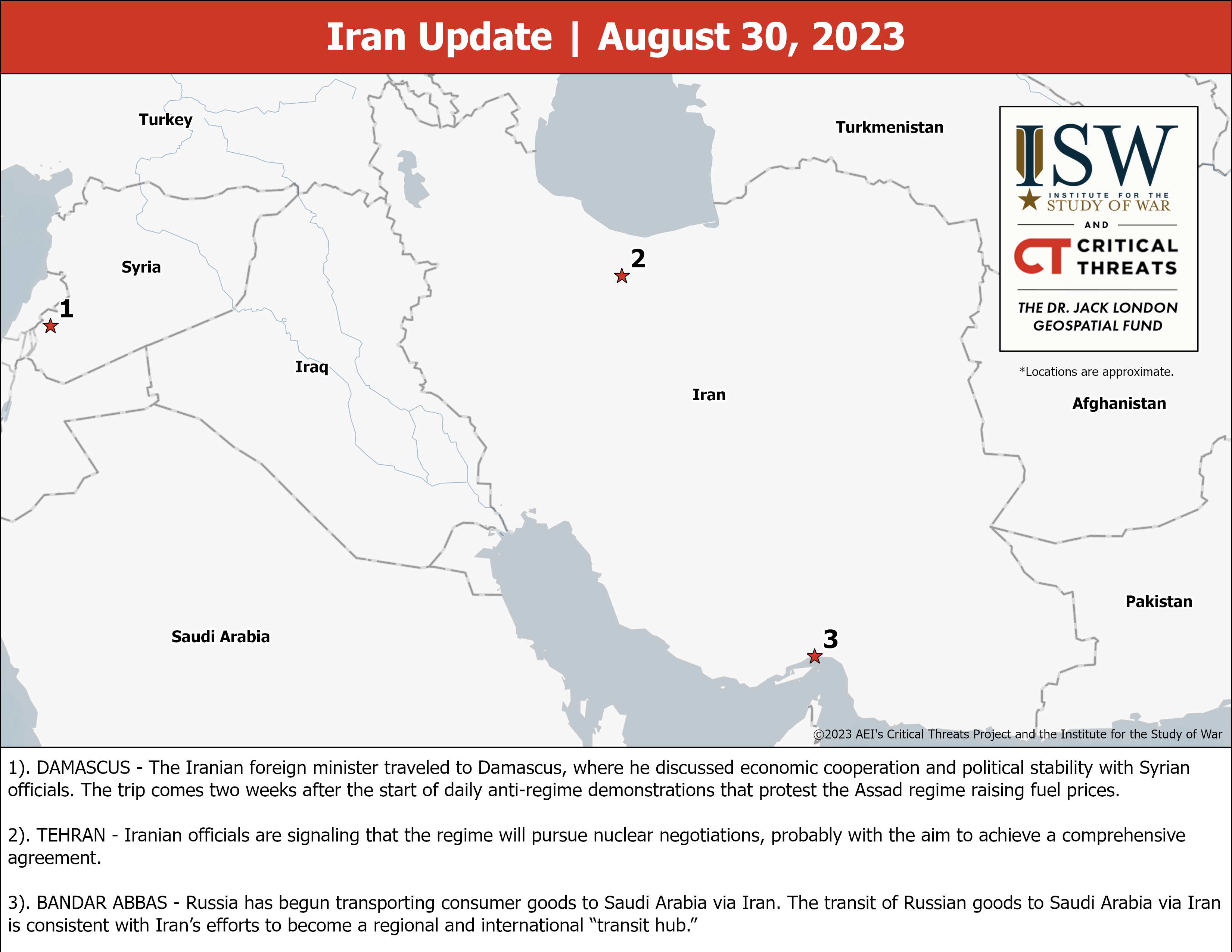 Iranian Activities in the Levant
This section covers Iranian efforts to consolidate and expand Tehran's economic, military, and political influence throughout the Levant especially in Syria. This section examines some of the many campaigns that Iran is pursuing to achieve this strategic objective. CTP will update and refine our assessments of these campaigns over time and in future updates.
Iranian Foreign Minister Hossein Amir Abdollahian met with several Syrian officials in Damascus on August 30 to discuss economic cooperation and political stability. Abdollahian's conversation with the Syrian Prime Minister Hussein Arnous focused on implementing the economic memorandums of understanding (MOUs) signed during Iranian President Ebrahim Raisi's visit to Syria in May 2023.[i] Syrian and Iranian political leaders last met to implement the MOUs in July 2023 in Tehran.[ii] Abdollahian affirmed that Iran will continue to support Syria's leaders, military, and people until the country is stabilized and prosperous in a press conference with the Syrian Foreign Affairs Minister Faisal Mikdad.[iii]
Abdollahian's visit to Damascus comes at a time of political, economic and security disruption for the regime. Daily anti-regime protests have occurred since the Assad regime raised fuel prices on August 15.[iv] Iranian media's framing of the visit suggests that Abdollahian addressed the internal unrest in his meetings. Iranian state media announced the visit by underlining the need to establish stability and tranquility in Syria.[v] It also reiterated Bashar al Assad's previous statement that Iran and Syria have maintained stable relations through severe political and security crises.
Iranian Domestic and Political Affairs
This section covers factors and trends affecting regime decision-making and stability. CTP will cover domestic politics, significant protest activity, and related issues here.
Iranian officials are signaling that the regime will pursue nuclear negotiations, probably with the aim to achieve a comprehensive agreement. Foreign Affairs Ministry spokesperson Nasser Kanani stated on August 28 that Iran's chief nuclear negotiator, Ali Bagheri Kani, will engage in negotiations to revive the Joint Comprehensive Plan of Action (JCPOA on the sidelines of the upcoming UN General Assembly meeting starting on September 5.[vi] President Ebrahim Raisi stated on August 29 that Iran is pushing to revive the JCPOA and lift sanctions.[vii] Supreme Leader Ali Khamenei urged Raisi administration officials on August 30 to counter the impact of economic sanctions and expressed approval of sanctions-lifting nuclear negotiations.[viii] Khamenei has previously endorsed comprehensive nuclear negotiations ahead of UN General Assembly meetings where Iranian officials would be able to meet with Western leaders.[ix]
These signals follow Iran and the United States concluding an agreement to exchange prisoners for unfrozen Iranian assets on August 10.[x] The prisoner-asset exchange deal is reportedly part of a larger interim agreement that involves constraints on the Iranian nuclear program.[xi] Iran previously finalized such an interim agreement in 2013 as a confidence-building measure to facilitate more comprehensive negotiations subsequently.[xii]
Russia has begun transporting consumer goods to Saudi Arabia via Iran. A Russian cargo train en route to Saudi Arabia entered Iran from Turkmenistan on August 26 and arrived in Bandar Abbas, Hormozgan Province on the Persian Gulf on August 30.[xiii] Hormozgan Province Railway Administration head Ali Reza Nasiri Barazandeh stated on August 30 that the International North South Transit Corridor (INSTC)—the land route connecting Russia to the Persian Gulf via Iran—has "economic and strategic benefits."[xiv] He added that Iran can increase customs revenues by facilitating trade between Russia and Saudi Arabia. A Russian cargo train en route to India similarly passed through Iran for the first time in July 2022.[xv]
Iran and Russia have pursued the completion of the INSTC to undermine and mitigate the impact of Western sanctions. Russia agreed in May 2023 to finance Iranian construction of the Rasht-Astara railway in Gilan Province, Iran—the missing link in the INSTC.[xvi] The completion of this corridor will grant Iran and Russia access to new markets and enable Iran to charge foreign countries transit fees. Iranian media previously reported that the INSTC will generate $20 billion in annual revenue for Iran once it is completed.[xvii]
The transit of Russian goods to Saudi Arabia via Iran is consistent with Iran's efforts to become a regional and international "transit hub."[xviii] Ebrahim Raisi administration officials have repeatedly framed Iran's centrality in Eurasia as an important asset to regional organizations such as the Shanghai Cooperation Organization (SCO) and BRICS. President Raisi emphasized Iran's ability to connect land-locked Central Asian countries to open waters following Iran's accession into the SCO in July 2023.[xix] Foreign Affairs Minister Hossein Amir Abdollahian separately emphasized Iran's ability to connect China to Brazil and South Africa during the Raisi administration's diplomatic campaign to convince BRICS members to admit Iran in August 2023.[xx]
---
[i] https://english.alarabiya.net/News/middle-east/2023/08/30/In-Damascus-Iran-s-foreign-minister-says-US-troops-in-Syria-should-go-home-
[ii] https://sana dot sy/en/?p=314016
[iii] https://sana dot sy/?p=1956688
[iv] https://sana dot sy/?p=1949471 ; https://suwayda24 dot com/?p=21771
[v] https://www.tasnimnews dot com/en/news/2023/08/30/2949597
[vi] https://www.tasnimnews dot com/fa/news/1402/06/06/2948213
[vii] https://www.tasnimnews dot com/fa/news/1402/06/07/2948809
[viii] https://www.leader dot ir/fa/content/26653 ; https://www.tasnimnews dot com/fa/news/1402/06/08/2949415 ;  https://www.tasnimnews dot com/en/news/2023/08/30/2949573
[ix] https://iranprimer.usip.org/blog/2013/sep/17/khamenei-diplomacy-%E2%80%9Cheroic-flexibility%E2%80%9D ; https://www.ft.com/content/33a7545c-249b-11e5-9c4e-a775d2b173ca
[x] https://www.nbcnews.com/news/world/americans-imprisoned-iran-prisoner-exchange-deal-rcna99105
[xi] https://www.wsj.com/articles/iran-slows-buildup-of-near-weapons-grade-enriched-uranium-492df473 ; https://twitter.com/laurnorman/status/1691548180423323649?s=20 ; https://www.wsj.com/articles/u-s-launches-quiet-diplomatic-push-with-iran-to-cool-tensions-2f45af3 ; https://www.nytimes.com/2023/06/14/us/politics/biden-iran-nuclear-program.html
[xii] https://www.washingtonpost.com/world/national-security/kerry-in-geneva-raising-hopes-for-historic-nuclear-deal-with-iran/2013/11/23/53e7bfe6-5430-11e3-9fe0-fd2ca728e67c_story.html
[xiii] https://www.middleeastmonitor dot com/20230828-russia-sends-first-commercial-train-to-saudi-arabia-via-iran/ ;
https://www.iribnews dot ir/fa/news/3962277
[xiv] https://www.iribnews dot ir/fa/news/3962277
[xv] https://www.tehrantimes dot com/news/474603/Russia-s-1st-rail-transit-cargo-to-India-arrives-in-Iran
[xvi] https://president dot ir/fa/143951
[xvii] https://www.tasnimnews dot com/fa/news/1402/02/27/2895955
[xviii] https://www.siasatrooz dot ir/fa/report/124088
[xix] https://president dot ir/fa/145208
[xx] https://www.irna dot ir/news/85193219
View Citations