February 12, 2021
Iran prepared to deter and defend against a military strike while increasing leverage for talks with the Biden administration
[Notice: The Critical Threats Project frequently cites sources from foreign domains. All such links are identified with an asterisk (*) for the reader's awareness.]
The Iranian armed forces conducted a series of large-scale exercises in January to prepare for and deter an attack in the last days of the Trump administration. These exercises follow Tehran ramping up its nuclear program to pressure the Biden administration and set conditions for anticipated negotiations on the Joint Comprehensive Plan of Action. Iran appears to have been concerned that these actions and a desire to set back the nuclear program in the Trump administration's final days might prompt either the US or Israel to launch a military strike. The regime conducted a dramatic array of military exercises and high-level inspections of the units and capabilities it would need to defend against and respond to such a strike. The armed forces revealed in that process a glimpse of the approaches they would take in such a conflict.
The exercises began on January 2, 2021, and concluded on January 23, and another began on February 11. They involved ground, aviation, naval, and air units from almost all of Iran's military services. The participation of the most senior commanders from the conventional military (the Artesh) and Islamic Revolutionary Guards Corps (IRGC) underscores the high priority the regime places on reinforcing deterrence and signaling Iranian capabilities.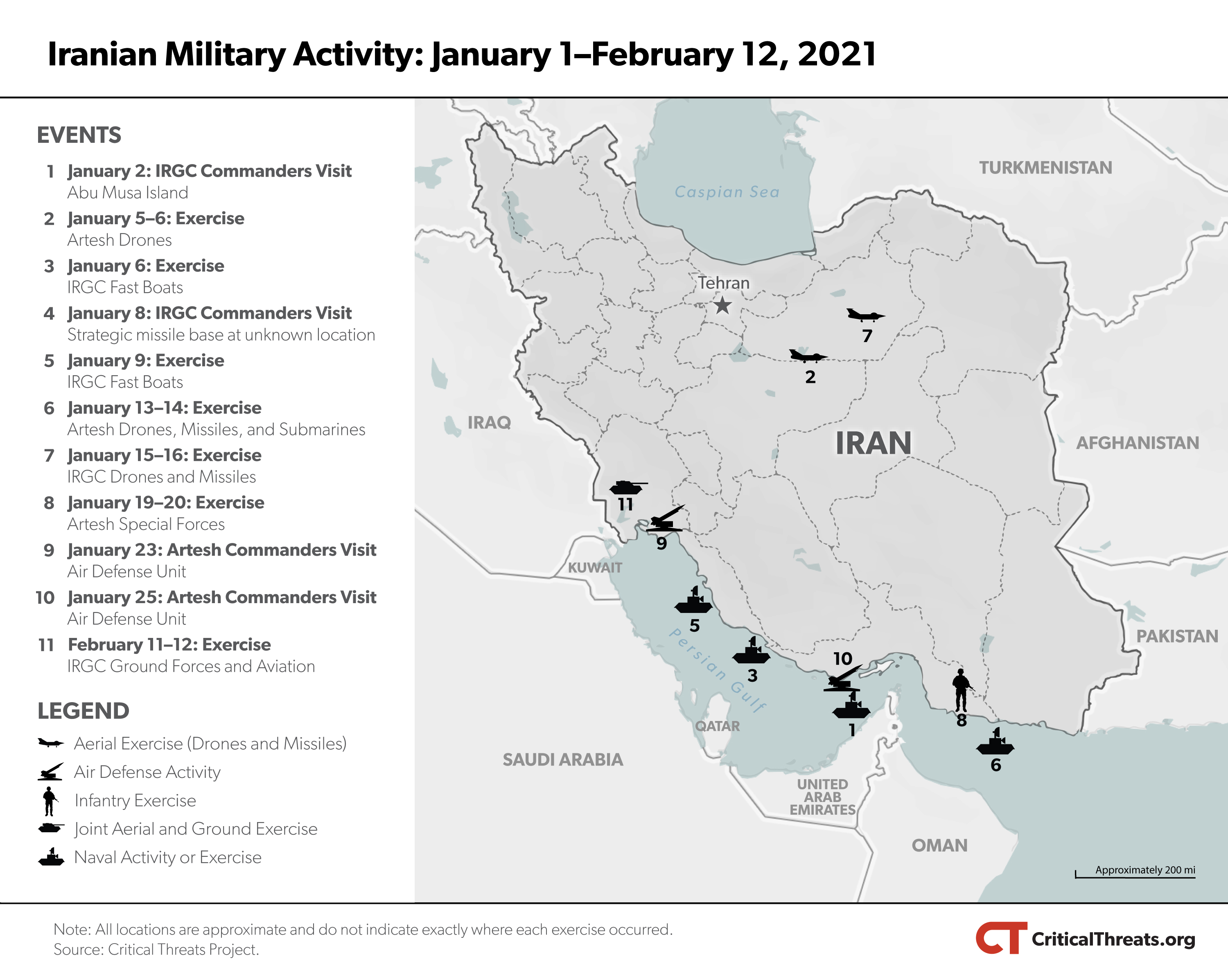 View full image. 
These exercises coincide with and were followed by an uptick in aggressive Iranian-backed activities abroad. Iranian proxies in Iraq launched a kamikaze drone attack toward Riyadh on January 23, and the al Houthi movement has increased its tempo of drone attacks into Saudi Arabia in recent weeks. The Israel Defense Forces have reportedly assessed that Lebanese Hezbollah is preparing for a *limited escalation against Israel to enhance its deterrence. And Iranian agents or proxies may be responsible for an *explosion near the Israeli embassy in New Delhi on January 29 and *plots to attack the Emirati embassies in Ethiopia and Sudan (which were disrupted by the arrests of the plotters in Ethiopia).
The relationship between the exercises and these external activities is unclear. IRGC Commander Hossein Salami *stated that Iran must use "offensive and defensive" methods to deter foreign adversaries on January 8. The regime does not likely expect the Biden administration to attack it at this point. These post-inauguration activities are more likely intended to deter a possible Israeli strike (potentially with support and participation from the Gulf states) prompted by regional fears that the Biden team will concede too much in potential negotiations or otherwise abandon its regional allies, unlikely though such a strike would seem.
To the extent that members of the Biden team expected Iran to deescalate its violent activities after they took office (even if Tehran continued to escalate its violations of the nuclear deal in pursuit of leverage), the continuation of attacks abroad suggests that Iran has opted to maintain its confrontational posture. Iranian military activities may also be aimed as much or more at regional countries than at the United States. The regime's rhetoric reinforces this assessment. Salami has viciously *condemned the Gulf states for normalizing ties with Israel in recent days, saying such diplomatic moves will bring these countries to the same "precipice of fire" as Israel.
The exercises' content reflects how Iran envisions a potential conflict with the US and its regional partners. The regime would likely use drones and missiles to attack enemy ground assets, neutralize air defense systems, and damage critical infrastructure. The Artesh and IRGC practiced kamikaze drone attacks against enemy air defense systems and high-value targets—an increasingly prominent component of Iranian military strategy. The regime previously used kamikaze drones to attack Saudi Arabia's Abqaiq crude-processing plant in September 2019 and could target similar infrastructure again. The IRGC simulated attacking an enemy ground base with drones and missiles during one of the recent exercises in January.
The regime would also likely target enemy naval assets with fast attack craft and missiles. The armed forces practiced attacking American naval vessels around the Persian Gulf and Sea of Oman during the exercises. The IRGC Navy mobilized around 1,400 light and semi-heavy surface vessels. The Guards use swarms of small surface vessels to overwhelm and conduct hit-and-run attacks against large enemy naval ships. The Artesh and IRGC also practiced using ballistic and cruise missiles and special forces to attack enemy vessels and disrupt command and control.
The net effect of conducting these exercises, which spanned much of the Iranian Persian Gulf coastline and involved three of five IRGC naval districts and two of three southern-facing air defense zones, was to bring the relevant units to near-combat readiness. The exercises thus also likely served as cover for a partial mobilization in preparation for a possible US or Israeli-Gulf state attack. The Iranians clearly did not attempt to preempt an attack, but some of the activities rehearsed could have supported preemptive operations—particularly the drone attacks, small-boat swarms, missile launches, and airborne and air assault operations.
The following is a UpdateThe activities with date ranges listed below were cut off in a previous version.list of the exercises and other noteworthy military activities from January 1 to February 11.