February 16, 2017
Critical Threats then and now
Who we are
AEI launched the Critical Threats Project in 2009 out of the urgent need to help our nation win the wars we are fighting and to serve as an early warning system for the challenges that lie ahead. At that time, our small team of four focused solely on the threat from Iran, tracking the country's nuclear developments, business relationships, elections, and sponsorship of terrorism.
In the eight years since Critical Threats' inception, as the world has become even more dangerous, we have grown our team and expanded our research portfolio to include the global al Qaeda network, tracking developments in Yemen, the Horn of Africa, Libya, West Africa, and Pakistan. In 2016 alone, we:
Today, we are pleased to announce the launch of the new Critical Threats Project website, which we are confident will become a go-to resource for regular analysis of regional developments.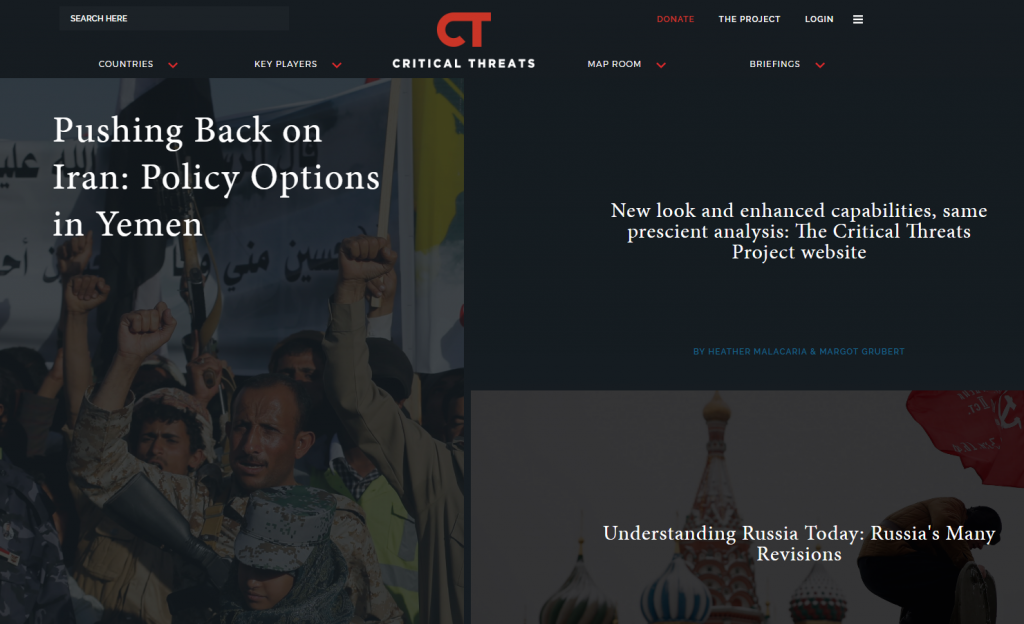 What's new?
Critical Threats fuses the cutting-edge collection and responsiveness of an intelligence organization with the flexibility and intellectual rigor of a think tank. The program produces substantive, objective, apolitical analysis using open-source data to educate, inform, and build the foundation for action in national security policymaking. It will become even easier to stay up to date on our assessments and provide leading edge analysis in our new digital home.
The new website merges irantracker.org and the original Critical Threats site and features a number of tools aimed to engage our readers more fully. Visitors will be able to create personal reading lists, annotate their thoughts in article margins, connect directly with the authors, tweet key points, and curate alerts and newsletters featuring relevant publications. The new website also has a timeline view available so that users can filter down to a particular geographic area or topic and view our most relevant publications for that time period. Additionally, it contains a briefing section to house our daily security reviews and situation reports; the ultimate goal of this section is to provide our audience with up-to-the-minute updates on regional developments.
Once launched, we will continue to enhance the new Critical Threats website. One feature, for example, that will be added in the next few months will be a mapping tool that will enable consumers to engage with our data and manipulate the display of information so that it is most useful to them.
What's next?
The next few months will be busy. We have a number of ongoing research efforts and publications in the pipeline. Most significant, perhaps, is our continued partnership with the Institute for the Study of War (ISW) to develop recommendations for US courses of action to defeat ISIS and al Qaeda in countries such as Syria, Iraq, Yemen, and Libya. Critical Threats and ISW began this multi-month exercise in November 2015 to frame, design, and evaluate potential courses of action that the United States could pursue in Syria. The results of these discussions have been published in three reports with more products and a proposed course of action forthcoming.
In addition to strategy recommendations, we also look forward to continuing our research on Iran's way of war, tracking developments ahead of Iran's May presidential elections, and publishing analysis on the threat from Salafi-jihadi organizations.
We hope you will explore our new website over the next few months, provide us with feedback, and follow Critical Threats' substantive research. Our objective remains to inform and educate policymakers, the intelligence and military communities, and all interested citizens who need to fully understand the nuance and scale of threats to America's security.