November 12, 2009
Waziristan Ground Operation Coverage (Pakistan November 2009)
The Critical Threats team has amassed here all of our coverage on the ongoing ground operation in Waziristan for the month of November (for previous coverage of October, click here). Please check back for frequent updates.
map of Areas of Militant Influence in Waziristan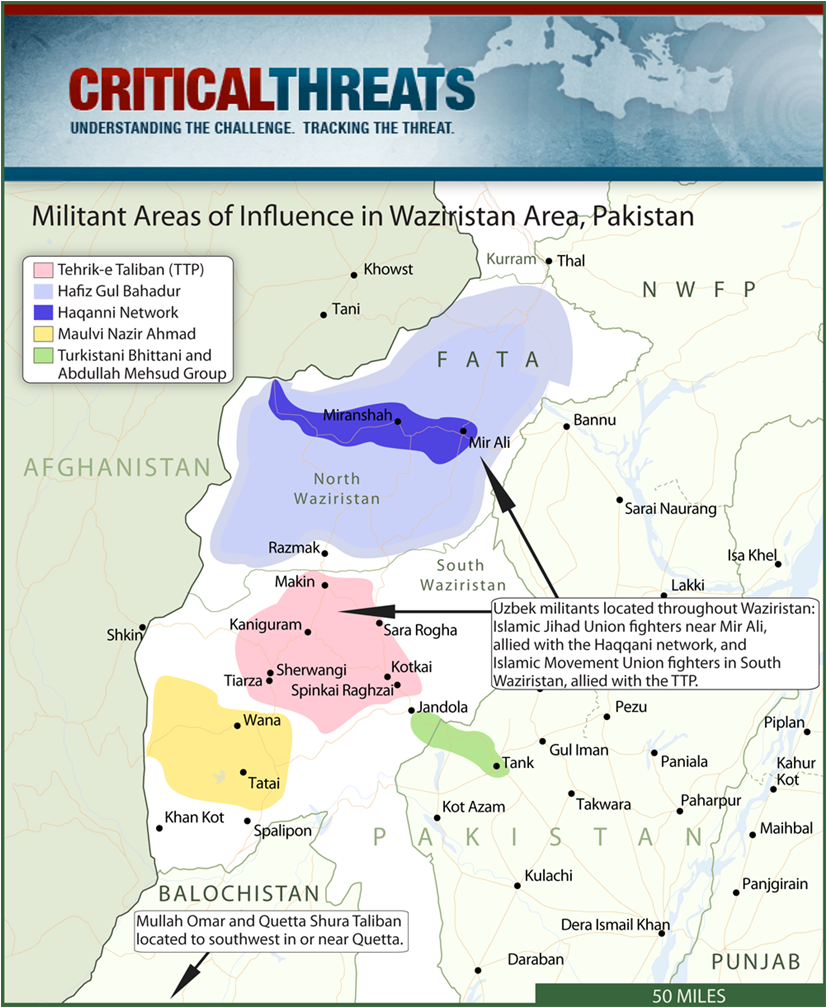 The Critical Threats team has prepared a briefing analyzing the ongoing ground operation in Waziristan following the conclusion of its first phase and the end of major combat operations.
The briefing looks at the timeline of events leading to the operation, the Pakistani force breakdown, the Tehrik-e Taliban Pakistan (TTP) structure and key players, the role of other players, the details of the fight on each of the three fronts on a week-by-week basis, an analysis of the factors contributing to the military's quick progress, a breakdown of the thee main phases of the operation, a look at recent militant attacks conducted outside the theater of operations and polling data analyzing Pakistani public opinion regarding militancy and the military operation one month after its commencement.
To find our key conclusions and the link to the full presentation CLICK HERE.
Situation Updates: 

Day Thirty-Three of Operation- November 18, 2009
Day Thirty-Two of Operation- November 17, 2009
Day Thirty-One of Operation- November 16, 2009
Day Thirty of Operation- November 15, 2009
Day Twenty-Nine of Operation- November 14, 2009
Day Twenty-Eight of Operation- November 13, 2009
MAP OF CONFLICT AREA IN SOUTH WAZIRISTAN - DAY TWENTY-SEVEN - November 12, 2009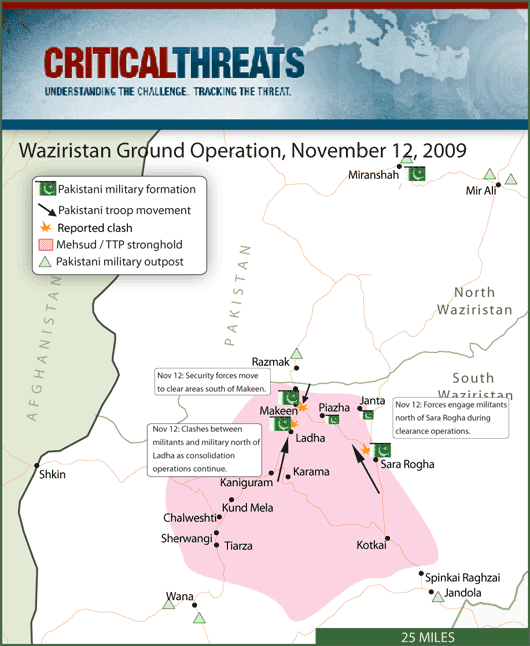 Day Twenty-Seven of Operation- November 12, 2009
MAP OF CONFLICT AREA IN SOUTH WAZIRISTAN - DAY TWENTY-SIX - November 11, 2009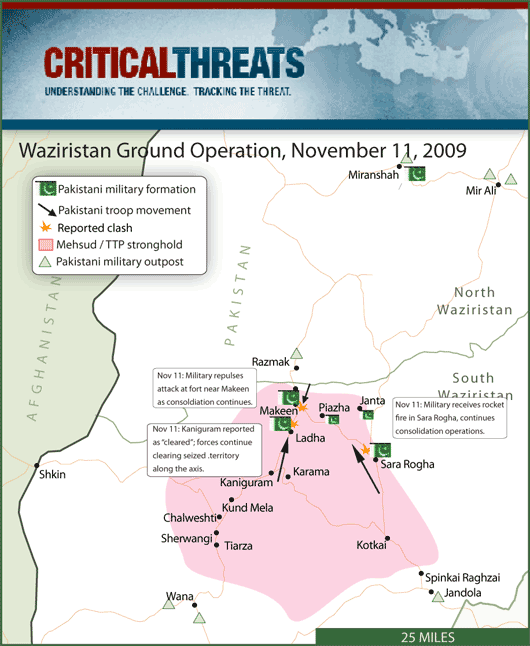 Day Twenty-Six of Operation- November 11, 2009
MAP OF CONFLICT AREA IN SOUTH WAZIRISTAN - DAY TWENTY-FIVE - November 10, 2009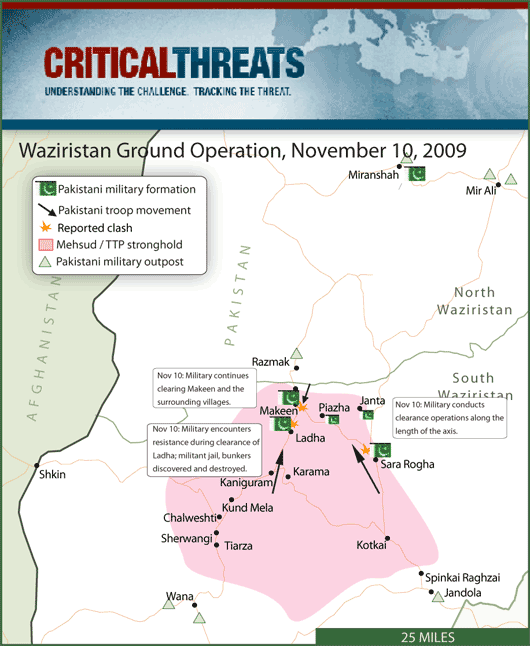 Day Twenty-Five of Operation- November 10, 2009
MAP OF CONFLICT AREA IN SOUTH WAZIRISTAN - DAY TWENTY-FOUR - November 9, 2009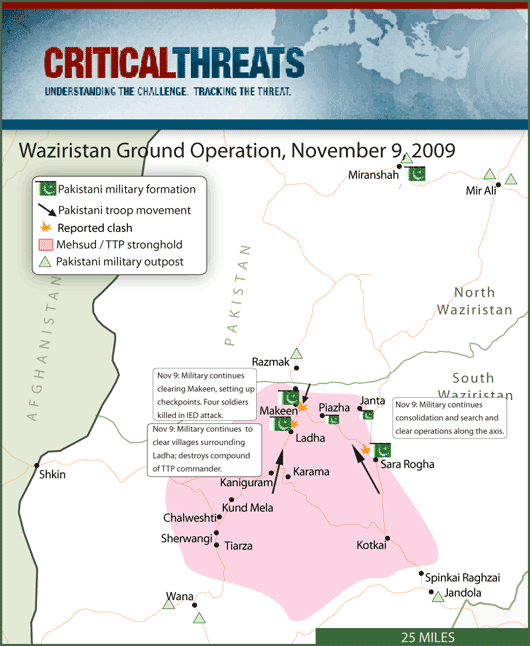 Day Twenty-Four of Operation- November 9, 2009
MAP OF CONFLICT AREA IN SOUTH WAZIRISTAN - DAY TWENTY-THREE - November 8, 2009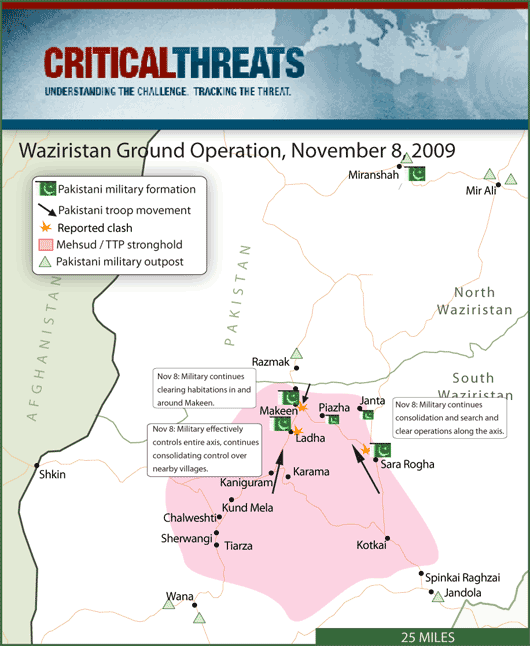 Day Twenty-Three of Operation- November 8, 2009
MAP OF CONFLICT AREA IN SOUTH WAZIRISTAN - DAY TWENTY-TWO - November 7, 2009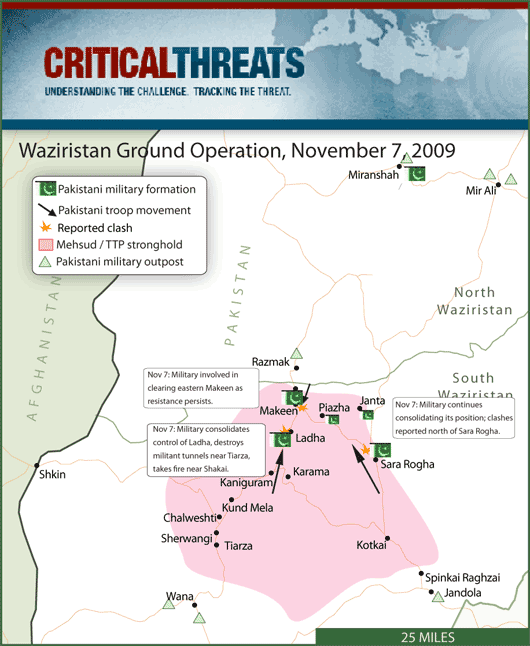 Day Twenty-Two of Operation- November 7, 2009
MAP OF CONFLICT AREA IN SOUTH WAZIRISTAN - DAY TWENTY-ONE - November 6, 2009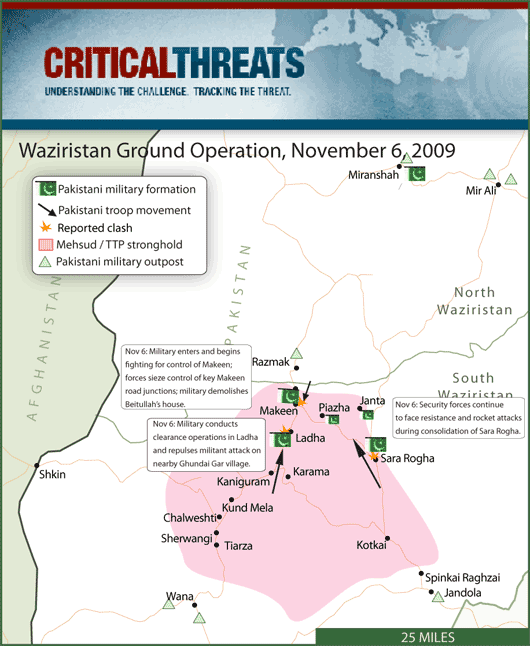 Day Twenty-One of Operation- November 6, 2009
MAP OF CONFLICT AREA IN SOUTH WAZIRISTAN - DAY TWENTY - November 5, 2009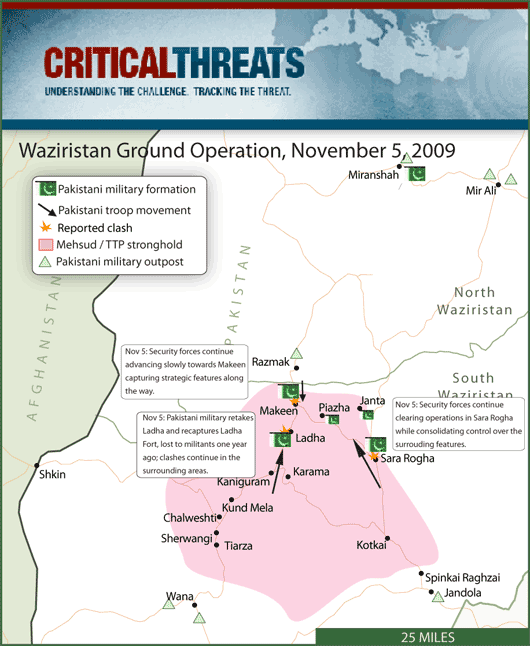 Day Twenty of Operation- November 5, 2009
MAP OF CONFLICT AREA IN SOUTH WAZIRISTAN - DAY NINETEEN- November 4, 2009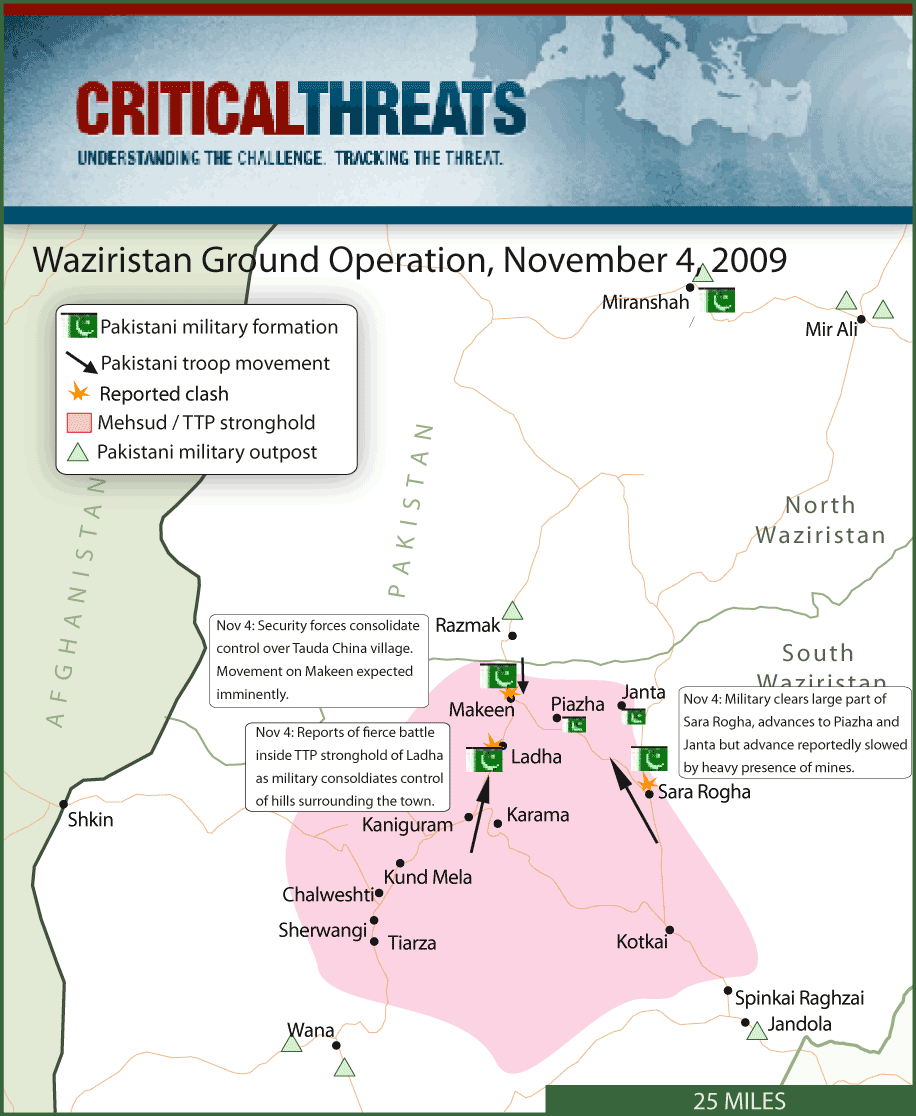 Day Nineteen of Operation- November 4, 2009
MAP OF CONFLICT AREA IN SOUTH WAZIRISTAN - DAY EIGHTEEN - November 3, 2009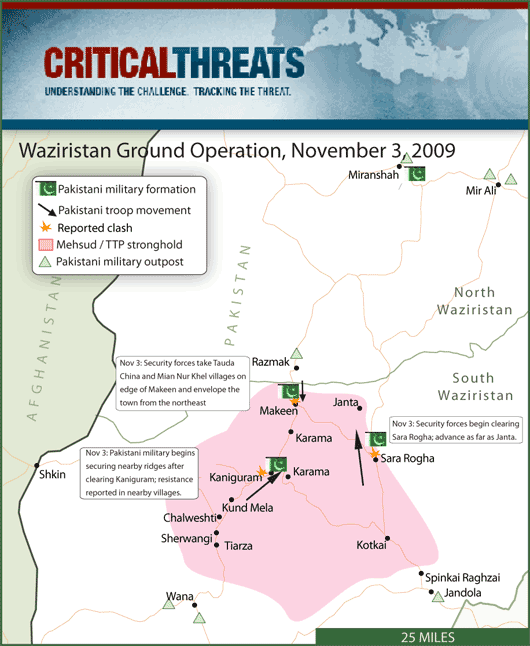 Day Eighteen of Operation- November 3, 2009

MAP OF CONFLICT AREA IN SOUTH WAZIRISTAN - DAY seventeen - November 2, 2009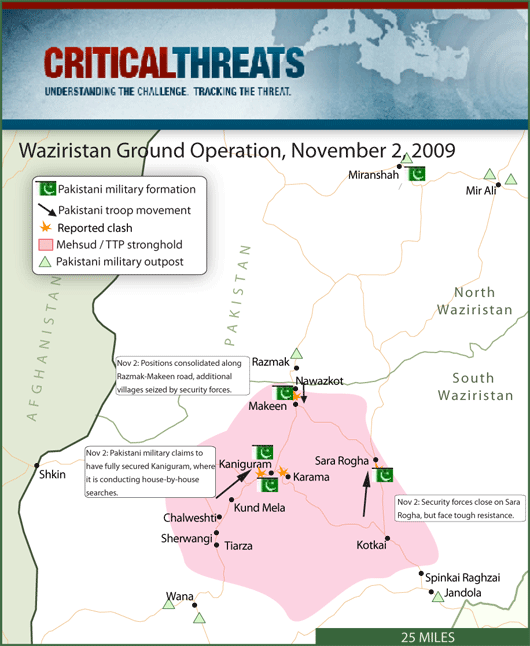 Day Seventeen of Operation- November 2, 2009
MAP OF CONFLICT AREA IN SOUTH WAZIRISTAN - DAY SIXTEEN - November 1, 2009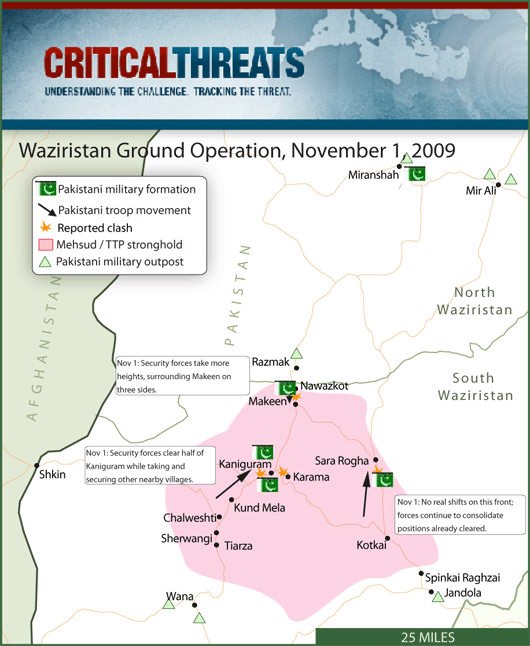 Day Sixteen of Operation- November 1, 2009
For daily operational updates for the month of OCTOBER, please CLICK HERE
RELATED CRITICAL THREATS PUBLICATIONS
Pakistan Security Brief (November)

Reference
Analysis of Security Situation in Waziristan
Biographies of Waziristan Militants