August 23, 2020
Warning: Violent Confrontation between Protestors and Military Likely
Posted courtesy of the Institute for the Study of War.
Belarusian President Alexander Lukashenko is likely preparing to suppress protests in Minsk by force. Lukashenko appeared in a military uniform during public appearances on August 22, likely to signal a new phase of his response.[1] The Belarusian Ministry of Defense released a statement on Telegram the morning of August 23 claiming protesters are waving the flags of "fascists" and stated the military will directly protect World War II memorials in Belarus.[2] The defense of World War II monuments has been a major theme of Russian information operations for years.[3]  The Belarusian military began deploying in Minsk the morning of August 23.[4] The military is assembling in Victory Park, about two miles north of the main protest location at Independence Square.[5] Belarusian army units are preparing barricades and setting up barbed wire.[6] The head of the Minsk Metropolitan Police additionally warned protesters to halt two weeks of illegal protests that have "damaged" Minsk and not to take part in planned "provocations."[7]
 The Kremlin information operation on Belarus is expanding in the English language space. English language propaganda is connecting the red and white opposition flag to Belarusian Nazism.[8] Russian troll accounts are posting images of people doing Nazi salutes with the opposition flag.[9] The accusation that protest leaders are Nazis is explicitly parallel with the framing the Kremlin used about the 2014 Euromaidan revolution in Ukraine.
 Protests are continuing around Belarus without major interference from security forces. Several protests numbering in the thousands are gathering in Belarusian cities including Brest, Grodno, Zhodino, Bobruisk, and others, predominantly the sites of ongoing nationwide strikes.[10] Belarusian security forces are likely concentrating in Minsk to contest the major march, but Belarusian military forces concentrated in the Grodno region for exercises could also challenge protesters there. There is no evidence that they are yet doing so, however.
 Opposition Telegram channel NEXTA is likely attempting to provoke a fight with the Belarusian military. NEXTA has promoted the August 23 "March of the New Belarus" as a stationary event throughout the past week, calling on protesters to assemble in Minsk's Independence Square from 2:00 pm to 7:00 pm local time.[11] The morning of August 23, NEXTA issued a follow-up statement calling on Belarusians to gather and stating that "[NEXTA has] a clear plan on how to get rid of the occupiers with minimal losses."[12] NEXTA has never referenced "losses" in any prior statements and has avoided calls to confront security forces. The decision to direct the protesters toward a concentration of security forces and a World War II memorial appears to feed directly into the Russian information campaign, and is a diversion from the previous tight protest focus on Lukashenko's misdeeds.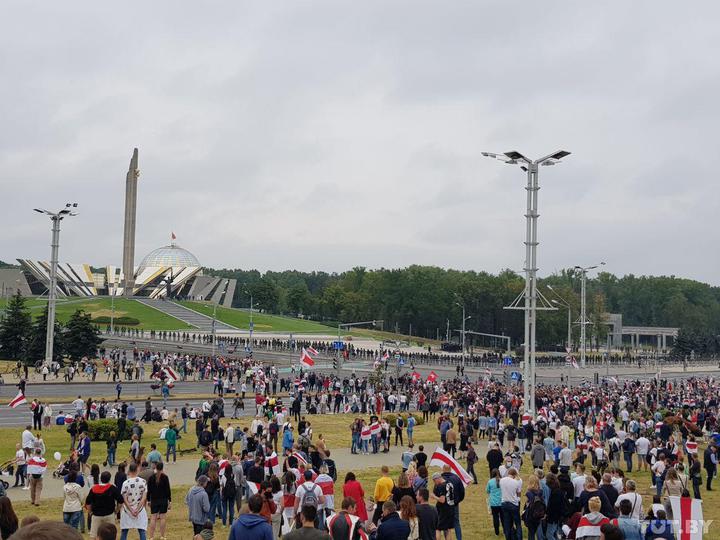 Protesters gather in front of Belarusian army barricades around Minsk's Victory Park. Photo: tut.by
An estimated 200,000 Belarusians gathered on Independence Square and the surrounding streets by 3:00 pm local time.[13] NEXTA issued new instructions at 3:15 pm local time, calling for a moment of silence at 3:30 pm before a march at 4:00 pm, "with destination to be announced."[14] At 4:00 pm, NEXTA issued instructions direct protesters to march to the "Planeta Hotel," directly across the street from Victory Park and the Belarusian military deployment.[15] Protesters began assembling across the street from security forces in Victory Park around 4:30 pm local time.[16] Two representatives of opposition leader Svetlana Tikanouskaya (Maria Kolesnikova and Olga Kovalkova) arrived at Victory Park just after 5:00 pm local time and asked protesters to move back from the fence with the security forces and "not create provocations."[17] Their arrival likely indicates Tikanouskaya and the Coordination Council do not agree with NEXTA's attempt to provoke a confrontation with security forces.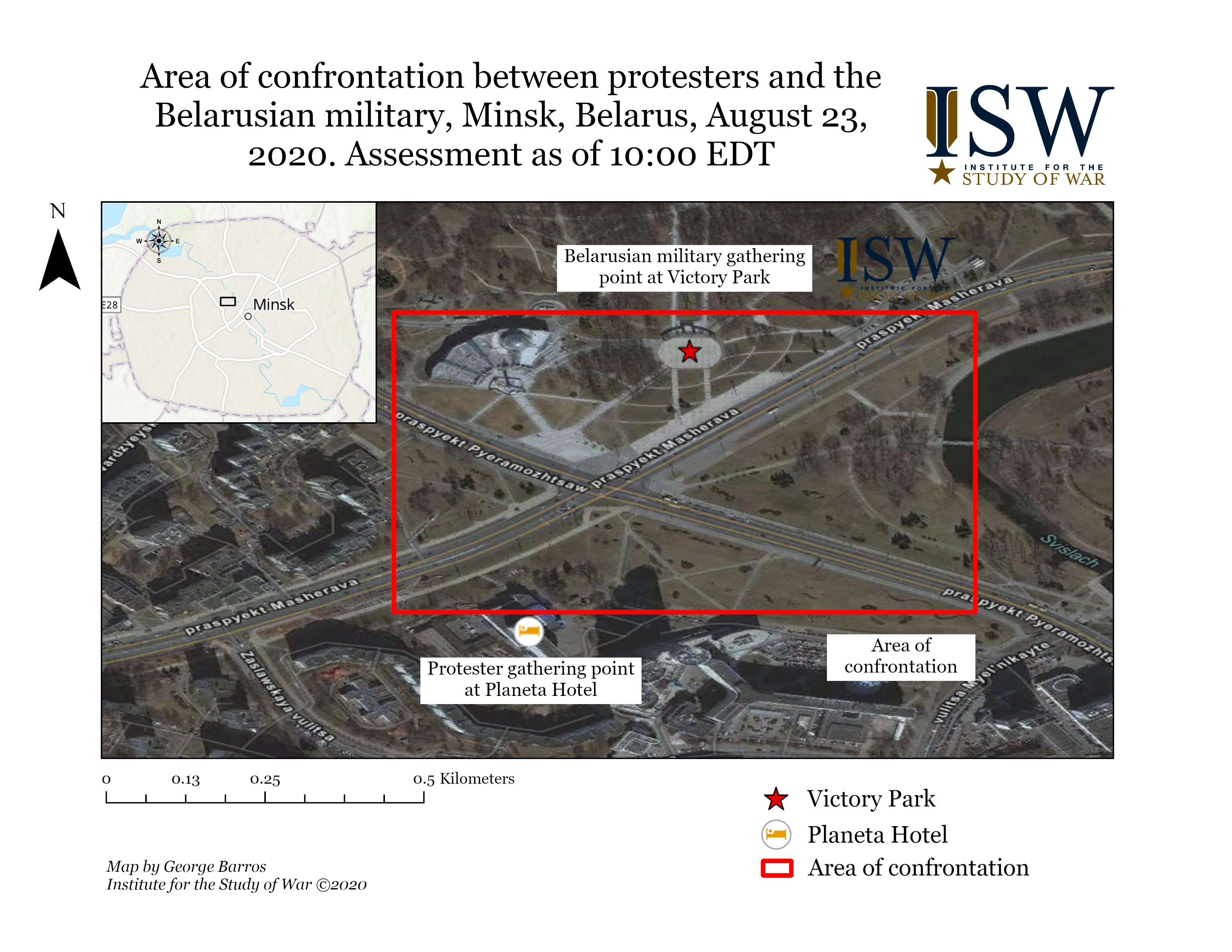 NEXTA likely seeks to provoke a confrontation with security forces to militarize the protest movement. Lukashenko will likely exploit this opportunity to crack down on protesters under the pretext of protecting monuments.
ISW will continue monitoring the situation and providing updates.
---
[1] https://www.belta((.))by/president/view/lukashenko-vpervye-za-chetvert-veka-prishlos-prinimat-samoe-serjeznoe-reshenie-403766-2020/.
[2] https://t((.))me/modmilby/2538; https://news.tut.by/society/697752.html.
[3] https://www.nytimes.com/2007/04/27/world/europe/27cnd-estonia.html.
[4] https://twitter.com/ChristopherJM/status/1297474999570309120?s=20.
[5] https://news.tut((.))by/economics/697738.html.
[6] https://news.tut((.))by/economics/697738.html.
[7] https://news.tut((.))by/society/697750.html.
[8] https://twitter.com/id_communism/status/1296390343559184384; https://twitter.com/Mortis_Banned/status/1297507108603207680; https://twitter.com/int_communism/status/1297488479878815744; https://twitter.com/betatrash/status/1297405880506494978; https://twitter.com/bulbaloo/status/1297203531829719041; https://twitter.com/ElaineG16/status/1296976889177935873.
[9] https://twitter.com/ackrazam/status/1296391801654448128.
[10] https://news.tut((.))by/economics/697738.html.
[11] https://t((.))me/nexta_live/8903.
[12] https://t((.))me/nexta_live/9178.
[13] https://t((.))me/nexta_live/9271.
[14] https://t((.))me/nexta_live/9255.
[15] https://t((.))me/nexta_live/9276.
[16] https://t((.))me/nexta_live/9310
[17] https://news.tut((.))by/economics/697738.html.
View Citations