August 15, 2020
Warning: Belarusian President Lukashenko Reaches Agreement with the Kremlin for Russian Intervention
Posted courtesy of the Institute for the Study of War.
Belarusian President Aleksander Lukashenko and the Kremlin have reached an agreement for a potential  Russian intervention to crush protests. Lukashenko stated Russia is prepared to intervene in Belarus in a meeting with the Belarusian general staff the evening of August 15: Lukashenko stated "we have an agreement with the Russian Federation in the framework of the Union State and the CSTO (Collective Security Treaty Organization). These moments are fitting to this pact. We agreed that at the first request there will be comprehensive assistance provided to ensure the security of the Republic of Belarus."[1]  Belarusian state media edited its reporting on Lukashenko's statement at 9:45pm local time to insert the comment that Lukashenko would only invite Russian forces "in the event of external military threats."[2] Lukashenko will likely increasingly frame the protests as foreign-backed to legitimize calling for a Russian intervention and in a continuing effort to separate protest leaders from the mass of the Belarusian people.
Russian forces may be massing on the border. An unverified report indicates Russian forces may be concentrating in the Russian cities of Nevel and Klincy to move towards Vitebsk and Gomel, respectively.[3] This report tracks with bans on entrance imposed by the Belorussian forest ministry, which included bans on forests in the Gomel region, and near Mogilev, a natural location for Russian forces approaching from the north and south to link up.
Russia is already taking actions to disrupt protests. Russia issued an arrest warrant for Stepan Putilo, founder of the NEXTA Telegram channel, on 15 AUG.[4] The charges Putilo would be held under are unknown. Belarus put out a warrant for Putilo's arrest on 14 AUG. The NEXTA channel recently re-shared a video by Euroradio showing the death of Aleyksander Taraykouski, who was shot by the police on 10 AUG. This video was initially shared as early as 12 AUG. NEXTA, which operates out of Poland, has been instrumental in organizing protests.
Lukashenko faces increasing crises of loyalty among security/media and will likely increasingly rely on Russian or other foreign security personnel. Lukashenko is attempting to contain a growing crisis of loyalty among the military and security services.  Lukashenko held a meeting with the General Staff of the Armed Forces in which he warned that protestors were threatening the families of service members.[5] He warned protesters "our military has enough resources in order to protect themselves, their families and ensure security in the state." There is currently no documented protestor violence against the families of service members.
Lukashenko rejected calls from Poland, Lithuania and Latvia to mediate a national council of representatives. Lukashenko will likely frame any international offers of mediation as "foreign interference" and reject any international solution.
Lukashenko will likely be increasingly forced to rely on non-Belarusian security forces as defections mount. Serbian Special Operators may be present in Brest.[6] An open source analyst posted a photo collage that may show special operating units with Serbian markings in Brest on 15 AUG, as well as in Minsk on 09 AUG during the election. The Serbian 72nd Special Operations Brigade has been in the "Sniper Border" competition in Belarus, as part of the Russian Army Games, since 27 JUL. The pictured units may be part of that brigade.
Lukashenko is attempting to limit a planned strike by the Belarussian National TV and Radio service on Monday August 17. Chairperson of upper house of the Belarusian Parliament Natalya Kochanova and Presidential Press Secretary Natalya Eismont met with protestors at the Belarussian National TV and Radio company in Minsk on August 15 at 1800 Belarus time.[7] Employees asked Kochanova why the state television does not tell "the truth" and Kochanova allegedly responded that "your competitors also cover everything one-sidedly." Several employees walked out of the meeting to join protesters. Between hundreds and one thousand protestors from outside the company gathered outside the television building to demand the truth from Kochanova, who left the meeting after 30 minutes ostensibly due to family reasons; the meeting continued without her. Shortly thereafter, OMON special police forces entered the building.[8]
Pro-Lukashenko factory workers will hold a demonstration on Minsk's Independence Square two hours before the opposition's "Freedom March" is set to begin there on Sunday.  The square is strategically important. The Supreme Soviet of Belarus and Minsk City Hall are both on this square (which visually looks like Kyiv's Maidan Square). Pro-Lukashenko forces are likely going to occupy the square to prevent anti-Lukashenko demonstrations there. [9] ISW will be watching for clashes between the two protest groups this evening and tomorrow, as well as for the establishment of barricades or other obstacles on the square by demonstrators and/or security forces.  This development increases the likelihood of violent clashes that may serve as pretexts for harsher oppression and/or greater or more direct Russian intervention.
ISW will continue monitoring the situation and providing updates.
The following Russian unit locations are derived from a previous ISW-CTP report, Russia's Military Posture: Ground Forces Order of Battle.  They are included only for reference. ISW has no specific evidence at this time that the units identified here are involved in the unconfirmed reported troop movements or that any Russian conventional forces have crossed the border into Belarus.
Click here to expand the image below (available via ISW).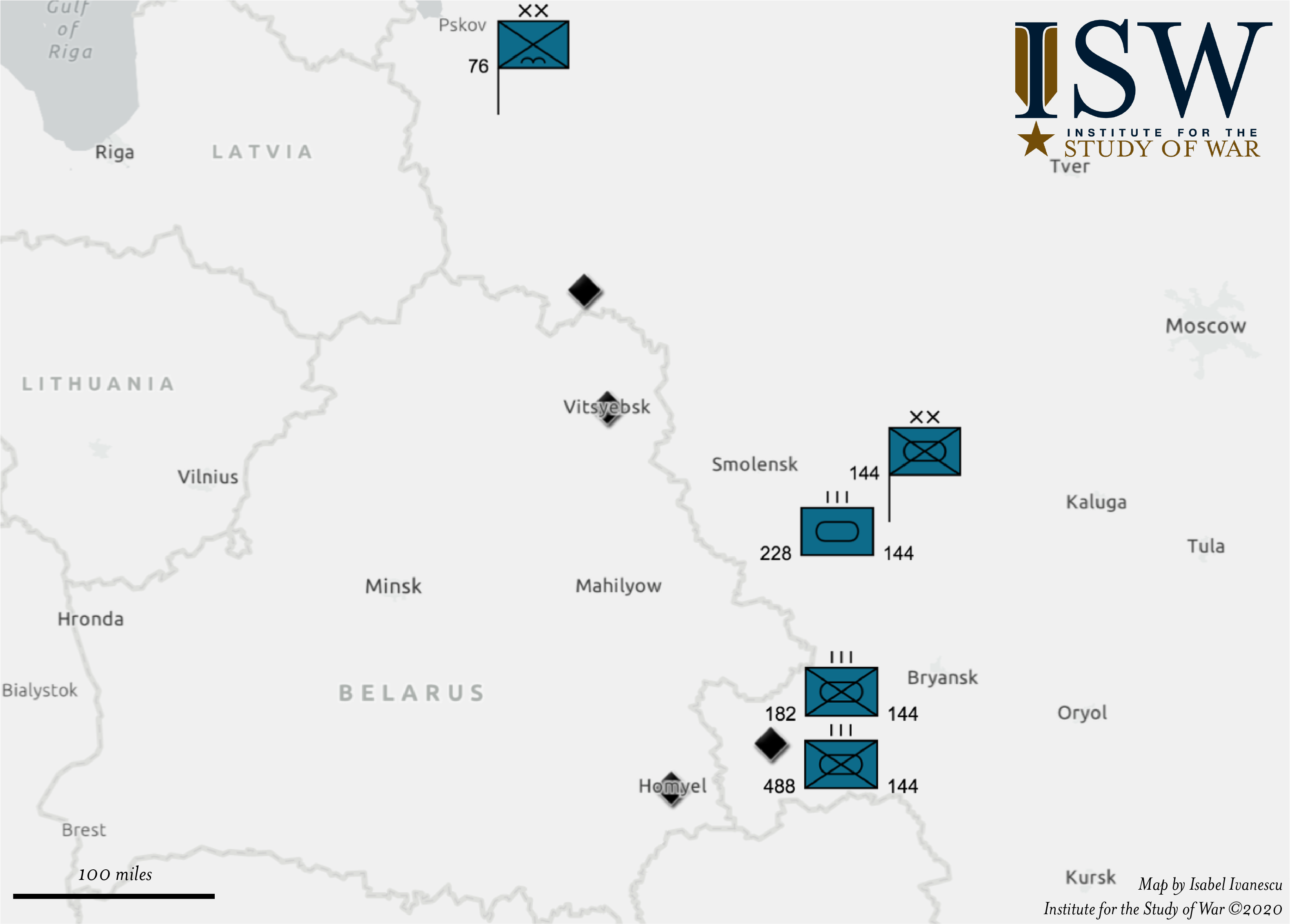 ---
[1] https://meduza(.)io/news/2020/08/15/lukashenko-pri-pervom-zhe-nashem-zaprose-o-voennoy-pomoschi-budet-okazana-vsestoronnyaya-pomosch-rossii; https://www.belta((.))by/president/view/lukashenko-dogovorilsja-s-putinym-rossija-pri-pervom-zaprose-okazhet-pomosch-po-obespecheniju-402964-2020/.
[2] https://www.belta((.))by/president/view/lukashenko-dogovorilsja-s-putinym-rossija-pri-pervom-zaprose-okazhet-pomosch-po-obespecheniju-402964-2020/
[3] https://twitter.com/A_Sannikov/status/1294673282558562305
[4] https://twitter.com/HannaLiubakova/status/1294657077126758400; https://www(.)pravda.com.ua/rus/news/2020/08/15/7263054/; https://lenta(.)ru/news/2020/08/15/nexta/
[5] https://rus(.)lsm.lv/statja/novosti/mir/litva-latvija-i-polsha-predlozhili-stat-posrednikami-mezhdu-belorusami-i-lukashenko.a370286/; https://meduza(.i)o/news/2020/08/15/nashi-voennye-imeyut-dostatochno-resursov-dlya-togo-chtoby-zaschitit-sebya-i-obespechit-bezopasnost-v-gosudarstve-lukashenko-na-soveschanii-v-genshtabe; https://www(.)belta.by/president/view/lukashenko-ob-ugrozah-v-adres-semej-voennosluzhaschih-ne-nado-igrat-s-ognem-402951-2020/
[6] https://twitter.com/franakviacorka/status/1294635081752031232, DNGTS: https://www(.)alo.rs/vesti/politika/vojska-srbije-snajperska-jedinica-specijalne-operacije-aleksandar-vulin/329519/vest
[7] https://news.tut(.)by/society/696819.html, https://vz(.)ru/news/2020/8/15/1055247.html, https://tjournal(.)ru/news/199181-belorusy-prinesli-starye-televizory-k-redakciyam-goskanalov-i-ustroili-masshtabnuyu-akciyu-u-ofisa-glavnogo-veshchatelya
[8] https://twitter.com/HannaLiubakova/status/1294682496718839808
[9] https://officelife(.)media/news/19554-lukashenko-supporters-are-preparing-a-rally-of-solidarity-in-minsk-on-16-august/
View Citations