May 12, 2023
Timeline: US Embassies Threatened by Spread of Salafi-Jihadi Groups
May 11, 2023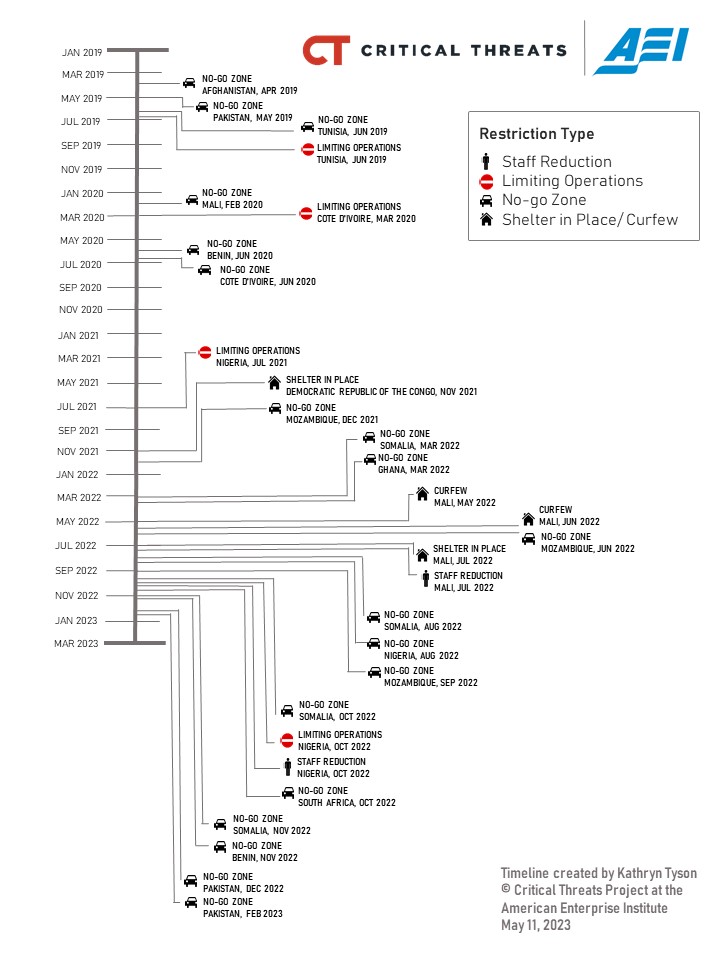 Source: Author's research.
This timeline shows U.S. embassy restrictions on diplomatic personnel in Africa, Asia, and the Middle East due to Salafi-jihadi threats since 2013. The timeline demonstrates how U.S. embassy restrictions have steadily increased as Salafi-jihadi groups have spread. Notably, the growth of al Qaeda- and Islamic State-linked groups in West Africa has clearly affected U.S. embassy operations. The absence of qualifying events from Iraq mirrors progress against the Islamic State—threats from Iranian-backed militias rather than ISIS are behind the recent security warnings not depicted here. Nearly one-third of all such restrictions occurred in 2022, and many of the security policies implemented remain in place today.
The timeline classifies embassy restrictions into four categories: staff reduction, limit to operations, no-go zone, and shelter in place order or curfew. The Critical Threats Project at the American Enterprise Institute gathered data from published warnings or updates on U.S. embassy websites for each country and to a lesser extent through mainstream Western media.