June 01, 2012
The Iranian Nuclear Program: Timelines, Data, and Estimates V3.0

This assessment is version 3.0 of a recurring analysis of Iran's nuclear program. 
Iran is at the threshold of a nuclear weapons capability. Sanctions, direct action, and diplomatic tools have neither changed Iran's nuclear policy nor had a visible effect on the enrichment program, including the growing stockpile of 19.75% LEU. Obtaining weapons-grade high-enriched uranium (HEU) is the most difficult and technically challenging obstacle to acquiring a nuclear weapon. Assessing the "breakout" time—the time required to convert low-enriched uranium (LEU) to weapons-grade HEU—is therefore a critical component of determining progress toward a nuclear weapons capability.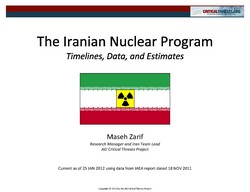 AEI's Critical Threats Project has produced a capabilities-assessment of the time required for Iran to acquire enough weapons-grade uranium to fuel one nuclear weapon if it proceeds to break out in 2012. It does not assess Iran's intentions to weaponize or to purse break-out scenarios, but rather focuses entirely on technical feasibility. The assessment also provides scenarios for the growth of Iran's 19.75% LEU stockpile, background data on processes involved in a nuclear weapons program and Iran's reported progress, and imagery of the primary enrichment facilities at Natanz and Fordow.  
This product is an exposition of the technical data contained in numerous International Atomic Energy Agency (IAEA) reports informed by the discussions of experts in the field of nuclear proliferation. It is a work in progress in that it will be revised continuously based on new information from the IAEA reports and other sources and on feedback from readers. We welcome your informed commentary on the technical considerations presented in this document. Please send your comments, with references to source-date or documentation, to [email protected].
KEY FINDINGS 
IRAN IS DEVELOPING A RAPID NUCLEAR WEAPONS BREAKOUT CAPABILITY BY REDUCING THE TIME IT NEEDS TO PRODUCE FUEL FOR AN ATOMIC WEAPON.
Iran would need 7.8 MONTHS to produce 25 kg of weapons-grade uranium and 2 MONTHS to produce 15 kg of weapons-grade uranium at the buried Fordow enrichment facility.*
Iran would need 1 MONTH to produce 25 kg of weapons-grade uranium and 2 WEEKS to produce 15 kg of weapons-grade uranium at the larger Natanz enrichment facility.*
These estimates are based on data from Iran's declared operating facilities. The existence of undeclared (covert) enrichment sites, which cannot be ruled out given Iran's record of deception, would have an impact on breakout estimates.
IRAN IS EXPANDING AND HARDENING ITS URANIUM ENRICHMENT CAPACITY.
Iran is increasing its stockpile of 3.5% and 20% enriched uranium. Its 3.5% enriched uranium production increased sharply in the last International Atomic Energy Agency (IAEA) reporting period. Its 20% enriched uranium production grew at a constant rate. It has enough low-enriched uranium to fuel five nuclear weapons after conversion to weapons-grade.
A growing proportion of Iran's 20% enriched uranium is being produced in the more hardened facility at Fordow, rather than in the more vulnerable Natanz facility.
Iran is expanding both of its declared enrichment facilities. It recently installed an additional 368 centrifuges at Fordow and earlier in 2012 built infrastructure to operate approximately 1,630 additional centrifuges there and several thousand more at Natanz.
IRAN IS PURSUING MULTIPLE PATHS TO OBTAINING NUCLEAR WEAPONS FUEL.
Iran recently told the IAEA that it plans to begin operating the Arak heavy water reactor in April 2013. This reactor will be capable of producing two warheads' worth weapons-grade plutonium per year once operational.
*Estimates assume Natanz and Fordow operate with the capacity reflected in the May 2012 IAEA report. Iran may need 15-25 kg weapons-grade uranium for an implosion-type bomb design depending on its level of technical ability.