October 26, 2012
Strike on Khartoum: October 23, 2012
Map of 1998 and 2012 strikes in Khartoum. Click to enlarge.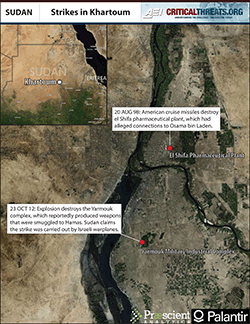 Reports suggest that Israel may have destroyed a Sudanese weapons factory suspected of facilitating the movement of Iranian weapons to Iranian proxies, including Hamas. The Yarmouk Military Industrial Complex in Khartoum, allegedly linked to Iran's Islamic Revolutionary Guards Corps (IRGC), exploded on October 23.[1] If Israel did, in fact, conduct the attack, then we must consider whether this incident is simply the next in a long series of international military strikes against al Qaeda and IRGC targets in Sudan, or actually an indicator that hostilities between Israel and Iran are escalating.
The explosion at the Yarmouk Military Industrial Complex in south Khartoum occurred at midnight on October 23. The governor of Khartoum originally called the explosion an accident, but the following day, the Sudanese information minister charged Israel with bombing the complex.[2] According to Information Minister Ahmed Bilal Osman, four planes came from the east and bombed Yarmouk. Osman added, "We think Israel did the bombing. . . . We reserve the right to react at a place and time we choose."[3] An Israeli intelligence official confirmed to NPR that the Israeli military does operate in Sudan, although top Israeli officials have refused to comment on the attack.[4] Amos Gilad, the director of policy and political-military affairs at Israel's Defense Ministry, avoided discussing Israel's role in the attack, but called Sudan a "dangerous terrorist state."[5] Gilad explained further, "The regime is supported by Iran, and it serves as a route for the transfer, via Egyptian territory, of Iranian weapons to Hamas and Islamic Jihad terrorists."[6] Israeli Defense Minister Ehud Barak refused to comment on the issue.[7] Israel's silence on the issue is not surprising. Israel never officially claimed responsibility for the January 2009 attack.
The international reaction has largely been muted. The Arab League issued a brief statement condemning the attack. Except for Egypt, individual Arab states have not spoken out. Egyptian Prime Minister Hisham Qandil told Sudanese Vice President Ali Othman Taha in a phone call that Egypt "rejects any aggression that undermines the sovereignty, security, and territorial integrity of Sudan."[8] Only the Iranian regime and its proxies have made other direct responses. Iran's foreign ministry spokesman Ramin Mehman-Parast urged the international community to take action against "this blatant violation."[9] Likewise, Hamas and Hezbollah denounced the Israeli attack. Hamas issued a press statement announcing that it stands it solidarity with Sudan.[10] Ismail Haniyeh, the head of the Hamas government in Gaza, said that the attack "proves once again that Israel is an outlaw state sponsoring terrorism."[11]
Iran's relationship with Sudan is long and well established. It began when Brigadier Omar al Bashir seized power in Khartoum in 1989. Tehran supplied Bashir with weapons and oil during the revolution. After the revolution, the new Sudanese army – modeled after Iran's own Islamic Revolutionary Guards Corps – received training from IRGC forces.[12] The relationship deepened in subsequent years, with the signing of over 30 bilateral agreements ranging from Iranian support to trade and industry in Sudan to Sudanese military training in Iran by 1997.[13] Iran and Sudan signed a mutual defense agreement in March 2008.[14] A series of meetings, most notably one between the two countries' foreign ministers in November 2009, has laid the groundwork for the further expansion of Iranian-Sudanese diplomatic and economic relations.[15] President Bashir and President Mahmoud Ahmadinejad met twice in 2011: in Tehran in July and in Khartoum in September.[16]
The Iranian-Sudanese relationship also supports Hamas. The United States sanctioned Sudan as a state sponsor of terrorism in 1993 for harboring international terrorist groups, including Hamas, Palestinian Islamic Jihad (PIJ), Lebanese Hezbollah, and Egypt's al Gama'a al Islamiyya.[17] At least 10 paramilitary training camps in Sudan provided training to Hamas and other terrorist groups at the time.[18] Sudan also gave sanctuary to Osama bin Laden and his nascent al Qaeda organization.[19] The 1998 embassy bombings revealed Sudan as a nexus for terrorism and cooperation. An FBI affidavit asserted that al Qaeda put aside religious differences with "Shiite Muslim terrorist organizations, including the government of Iran and . . . Hezbollah, to cooperate against the perceived common enemy."[20] Sudan remains listed as a terrorism sponsor. The U.S. State Department cited Sudan's relationship with Iran, the continued presence of al Qaeda and PIJ members in Sudan and an increased Hamas presence there since late 2011.[21] A report surfaced in fall 2011 that IRGC Quds Force members left southern Sudan for Libya, where they seized Russian-made SA-24 missiles. They then smuggled the missiles to a purported IRGC storage facility in al Fashir, the capital of North Darfur, and reportedly some of these missiles have since made their way into Egypt.[22]
Map of strikes in Sudan, 1998-2012. Click to enlarge.
Hamas, which had effectively avoided direct conflict with Israel since the 2008-2009 Gaza war, has increasingly returned to its militant roots. Hamas fired a surface-to-air missile, an SA-7, at Israel for the first time in mid-October 2012.[23] On October 23, Hamas fired 80 short-range rockets and mortar shells at Israel in a 24-hour period.[24] Hamas's military wing, the Ezzedeen al Qassam Brigades, claimed responsibility for the rocket barrage.[25] The Hamas arms network runs down through Sudan, according to Israel, and the country has played a key role in arming the terrorist group. Arms shipments from Iran travel by dhow to the African coast and then overland through Sudan.  Some are then moved through Egypt and smuggled into Gaza. Israeli fighter jets targeted a large convoy carrying Iranian weapons in the northern Sudanese desert in January 2009.[26] Hamas did not deny the arms shipment. The breakdown of security in Egypt, specifically southern Egypt and the Sinai Peninsula, caused by the fall of Hosni Mubarak in February 2011, likely increased the ease with which arms could be smuggled from Sudan through the Egyptian territory and in to Gaza.
Israel will probably not face serious repercussions for the attack on Yarmouk. Over the years, both the U.S. and Israel have periodically hit targets in Sudan for facilitating terrorism and weapons transshipment. American cruise missiles hit a pharmaceutical company in Khartoum in 1998 that had alleged links to Osama bin Laden, and Israeli planes hit an arms convoy in January 2009.[27] More recently, in April 2011 and May 2012, targeted strikes outside of Port Sudan killed individuals who played a role in smuggling weapons to Hamas.[28] The Yarmouk attack may be just another mark on this timeline that seeks to handicap the arms smuggling network.
Alternatively, it might be an early indicator of increasing likelihood of conflict between Israel and Iran. Israel may have taken pre-emptive action to sever a key logistics line for Hamas – this line was also used in the 2008-2009 Gaza war – or it could have been a reaction to an Iranian attempt to arm Hamas further. Regardless, Israel's actions have made clear that it is increasingly concerned with the growing violence on its southern border. Israel can no longer depend on Egypt for support along the border and the Iron Dome defense system has limited capabilities, even though it has proven to be effective. As tensions rise between Israel and Iran, the possibility of Israeli limited military actions to reduce Iranian capabilities will increase.
---
View Citations