June 02, 2015
Saudi Unit Deployments to the Yemeni Border (Jizan, Asir, and Najran Regions)
Saudi military deployments to the Yemeni border since Operation Decisive Storm (now Operation Restoring Hope) was launched on March 25, 2015, are drawn from both Royal Saudi Land Forces (RSLF) and Saudi Arabian National Guard (SANG) units. The deployments include infantry, armored, and artillery units as well as logistical and support units.[1]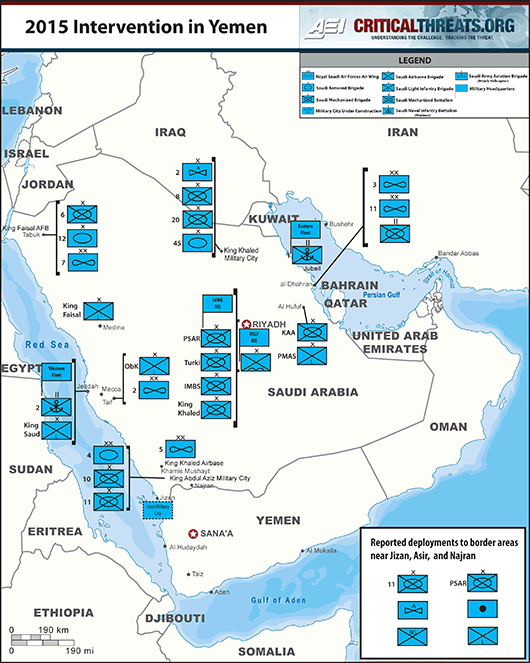 Click image to enlarge.
Saudi Arabia announced additional deployments to Najran as part of a "Strike Force" in response to Houthi shelling of civilian areas in Najran province on May 6, 2015.[2] These units are reportedly led by Brigadier General Muhammad Ali Shahrani, SANG Commander of the Prince Sa'd bin Abdul Rahman (PSAR) Brigade.[3]
The level of coordination between RSLF and SANG is not entirely clear. Formally, RSLF falls under the jurisdiction of the Ministry of Defense while SANG reports to the Ministry of Interior. However, a SANG officer interviewed by Al Arabiya reported close communication between RSLF, SANG, and the Ministries of Defense and Interior. He claimed the various bodies had established a shared operations room to coordinate their efforts.[4]
 
RSLF Unit Deployments
RSLF 11th Mechanized BDE[5] (deployed from King Abdul Aziz Military City, Khamis Mushayt, Asir Region)[6]
RSLF Army Aviation (no unit designation available)[7]
SANG Unit Deployments
SANG PSAR Mechanized BDE[8] (deployed to Najran)
SANG 23rd Battalion[9]
SANG Artillery Battalion[10]
---
View Citations