May 12, 2023
Salafi-Jihadi Movement Update Special Edition: Protests in Pakistan, May 12, 2023
Data Cutoff: May 12, 2023 at 2:00 p.m. ET
Figure 1. Protests and Salafi-Jihadi Attacks in Pakistan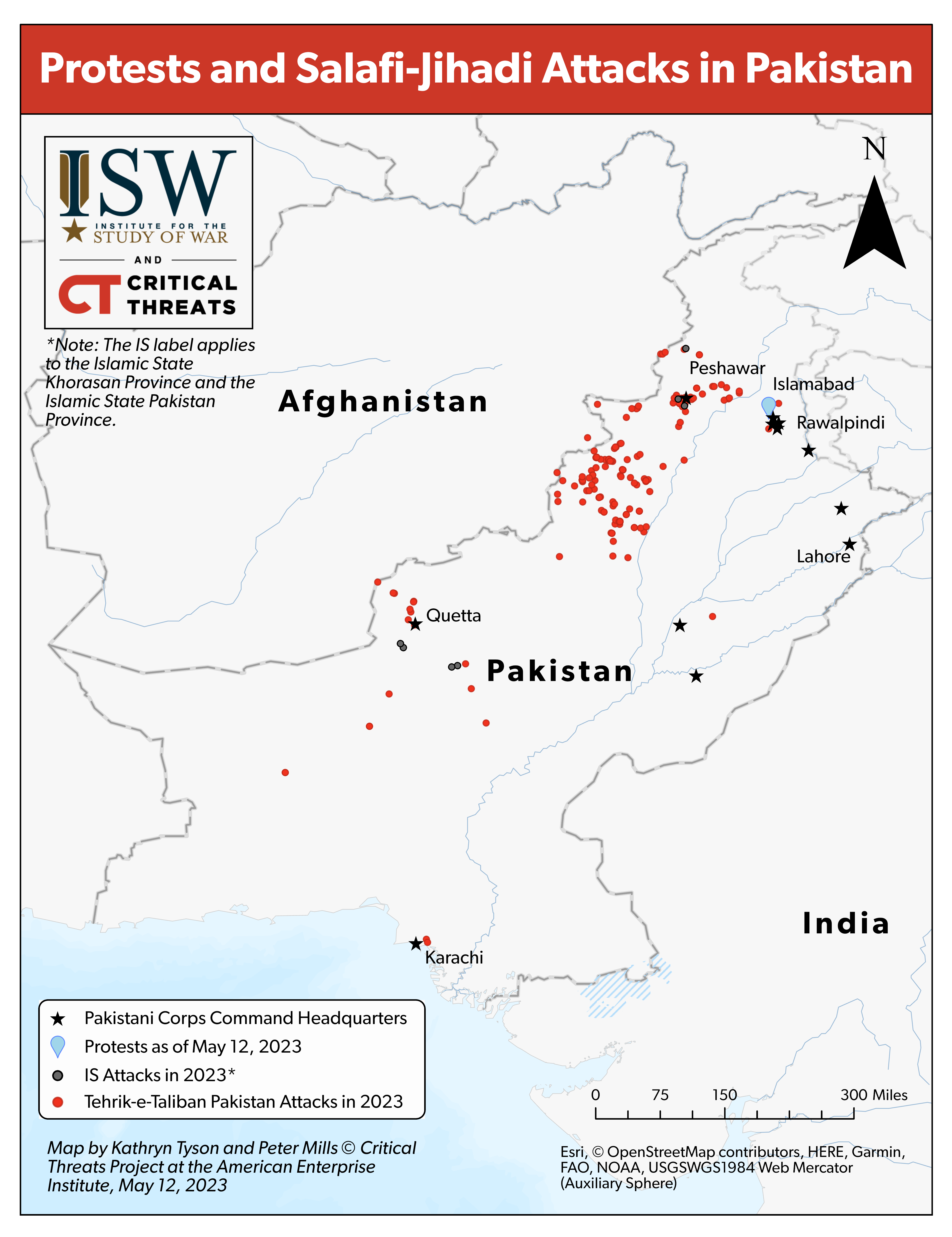 Source: Kathryn Tyson and Peter Mills.
Protests in Pakistan decreased on May 12 but may surge again if Pakistani authorities rearrest or try former Prime Minister Imran Khan at the end of May. CTP has observed a decrease in protests since May 11. There were two protests on May 11 and one on May 12.[ii] Khan's Pakistan Tehreek-e Insaf (PTI) party celebrated the Pakistani Supreme Court's decision to release Khan and grant him a two-week bail on May 12.[iii] The Supreme Court said authorities cannot arrest Khan until May 17 for charges filed against him after May 9.[iv] If the Pakistani government rearrests Khan, it will likely spark another round of protests across Pakistan. Khan warned of more protests after authorities delayed releasing him for several hours after the bail announcement.[v]
The Pakistani military may be divided on how to respond to PTI protests. Pakistani media and pro-PTI accounts reported that the Pakistani Chief of Army Staff (COAS) General Asim Munir replaced the IV Corps commander in Lahore on May 12 for failing to prevent PTI protestors from breaking into the Lahore cantonment on May 9.[vi] The Pakistani military has not confirmed the replacement. Pro-PTI journalists claimed that the COAS removed the commander for refusing to order Pakistani troops to fire on PTI protestors in Lahore.[vii] Pakistani journalists and analysts reported that some Pakistani military forces refused to confront protestors during protests on May 9.[viii] Continued protests could exacerbate these divisions and weaken military responses to Salafi-jihadi groups.
Protests in Pakistan, May 12, 2023:
Islamabad-Srinagar Highway
Bajaur, Khyber Pakhtunkhwa Province
Notes: PTI social media accounts claimed PTI supporters held peaceful protests.[xi]
View Citations