September 26, 2016
Iran's Kurdish Insurgency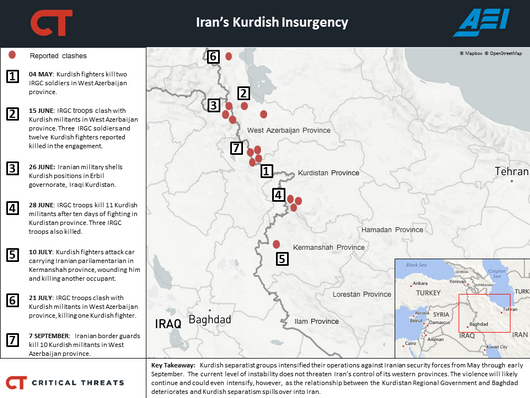 Kurdish militants have escalated attacks against Iranian security forces in the past six months. Clashes along Iran's western borders have occurred almost weekly from May through early September. The current level of violence will not endanger Tehran's control of Iran's western provinces.  It will, however, drive Tehran to intensify its efforts in managing the politics of Iraqi Kurds and Baghdad in order to prevent any further spillover of Kurdish separatism into Iran. An escalation of the conflict would also divert military resources that Iran might otherwise have deployed to Syria and elsewhere.
The Islamic Republic has struggled with Kurdish militancy since its inception. Kurdish separatist groups exploited the turmoil of the Islamic Revolution to launch a full-fledged insurgency in 1979, which Tehran was only able to reverse after significant deployments of Iranian troops to the area.[1] One of the largest Kurdish separatist groups involved in the conflict, the Democratic Party of Iranian Kurdistan (PDKI), continued to conduct limited attacks on Iranian forces until 1996, when it announced a ceasefire with Tehran and retreated to bases located in Iraqi Kurdistan.[2] Another militant group, the Iran-Kurdistan Free Life Party (PJAK), waged a low-level insurgency against the Iranian central government from Iraqi Kurdistan that culminated in a 2011 ceasefire, although PJAK fighters continued to occasionally clash with Iranian security forces afterwards.[3] Violence in Iranian Kurdistan therefore persisted at relatively low levels with only isolated incidents of cross-border violence prior to this year.[4]
Iran has historically relied on a multi-pronged approach to minimize the threat posed by Kurdish separatism. Tehran has used its military forces to combat armed incursions by Kurdish militants and suppress signs of discontent among its own Kurdish populations. But the Iranian regime also recognized that expanding Kurdish nationalism in Iraq might drive Iranian Kurds into rebellion.[5] An autonomous Kurdistan could also provide greater cross-border freedom for separatist groups to plot and conduct cross-border attacks. Preventing Iraq's partition therefore emerged as a core goal of Iranian efforts in Iraq as the Kurdish Regional Government (KRG) steadily expanded its autonomy.
Tehran supported Kurdish political groups opposed to demands made by the majority ruling faction, the Kurdish Democratic Party (KDP), to rapidly create an independent state.[6] Iranian efforts along this line were brought to a head during the Islamic State of Iraq and al Sham's (ISIS) 2014 advances in northern Iraq, when Iran appeared to play a role in backing Kurdish groups' push-back against KRG President and KDP Leader Masoud Barzani's calls for independence.[7] Tehran has also focused on mediating intra-Kurdish politics presumably in order to prevent political instability that could lead to the breakaway of Iraqi Kurdistan.[8] These efforts appear to have faltered recently, however, since Iran likely did not want to see Iraqi Finance Minister and KDP member Hoshyar Zebari removed from office as he just was.[9]  At the same time, Iran has sought to curry favor with Iraqi Kurds through trade deals and aid in the fight against the Islamic State.[10] 
Expanding Kurdish nationalism in the region has likely emboldened Kurdish separatists to renew their operations against Tehran in 2016.[11] Iraqi Kurds intensified their demands in February for a referendum to formalize independence, for example.[12] Kurdish groups have also carved out their own autonomous region across the border in northern Syria, where Kurdish leaders voted to form a new autonomous federation in March before renewing their advances into ISIS-occupied territory.[13] In Turkey, the Kurdistan Workers Party (PKK) has ramped up its attacks following the breakdown of its ceasefire with Turkey last year.[14] Members of Iranian Kurdish separatist groups have repeatedly cited the wave of Kurdish nationalism throughout the region as a key reason for their escalation of operations against Tehran.[15] They probably hope that the success of Kurds in the broader region could rally support for Kurdish separatism among Iranian Kurds. Tensions in Iranian Kurdistan have also steadily increased since May 2015, when riots erupted in the city of Mahabad in West Azerbaijan province following the death of a woman who was trying to flee an attempted rape by a government official.[16]
Several Kurdish groups have claimed responsibility for the attacks this year in Iran, underscoring the broader resurgence in militancy across separatist groups. Chief amongst them has been the PDKI, which renounced its 20 year-long ceasefire with Tehran in March of 2016.[17] The Critical Threats Project recorded 14 separate clashes between Iranian security forces and militants confirmed by Iranian state media and reliable Kurdish news agencies from May through early September in 2016. . The scope of the conflict is likely larger, given the absence of reporting in remote areas and incentives by Iranian state media to downplay the conflict. Many of these clashes consisted of multi-day operations by Iranian military forces conducted along Iran's western borders.  The Iranian military has announced the escalation of security operations along the border as a result and has publicly called upon authorities in Iraqi Kurdistan to prevent cross-border attacks by Kurdish separatists.[18] 
The current level of instability does not threaten Iran's control of its western provinces. The various separatist groups are fragmented ideologically and field only limited military capabilities.[19] Iranian troops supplemented by air support are well-positioned to contain cross-border attacks into Iran at current rates. The violence has also been localized. Clashes have only been reported in rural areas in 2016, suggesting that the insurgency has not yet expanded into more heavily populated towns and cities of Iranian Kurdistan. The insurgency appears to be limited to Sunni-Kurdish populated areas, moreover, given the lack of violence reported in Kermanshah and Ilam provinces that are home to Iran's Shia-Kurdish population.[20] 
Border instability will probably continue and could even intensify, however. Iraq's Kurds are well positioned to gain further autonomy from the Iraqi central government in the near future. Baghdad and the KRG will focus on competing for territory as ISIS loses ground, exacerbating border instability and increasing the chances that separatism could spill over into Iran.[21] Iran's anxiety over Kurdish autonomy in Iraq is compounded by its fear that Saudi Arabia or the U.S. could exploit a sanctuary in an independent Kurdistan to foment instability. Iranian officials have already blamed the uptick of border violence on Saudi meddling, although there does not appear to be any evidence substantiating those claims.[22] Iranian military officials have vowed to escalate the conflict by launching cross-border attacks on Kurdish positions in Iraq if cross-border violence continues.[23] Such statements should not be dismissed as just empty threats. The Iranian military has reportedly shelled Iraqi Kurdistan on at least three separate occasions this year.[24]
A significant escalation of border violence could lead to the Iranian military overextending itself. Tehran currently faces significant force commitments in Syria, Iraq, and its own Sistan and Baluchistan province.[25] The IRGC relies upon Special Forces trained in counterinsurgency operations to constitute a significant portion of its deployments to Syria.[26] Increased unrest among Iran's Kurds would draw on a critical pool of forces needed for Tehran's expeditionary operations. An expanded Kurdish insurgency could also divert conventional IRGC Ground Forces troops from units stationed in nearby Hamadan and Kermanshah provinces that the regime has previously drawn upon for its deployments in Syria.[27]
Iran's struggle with Kurdish militancy will have repercussions for Tehran's greater efforts in Iraq. The Islamic Republic will expand its efforts to manipulate Iraq's governmental, economic, and security institutions in order to contain the threat of Kurdish separatism. The recent reports of Iranian delegations brokering deals with Iraqi Kurdish factions amid political infighting in the KRG should be interpreted in this context.[28] If these "soft" methods fail to achieve Tehran's goals, Iran's leaders will consider more interventionist approaches, such as conducting cross-border raids into Iraqi Kurdistan. Iran's expanding conflict with the Kurds is also a clear reminder that Iran's interests in Iraq do not stop with defeating ISIS. The failure to recognize these interests risks laying the groundwork for Iran's continued subversion of the Iraqi state to the ultimate detriment of U.S. interests in Iraq and the region.
---
View Citations