July 13, 2016
Iran's Airbridge to Syria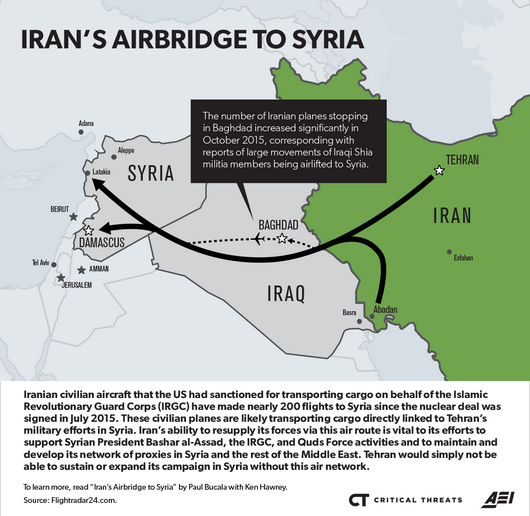 Click image to enlarge.
Executive Summary
Boeing and Airbus are set to sell nearly 200 aircraft to Iran's state airline, Iran Air, despite indicators that Tehran is already using the airline's aircraft to support its efforts in Syria. Since June 2015, 31 airplanes belonging to Iran Air and the private airline Mahan Air have departed from airports in Iran and landed in Syria, according to public flight-tracking data from Flightradar24.com. Tehran appears to have developed an expansive network of repurposed commercial aircraft to supply its expanding war effort in Syria.
This airlift to Syria is crucial for Iran's operations in Syria and the rest of the Levant. Supply by sea is slow and vulnerable to interdiction by Western militaries. ISIS forces continue to control overland routes from Iraq into Assad-controlled Syria. Tehran would be unable to conduct this resupply effort without the use of commercial aircraft due to the Iranian Air Force's limited airlift capabilities.
In 2011 and 2012, the US Treasury Department applied pressure to this lifeline by sanctioning Iran Air, Mahan Air, and the cargo airline Yas Air for transporting military equipment to Syria on behalf of the Islamic Revolutionary Guards Corps (IRGC).  However, the Joint Comprehensive Plan of Action (JCPOA) committed the US to remove sanctions on Iran Air, notwithstanding that US Treasury designations implicated the airline in flying cargo to Syria in support of the IRGC and Syrian President Bashar al-Assad.
Tehran reinforced its airbridge to Syria in the latter half of 2015. Both Mahan and Iran Air dramatically increased the number of flights to Syria following the intensification of the ground campaign in October and have maintained a high rate of flights since. The tempo of these tracked flights is correlated with the intensity of conflict on the ground, making it unlikely that the airplanes have been carrying exclusively civilian cargo. Many flights also take off from an airport in southwestern Iran that serves as the destination of regular flights by cargo aircraft belonging to Syrian Arab Airlines, suggesting that the airport operates as a supply hub for airlifts to Syria.
The US has several policy options for applying pressure on this network, including imposing penalties on businesses that facilitate Mahan Air's flights to western Europe. The removal of sanctions from Iran Air also merits serious reevaluation, as do the impending Airbus and Boeing sales to the airline. Iran's air route to Syria is a significant vulnerability in Iran's support to the Assad regime and its other proxies in the Levant. If the US is serious about pressing Iran to curtail its backing of Assad and other terrorist proxies in the region, then preventing Tehran from increasing its ability to maintain its airbridge should be a priority.