June 30, 2023
Iran Update, June 30, 2023 
The Iran Update aims to inform national security policy by providing timely, relevant, and independent open-source analysis of developments pertaining to Iran and its Axis of Resistance. This update covers political, military, and economic events and trends that affect the stability and decision-making of the Iranian regime. It also provides insights into Iranian and Iranian-sponsored activities abroad that undermine regional stability and threaten US forces and interests. The Critical Threats Project (CTP) at the American Enterprise Institute with support from the Institute for the Study of War (ISW) provides these updates Monday through Friday. To receive Iran Updates via email, please subscribe here
The Institute for the Study of War (ISW) with support from the Critical Threats Project (CTP) at the American Enterprise Institute launched a new interactive map of Iran and the Middle East. The map depicts events in Iran that affect the stability of the Iranian regime, namely anti-regime protests and reported poisoning incidents. It also shows developments in Syria that jeopardize regional stability and pose threats to US forces and interests, including Iranian and Iranian-backed militia positions.
Contributors: Radhika Bhargava
 Key Takeaways
The Islamic Revolutionary Guard Corps Quds Force (IRGC QF) and Lebanese Hezbollah (LH) established a headquarters in eastern Syria, probably to coordinate arms transfers, intelligence collection, and training for Iranian-backed militants in Syria.
The Syrian Arab Army (SAA) Russian forces conducted air strikes on rebel groups in Idlib Province shortly after the failure of the latest normalization and Astana Talks, and Iran may send Iranian-backed militants to in northwestern Syria to support the pro-regime operations.
Iran's worsening water crisis is increasing food insecurity and internal migration, which will likely fuel greater popular unrest in the coming years.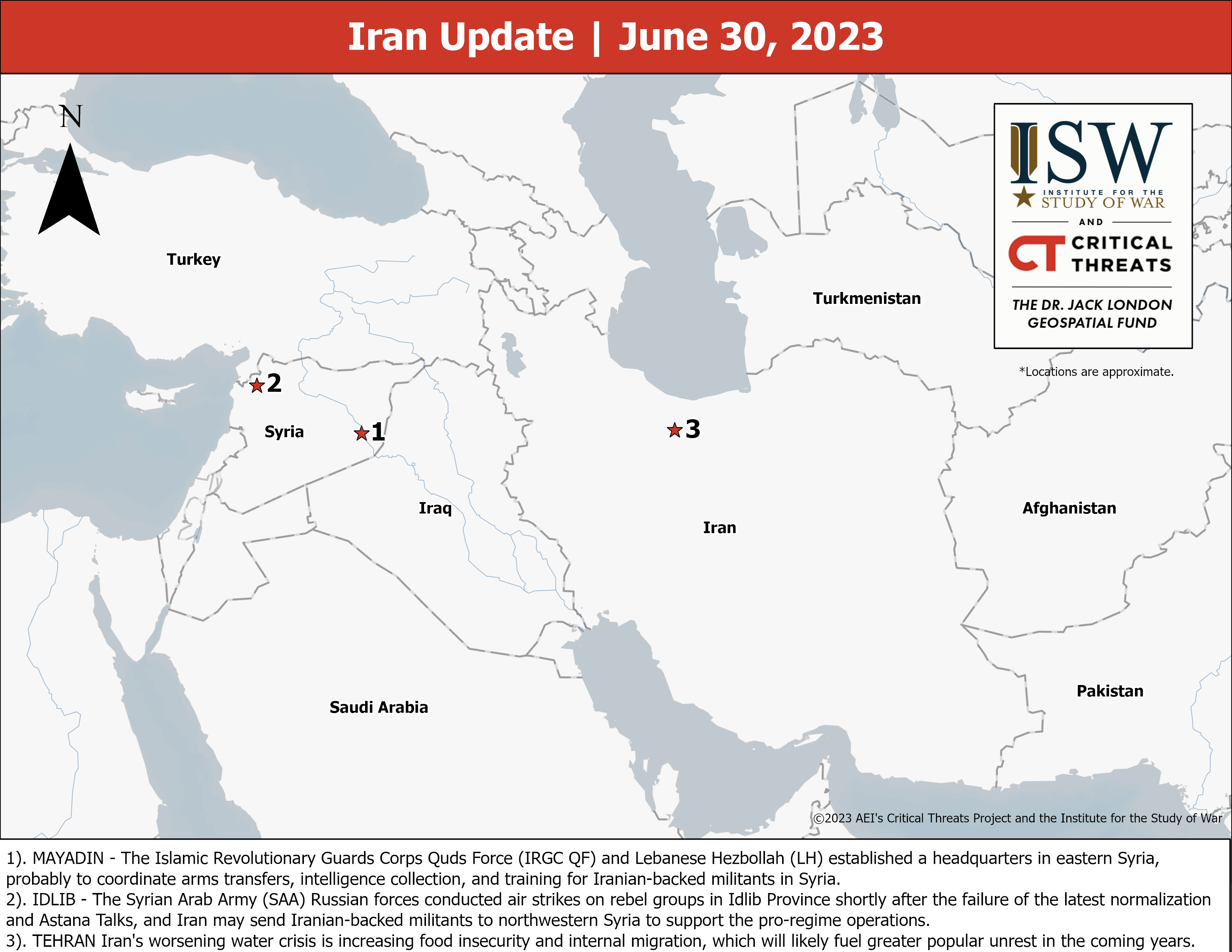 Iranian Activities in Syria
This section covers Iranian efforts to consolidate and expand Tehran's economic, military, and political influence throughout the Levant especially in Syria. This section examines some of the many campaigns that Iran is pursuing to achieve this strategic objective. CTP will update and refine our assessments of these campaigns over time and in future updates.
The Syrian Arab Army (SAA) and Russian forces conducted air strikes on rebel groups in Idlib Province shortly after the failure of the latest normalization and Astana Talks, and Iran may send Iranian-backed militants to northwestern Syria to support the pro-regime operations. Several SAA units deployed to Aleppo and Idlib Province contact lines armed with heavily artillery and rocket launchers between June 19 and 21 as normalization talks took place between Syria and Turkey.[i] The SAA and Russian forces conducted airstrikes on rebel positions in Idlib Province between June 25 and 27.[ii] Iran has an interest in retaking Idlib because the rebels remain a threat to Assad's rule and instability threatens transportation routes between Iranian weapon caches and forces.[iii] Iranian deployments and new military infrastructure suggests Iran has given priority to securing Damascus and Deir ez Zor Provinces, however, as CTP previously assessed.[iv] Iran's closest established military sites to Idlib are in Aleppo and Hama Provinces. The arrest of a Lebanese Hezbollah cell in Idlib Province on June 26 suggests Iran maintains a small presence in Idlib Province.[v]
CTP is considering two scenarios in which Iran would change its force disposition in Idlib Province and northwestern Syria. The scenarios encompass the recent SAA and Russian airstrikes, as well as how regional developments could prompt changes in Iran's decision-making and prioritization of regions in Syria.
The SAA conducts a ground offensive against rebels in Idlib Province with Russian air support. In this scenario, Iran would commit forces to Idlib Province to support the SAA and Russian forces.[vi] This is plausible because Iran deployed 400-800 Afghan Shia Fatemiyoun militants to Idlib Province in 2020 during a Syrian regime campaign.[vii] Indications that would support this scenario include Assad requesting Iran send militias to Idlib Province to support the ground offensive and the establishment of joint headquarters or operations centers in Idlib Province.
Turkey conducts a ground incursion following the failure of Syria-Turkey normalization. In this scenario, a major Turkish incursion would jeopardize Iran's access to regime-held positions in Saraqib along the key transportation route on the M-5 highway from Aleppo to Hama. An incursion would also present a threat to Shia population centers in Nubl and Zahra. Iran has used such threats to justify militia deployments in Syria, including to defend Nubl and Zahra, throughout the Syria conflict.[viii] A Turkish incursion would force Iran to deprioritize counterterrorism and anti-ISIS campaigns in Deir ez Zor and Raqqa, as well as campaigns to expel US forces.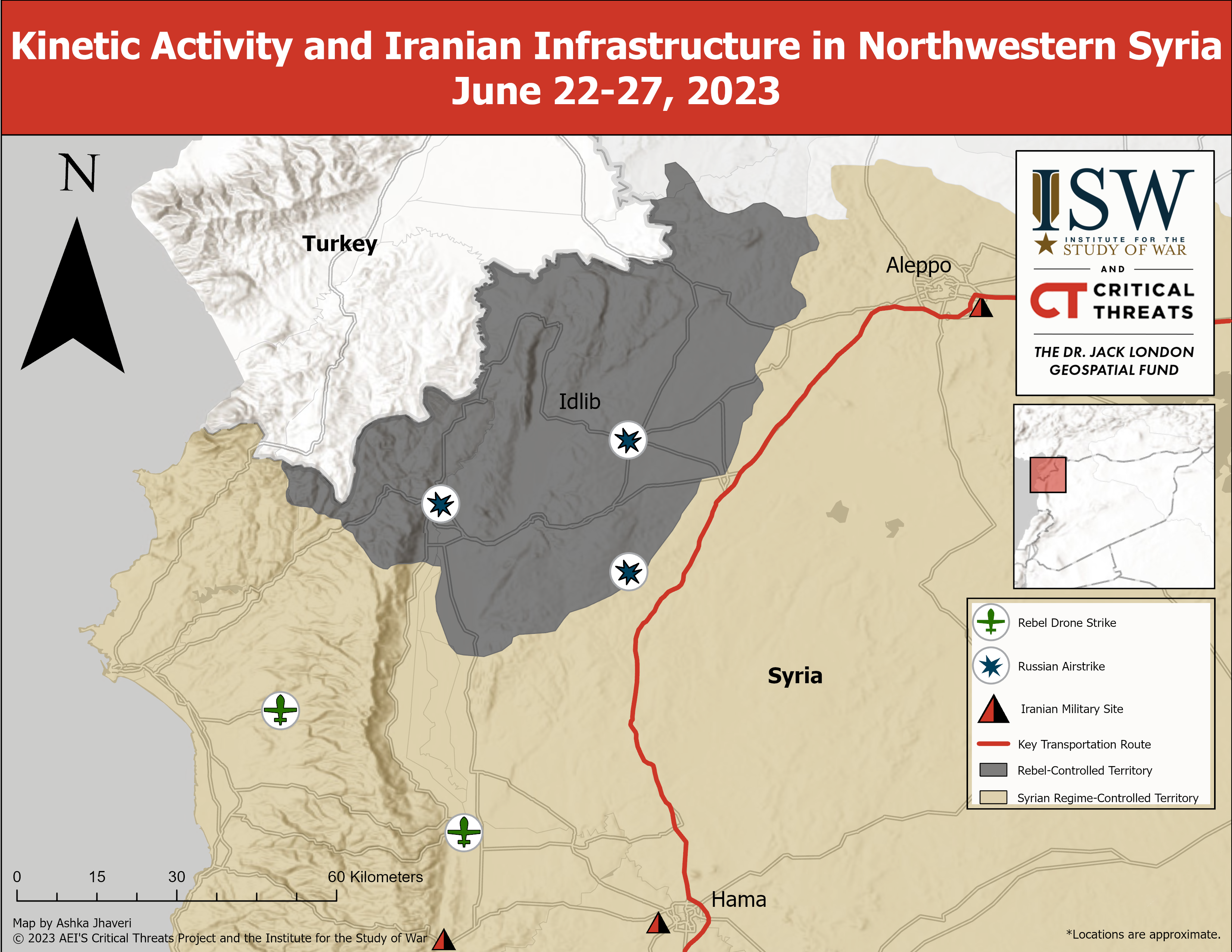 Russian forces conducted an additional airstrike in the vicinity of Jabal al-Arbaeen, which CTP was unable to locate.[ix]
The Islamic Revolutionary Guard Corps Quds Force (IRGC QF) and Lebanese Hezbollah (LH) established a headquarters in eastern Syria, probably to coordinate arms transfers, intelligence collection, and training for Iranian-backed militants in Syria. IRGC QF Commander for Mayadin Hajj Maysar and LH Deir ez Zor Province Commander Hajj Siraj coordinated the purchase of a home in Mayadin to serve as a joint headquarters.[x] Iranian-backed militants installed cameras, a private internet network and electricity lines to the headquarters in a densely populated area of Mayadin on June 29. The local anti-Syrian regime outlet Eye of Euphrates reported Iran and LH chose the location in Mayadin to evade Israeli targeting. IRGC QF and LH officials frequently meet in Deir ez Zor Province to discuss operational security and coordinate weapons and military equipment shipments.[xi] Hajj Maysar accompanied Iranian and LH signals intelligence experts to a military site on the outskirts of Mayadin on May 31.[xii]
The establishment of the joint headquarters in Mayadin, along with other Iranian-affiliated construction efforts that CTP has reported on in Deir ez Zor, suggests Iran is giving priority of their resources to facilitating command-level activity in eastern Syria. The LH-run and US-sanctioned construction company Jihad al Binaa began building a permanent Iranian military base including a barracks, weapons storage facility, training camp, and dozens of houses for families of Iranian-affiliated militants in Deir ez Zor City on May 19.[xiii]  A senior IRGC official in al Mayadin ordered Jihad al Binaa to excavate land for weapons warehouses and tunnels in eastern al Mayadin on June 8.[xiv]
The establishment of the joint IRGC QF-LH headquarters is part of a larger Iranian effort to build military infrastructure across Syria to advance Iranian objectives in the country. Iranian-backed militias seized land to build a military headquarters and storage center in southern Damascus in mid-June.[xv] Iranian-backed militants established a military headquarters and barracks in the vicinity of Sayyidah Zaynab in southern Damascus on May 17. LH also seized land for a headquarters and underground storage facility near the Mezzeh Military Airport, on June 17. Iranian commanders and Iranian-backed militants use the infrastructure facilitate the transfer of weapons from Iran and Iraq to Iranian-backed forces in eastern Syria and LH in the Golan Heights and Lebanon.[xvi]
Lebanese Hezbollah has almost doubled their air defense arsenal over the past five years in Lebanon. Israeli media outlet Maariv Online reported that Israel Defense Forces are monitoring LH's acceleration of acquiring air defense systems based primarily on new Iranian systems within the framework of restricting Lebanese airspace.[xvii] Tehran has long sought to establish an integrated air defense capabilities for its Axis of Resistance in the Levant.[xviii] Iran facilitated the transfer of advanced military equipment to upgrade air defense systems during February 5 earthquake relief efforts, for example.[xix] Iranian senior military officials have also made public comments about deploying Iranian-made air defense systems to Syria.[xx] CTP will follow up next week with the implications of an Iranian-orchestrated integrated air defense system in the Levant.
Iranian Domestic and Political Affairs
This section covers factors and trends affecting regime decision-making and stability. CTP will cover domestic politics, significant protest activity, and related issues here.
Iran's worsening water crisis is increasing food insecurity and internal migration, which will likely fuel greater popular unrest in the coming years. Iran's annual average temperature increased nearly six percent between March 2020-2022, while Iran's annual average precipitation decreased nearly 25 percent during this same period.[xxi] These climatic changes, along with other factors such as the IRGC's prolific dam construction and diminishing underground water reserves, are aggravating Iran's long-standing water crisis. Water scarcity has caused three water protests in Kerman, Sistan and Baluchistan, and Yazd Provinces in the past month alone.[xxii]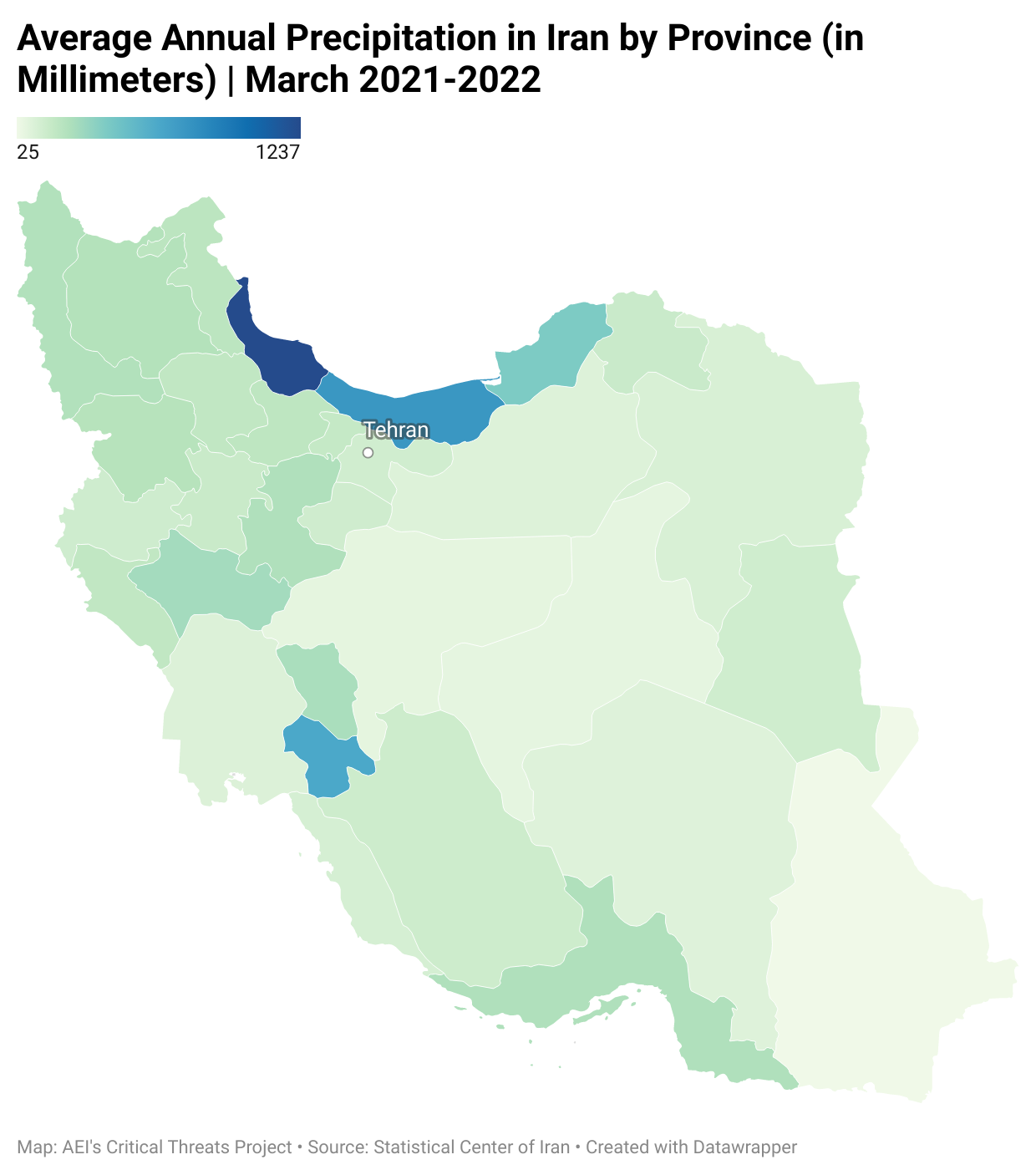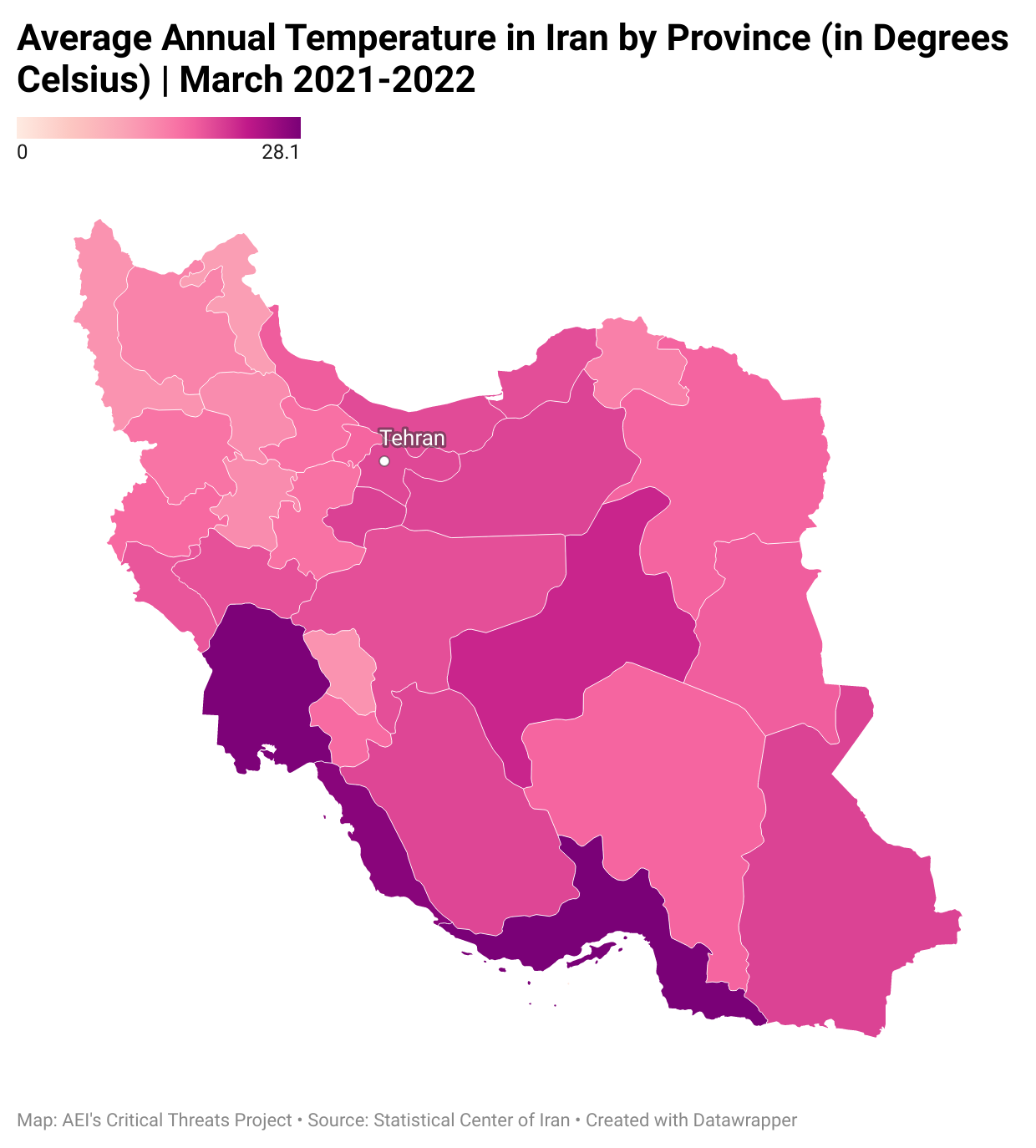 Iran's water crisis is aggravating food insecurity. The United Nations Food and Agriculture Organization calculated that the percentage of Iranians living in households classified as "moderately or severely food insecure" increased from 40.6 in 2018 to 42.4 in 2022.[xxiii] Iranian officials have voiced concerns over the detrimental impact of Iran's water crisis on the country's ability to produce food in recent weeks. Zabol, Sistan and Baluchistan Province Agricultural Jihad Director Hassan Nouzri stated on May 8, 2023, that wheat production in this city has decreased 95 percent compared to last year due to drought.[xxiv] Zabol is located near the Hamoun-e Helmand, a wetland which 80 percent of Sistan and Baluchistan residents rely on to sustain a living, but which has nearly completely dried up in recent years.[xxv] Khuzestan Province Agricultural Research, Education, and Natural Resources Center head Bahram Anderzian similarly stated on April 18, 2023, that Khuzestan Province's agricultural production has decreased by 25 percent in the past year due to severe water shortages.[xxvi]
Iran's water crisis is also increasing internal displacement. Climate migration in Iran increased 10 percent between 2000 and 2020.[xxvii] Iranian media and officials have urgently discussed climate migration in recent weeks, moreover. Iranian newspaper Donya-yeh Eghtesad reported in January 2023 that climate migration in Iran "has become more serious than ever."[xxviii] Tabriz University faculty member Mehdi Zarghami separately stated on June 21 that 10,000 families were forced to emigrate from Zabol, Sistan and Baluchistan Province last year due to the drying up of the Helmand River.[xxix] The Iran Migration Observatory additionally included a section on climate migration for the first time in its 2022 annual report, indicating that this issue is becoming more important in Iran.
Increasing food insecurity and internal displacement will likely increase popular unrest in the coming years, threatening regime stability. The drying up of wetlands and rivers will limit Iranians' access to clean drinking water and decrease food production, which will in turn harm many Iranians' livelihoods. Esfahan Province residents—including many farmers—previously protested the drying up of the Zayandeh Roud River in November 2021.[xxx] Increased internal migration will additionally place an immense burden on large cities such as Tehran and change Iran's social landscape. Large parts of Tehran experienced water cuts for several days in mid-June, which suggests that large cities sometimes have difficulty providing basic services to their citizens.[xxxi] Increased internal migration would further strain cities' capacities to meet citizens' needs. Internal migration has historically caused unrest, moreover. Many protesters who participated in the December 2017-January 2018 Dey Protests had emigrated to the outskirts and suburbs of Iranian cities after facing economic hardships in their hometowns, for example.[xxxii] Water scarcity is an issue that impacts all Iranians. This issue therefore poses a graver risk to the regime because, unlike previous protest movements which were largely limited to certain parts of the population, water protests could encompass numerous demographics.
[i] https://twitter.com/DimasqN/status/1673256972232032256 ; https://twitter.com/DimasqN/status/1671583234746900480 ; https://twitter.com/DimasqN/status/1670790282088964100
[ii] https://www.understandingwar.org/backgrounder/iran-update-june-29-2023
[iii] https://www.reuters.com/world/middle-east/israeli-air-strike-targets-syrias-aleppo-airport-statement-2023-03-22/; https://www.trtworld.com/magazine/the-m5-highway-of-death-is-the-key-to-controlling-syria-33692
[iv] https://www.criticalthreats.org/analysis/iran-update-june-27-2023; https://www.criticalthreats.org/analysis/iran-update-june-9-2023
[v] https://t.me/GE_SE_SE/613
[vi] https://www.understandingwar.org/backgrounder/iran-update-june-29-2023
[vii] https://www.telegraph.co.uk/news/2020/01/26/exclusive-leaked-recordings-show-qassim-soleimanis-soldiers/
[viii] https://twitter.com/thiqanewsagency/status/1579047100112785408?s=20 ; https://shaamtimes[dot]net/408809/%d8%a7%d9%84%d9%85%d9%88%d9%86%d9%8a%d8%aa%d9%88%d8%b1-%d8%a5%d9%8a%d8%b1%d8%a7%d9%86-%d9%88%d8%aa%d8%b1%d9%83%d9%8a%d8%a7-%d8%aa%d8%b3%d8%aa%d8%b9%d8%af%d8%a7%d9%86-%d9%84%d9%84%d9%85%d9%88%d8%a7/
[ix] https://www.facebook.com/mod.gov.sy/videos/%D8%A7%D8%B3%D8%AA%D9%87%D8%AF%D8%A7%D9%81-%D9%85%D9%82%D8%B1%D8%A7%D8%AA-%D8%A7%D9%84%D8%AA%D9%86%D8%B8%D9%8A%D9%85%D8%A7%D8%AA-%D8%A7%D9%84%D8%A5%D8%B1%D9%87%D8%A7%D8%A8%D9%8A%D8%A9-%D8%A7%D9%84%D9%85%D8%B3%D9%84%D8%AD%D8%A9%D9%81%D9%8A-%D8%B1%D9%8A%D9%81-%D8%A5%D8%AF%D9%84%D8%A8-%D9%80-%D8%AC%D8%A8%D9%84-%D8%A7%D9%84%D8%A3%D8%B1%D8%A8%D8%B9%D9%8A%D9%86%D8%B1%D8%AF%D8%A7%D9%8B-%D8%B9%D9%84%D9%89-%D8%A7%D9%84%D8%A7%D8%B9/1058450642199759/
[x] https://eyeofeuphrates (dot) com/ar/news/2023/06/29/8987
[xi] https://www.syriahr.com/en/292490/; https://eyeofeuphrates (dot) com/ar/news/2023/04/06/8158; https://eyeofeuphrates (dot) com/ar/news/2023/05/16/8529
[xii] https://eyeofeuphrates (dot) com/ar/news/2023/05/31/8683; https://eyeofeuphrates (dot) com/ar/news/2023/06/01/8696 
[xiii] https://www.criticalthreats.org/analysis/iran-update-may-22-2023
[xiv] https://www.criticalthreats.org/analysis/iran-update-june-9-2023; https://sanctionssearch.ofac.treas.gov/Details.aspx?id=10053
[xv] https://www.criticalthreats.org/analysis/iran-update-june-27-2023
[xvi] https://www.criticalthreats.org/analysis/iran-update-june-27-2023; https://www.criticalthreats.org/analysis/iran-update-june-9-2023
[xvii] https://maariv (dot) co.il/news/military/Article-1019099
[xviii] https://www.reuters.com/world/middle-east/iran-exploits-quake-relief-mission-fly-weapons-syria-sources-2023-04-12/; https://www.criticalthreats.org/analysis/iran-update-april-11-2023
[xix] https://www.reuters.com/world/middle-east/iran-exploits-quake-relief-mission-fly-weapons-syria-sources-2023-04-12/
[xx] https://www.criticalthreats.org/analysis/iran-update-march-13-2023
[xxi] https://www.amar.org dot ir/Portals/0/News/1402/year%20book.pdf?ver=uiQ3IOHVi6oqK7AB8tMRLw%3d%3d ;
https://amar.org dot ir/Portals/0/Files/fulltext/1399/salnameh99_V2-14010720.pdf?ver=oXVBeBm3auWZRuT1p3l7YA%3d%3d
[xxii] https://twitter.com/iranworkers/status/1665980545921105921;
https://twitter.com/iranworkers/status/1668550734135152641 ;
[xxiii] https://data.worldbank.org/indicator/SN.ITK.MSFI.ZS?locations=IR
[xxiv] https://www.asrehamoon dot ir/interview/160095
[xxv] https://www.mehrnews dot com/news/5786875
[xxvi] https://didarpress dot ir/1402/01
[xxvii] https://www.rokna.net/%D8%A8%D8%AE%D8%B4-%D8%A7%D8%AC%D8%AA%D9%85%D8%A7%D8%B9%DB%8C-95/542823-%D9%85%D9%87%D8%A7%D8%AC%D8%B1%D8%AA-%D9%87%D8%A7%DB%8C-%D8%A7%D9%82%D9%84%DB%8C%D9%85%DB%8C-%D8%AF%D8%B1-%D8%A7%DB%8C%D8%B1%D8%A7%D9%86-%D8%A8%D8%B1%D8%A7%D8%A8%D8%B1-%D8%B4%D8%AF-%D8%AC%D9%85%D8%B9%DB%8C%D8%AA-%D8%AA%D9%87%D8%B1%D8%A7%D9%86-%D8%A8%D9%87-%D9%85%DB%8C%D9%84%DB%8C%D9%88%D9%86-%D9%86%D9%81%D8%B1-%D8%B1%D8%B3%DB%8C%D8%AF
[xxviii] https://donya-e-eqtesad.com/%D8%A8%D8%AE%D8%B4-%D8%A8%D8%A7%D8%B4%DA%AF%D8%A7%D9%87-%D8%A7%D9%82%D8%AA%D8%B5%D8%A7%D8%AF%D8%AF%D8%A7%D9%86%D8%A7%D9%86-52/3937297-%D9%85%D9%87%D8%A7%D8%AC%D8%B1%D8%AA-%D8%A7%D9%82%D9%84%DB%8C%D9%85%DB%8C-%D8%AC%D8%AF%DB%8C-%D8%AA%D8%B1-%D8%A7%D8%B2-%D9%87%D9%85%DB%8C%D8%B4%D9%87
[xxix] https://www.entekhab dot ir/fa/news/730710
[xxx] https://www.aljazeera.com/news/2021/11/19/thousands-protest-in-irans-isfahan-to-demand-revival-of-river
[xxxi] https://www.rferl.org/a/tehran-water-shortage-drought-landslide-globa-warming/32459451.html
[xxxii] https://www.criticalthreats.org/wp-content/uploads/2021/12/Whatever-it-takes-to-end-it.pdf