February 24, 2010
FATA Conflict Maps
The Critical Threats Project has produced four maps in support of its report detailing Pakistani military operations in the Federally Administered Tribal Areas (FATA) following the cessation of major violence in South Waziristan. The full report is available HERE.
Federally Administered Tribal Areas (FATA)
The FATA has been the epicenter of Pakistan's war against the Pakistani Taliban and has hosted the presence of the Afghan Taliban since they were driven from Afghanistan in 2001. North Waziristan in particular supports a large Afghan Taliban presence in the form of the Haqqani network. The region is administered separately to the rest of the country and is ruled directly by the Pakistani presidency. The Governor of the NWFP, appointed by the President, selects a Political Agent to represent his authority in each agency. Neither the country's National Assembly nor the NWFP's provincial assembly exercise any jurisdiction over the FATA.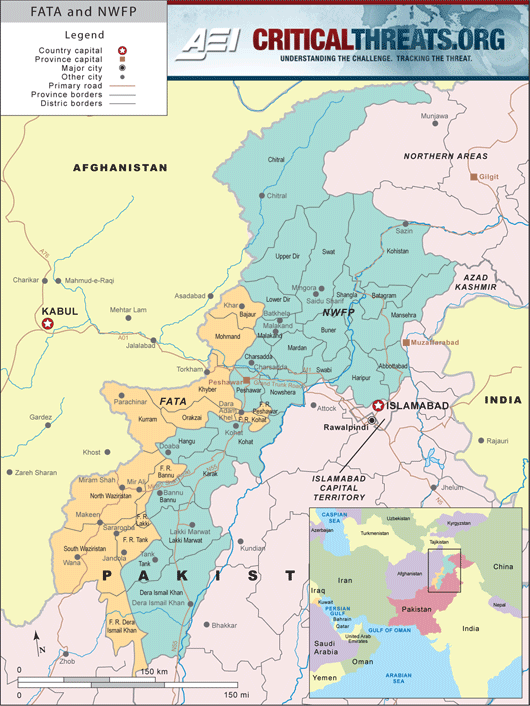 Orakzai Agency
Orakzai is of central importance to the Tehrik-e-Taliban Pakistan (TTP). The agency hosts a significant TTP presence and its strategic location; many of the terror attacks in Pakistan carried out in the latter half of 2009 were planned and executed from Orakzai. Many TTP fighters and much of its leadership fled to Orakzai after being displaced from South Waziristan following Operation Rah-e-Nijat in October 2009. The agency is also home to Darra Adam Khel, the world's largest illegal arms bazaar.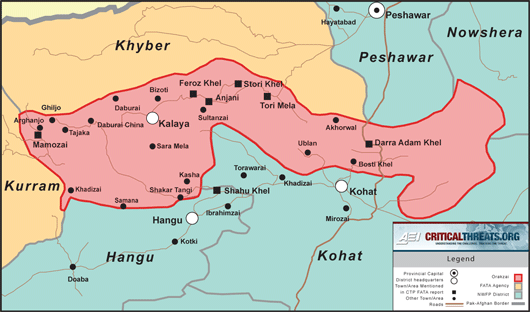 Kurram Agency
Kurram agency borders eastern Afghanistan and has been the site of much conflict over the years. Much of the TTP also fled to Kurram in the wake of Operation Rah-e-Nijat. Kurram is home to a significant Shia minority and has a history of violent ethnic conflict between its Sunni and Shia tribes. It has also frequently been a crossing point for Taliban fighters moving between Pakistan and Afghanistan.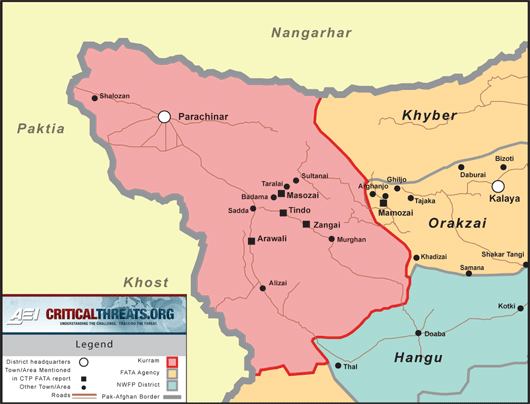 Bajaur Agency
Bajaur agency hosts a significant TTP presence that was, until recently, led by ex-TTP deputy chief Maulvi Faqir Muhammad. The militants in Bajaur have maintained close ties to the Taliban in Afghanistan and the Swat branch of the TTP. A major military operation in August 2008 aimed at clearing Bajaur of TTP presence saw some success, but was unable to make its gains permanent. Bajaur is also believed to have at one time been a hiding place for Osama bin Laden and Ayman al-Zawahiri.