May 11, 2010
Arming Hezbollah: Syria's Alleged Scud Missile Transfer
Key Points
If the alleged transfer is true, it would be the first time that Hezbollah has possessed a weapon capable of striking anywhere in Israel.

Reactions within Lebanon revealed the extent of Lebanese government support for Hezbollah and Syria's influence within the country.

Israel has laid the groundwork for a strike on weapons caravans into Lebanon, and U.S. statements condemning any transfer of weapons indicate potential U.S. support for such a strike.
On April 13, 2010, Israeli President Shimon Peres directly accused Syria of arming the Lebanese militant group Hezbollah with Scud missiles in a speech on public radio.  Peres declared, "Syria claims it wants peace, while at the same time it delivers Scuds to Hezbollah whose only goal is to threaten the state of Israel."[1]  His statement came in the middle of heightened tension in the region; in late January, Israeli Prime Minister Benjamin Netanyahu issued a statement to assuage regional fears that Israel would strike Hezbollah and in mid-February, Hezbollah leader Sheikh Sayyed Hassan Nasrallah issued a warning to Israel not to strike in Lebanon saying, "If you bomb Rafik Hariri International Airport in Beirut, we will bomb Ben Gurion Airport in Tel Aviv."[2]  Moreover, the U.S. had taken efforts to re-engage with Syria – President Barack Obama's nominee for U.S. Ambassador to Syria, Robert Ford, cleared the Senate Foreign Relations Committee the same day that Peres levied his accusation against Syria.  A transfer of long-range Scud missiles from Syria to Hezbollah would reverberate not just with Israelis, who perceive such a transfer as a security threat, but also with the United States, which would question the timing and the motives behind the transfer.  This is not the first time that Israel has accused Hezbollah of building its arsenal; however, it is the first time that Hezbollah would possess a weapon that could strike anywhere in Israel.
Hezbollah and Israel fought a 34-day war nearly four years ago that resulted in 1,100 Lebanese deaths. The fighting killed 121 soldiers on the Israeli side, including two captured by Hezbollah.  A further 40 Israeli civilians were killed by rockets fired from Lebanon.[3]  A UN-brokered ceasefire ended the war on 14 August 2006.  UN Resolution 1701 established a peacekeeping force in southern Lebanon, the United Nations Interim Force in Lebanon (UNIFIL), and laid down regulations designed to prevent the outbreak of a second Hezbollah-Israeli war.  Resolution 1701 upheld UN Resolution 1559, which called for the "respect of the sovereignty, territorial integrity, unity, and political independence of Lebanon under the sole and exclusive authority of the Government of Lebanon throughout Lebanon" and called for the "disbanding and disarmament of all Lebanese and non-Lebanese militias."[4]  Hezbollah remains a government-sanctioned armed group in Lebanon to this day despite these resolutions.  Resolution 1701 also banned the presence of all weapons, except those of UNIFIL and the Lebanese Armed Forces (LAF), in the territory north of the Blue Line and south of the Litani River and required Lebanese government consent for the sale of all weapons to Lebanon.[5]  Finally, in very clear terms, Resolution 1701 calls on all states to take the "necessary measures" to prevent both the "sale or supply to any entity or individual in Lebanon of arms and related materiel" and the "provision to any entity or individual in Lebanon of any technical training or assistance related to the provision, manufacture, maintenance, or use" of arms and related materiel.[6]
In the July 2006 war, Hezbollah fired approximately 4,000 short-range missiles into northern Israel and threatened nearly a third of Israel's population.[7]  It also fired several medium-range missiles that struck Haifa, Israel's third-largest city, for the first time.[8] Hezbollah has rearmed and strengthened its arsenal since the end of the war.  According to a U.S. Department of Defense report on Iran's military power, Iran has played a significant role in rearming Hezbollah.  The report states that the Iranian Islamic Revolutionary Guard Corps operates training camps in Lebanon, and Iran has provided between $100 and $200 million a year in funding to the organization, in addition to providing Hezbollah with arms.[9]  Hezbollah has an estimated 40,000 missiles[10] in its arsenal, up from an estimated 15,000 before the July 2006 war.[11]  It has also increased the range of its weapons.  The longest-range missile Hezbollah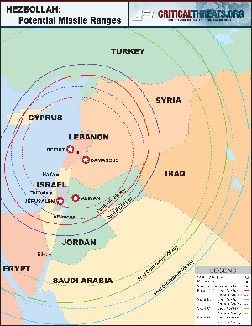 possessed before the alleged Scud missile transfer was a Syrian copy of the Fateh 110 missile – the M-600 – a solid-fuel missile capable of carrying a half-ton warhead with a range of 250 km.[12] Most of Hezbollah's long-range rockets are believed to be hidden throughout northern Lebanon and the Beqa'a Valley.[13]  The Israeli city of Dimona, the location of Israel's alleged nuclear facilities, falls within the outer range of a Fateh 110 missile fired from just above the Litani River, the northern boundary of the UNIFIL-monitored zone.  Hezbollah can currently strike eight out of the top ten most-populated cities in Israel from the southern region of the Beqa'a Valley, even without a long-range Scud missile.[14]  Hezbollah has consistently refused to confirm the types of missiles that it holds in its arsenal; however, Nasrallah's February 16, 2010 threat made it clear that Hezbollah has longer-range missiles that threaten the major Israeli cities.[15]
Scud missiles are outdated ballistic missiles, but they still present an effective threat.  The addition of long-range Scud missiles to Hezbollah's arsenal would enable it to strike anywhere within Israel from Lebanon with greater effect: the Scud missile can carry twice the payload of a Fateh 110.[16]  Scud missiles also have a longer range than the Fateh 110, though they vary greatly in their accuracy.  The short-range Scud, type B, has a maximum range of 300 km and a Circular Error Probable (CEP), a measure of the radius of a circle around the target within which 50% of warheads will land, of 900 meters, which is not a significant improvement over the Fateh 110.  The Scud C has double the range of the Scud B, with a maximum range of 600 km, but retains the inaccuracy of the Scud B with a CEP of 900 meters.  The Scud D, the most advanced version of the missile, has a range of 700 km and a CEP of 50 meters.[17]  The Scud missile has drawbacks: the Scud D missile is about 11 meters long, for which Lebanon's mountainous territory could provide sufficient concealment, and the estimated launch time is about 45 minutes in a conventional military setting.
Hezbollah would be the first non-state actor to possess such missiles, if it has acquired long-range Scud missiles from Syria.  Both U.S. and Israeli officials have condemned the possible transfer of long-range missiles to the group and have noted that such missiles, especially Scud missiles, would have a destabilizing effect on the region.[18]  The technical capabilities of a Scud missile would allow Hezbollah to launch missiles from beyond southern Lebanon, where it is more vulnerable to Israeli retaliation.  The Israeli military, however, would still be able to effectively address the threat – Hezbollah's possession of Scud missiles is not an existential threat to Israel.  Scud missiles need to be fueled directly prior to launch, which, through monitoring, could alert the Israeli Air Force and give it a window to strike.  Israel is developing a sophisticated, four-tier anti-missile defense system to counter the threat of strikes.  Its new anti-missile defense system, "Iron Dome," passed tests in early January for thwarting short-range missiles ranging from 4 to 70 km, namely Qassem and Katyusha rockets.[19]  The Israeli military reportedly deployed the first Iron Dome battery along the Lebanese border following the recent build-up of Hezbollah's arsenal.  It was originally intended for the southern Negev Desert to counter threats from Hamas.[20]  Israel awarded contracts in October 2009 for the development of the "David's Sling" short-range ballistic missile defense system, which will counter rockets and ballistic missiles fired from a range of 40 to 250 km.[21]  The last two tiers of Israel's missile defense system, Arrow 2 and Arrow 3, will address longer-range and nuclear-tipped missiles.  The Arrow 2 has been successfully tested against test missiles imitating the path of an incoming Scud missile, though Israel only has two batteries in service.[22]  The missile defense system coupled with strategic targeting of launch-sites cannot guarantee complete coverage from the rocket and missile threat from Hezbollah, but it would significantly decrease the probability of an effective missile strike in Israel.
Lebanese responses to the transfer of Scud missiles to Hezbollah from Syria suggest that the political alignment in the region has shifted more definitively towards the Iran-Syria-Hezbollah axis. Lebanese Prime Minister Saad Hariri called the U.S. and Israeli allegations false, rather than condemning the movement of weapons to an armed group operating within its borders as a violation of Lebanon's sovereignty.[23]  Moreover, the LAF Commander, General Jean Kahwaji, said that there were no Scuds in Lebanon.[24]  Furthermore, on May 8, Lebanese President Michel Suleiman announced that the government would not ask Hezbollah to give up its arms saying, "To demand now, in this regional atmosphere full of dangers … we cannot and must not tell the resistance [Hezbollah] …'Give us your weapons and put it under the state's command.'"[25] Past statements made by Lebanese government officials show support for Hezbollah's military capabilities, provided that Hezbollah acts in defense of Lebanon.  Lebanese National Defense Minister Elias Murr spoke out in support of Hezbollah saying, "Logic says that if some parties were annoyed with Hezbollah weapons, then this doesn't mean providing Israel with free gifts."  He added that Hezbollah provided deterrence against Israel.[26] Hezbollah has gained power within Lebanon since the July 2006 war as it models itself to be a protector of the Lebanese people and solidifies its political involvement – in the June 2009 parliamentary elections, Hezbollah won in every district it challenged.[27]  Lebanon has also permitted Hezbollah to maintain its arms, despite an annual national dialogue at which Samir Geagea, leader of the Lebanese Forces political party – the main Christian component of the March 14 Alliance, regularly questions the legitimacy of Hezbollah's arsenal.[28] The alignment of Lebanese politicians with Syria and Iran, evidenced by Prime Minister Saad Hariri's and Druze leader and parliamentarian Walid Jumblatt's meetings with Syrian President Bashar al Assad in Damascus in December 2009 and February 2010, respectively, and the supportive rhetoric following Peres's statement indicate the growing strength of Hezbollah within Lebanon.[29]
The timing of the reported transfer of long-range Scud missiles raises questions for Syria's relationship with the U.S.  Syria remains technically at war with Israel, though it has not engaged in combat with Israel since 1973.  The movement of long-range missiles to Lebanon presents a direct threat to Israel, a key ally of the U.S. in the region.  Furthermore, the U.S. has been in the process of appointing an ambassador to Syria, a post vacant since the U.S. withdrew Ambassador Margaret Scobey following the February 14, 2005 assassination of Lebanese Prime Minister Rafik Hariri.  The accusation of a weapons transfer prompted U.S. congressmen to question the choice to appoint a new ambassador to Syria and whether rapprochement with Syria was appropriate.[30]  The U.S. Assistant Secretary of State for Near Eastern Affairs Jeffrey Feltman defended the decision to appoint a new ambassador at a House Foreign Affairs Committee panel saying that if the reports of a missile transfer turn out to be true, "all options are going to be on the table."[31]  Syria has denied the charges levied against it, but reports that Hezbollah militants trained with Scud missiles in late 2009 in military bases in eastern Syria are a further indication that whether the weapons transfer occurred or not, Syria is not opposed to Hezbollah's acquisition of Scuds.[32]
In early April, Israel warned Syrian President Bashar al Assad that it would respond to any missile attack from Hezbollah by attacking Syria, effectively identifying Hezbollah as a division of the Syrian army.[33]  Syria gains limited tactical military advantages by supplying Hezbollah with Scud missiles – Syria has missile coverage of all of Israel from its own territory.  What the transfer does do is open another potential front that Israel would have to counter in the event of a regional war.  Increasing Hezbollah's capacity forces Israel to address threats from both the Syrian military and Hezbollah's militia.  Israel has reacted strongly to condemn the news that Hezbollah might have Scud missiles and Israeli officials have berated Syria for providing Hezbollah with ballistic missiles.  Following Peres's accusation, an Israeli minister speaking off-the-record threatened, "We'll return Syria to the Stone Age by crippling its power stations, ports, fuel storage and every bit of strategic infrastructure if Hezbollah dare launch ballistic missiles at us." [34]  Scud missiles, besides their range and increased payload, have the capability to carry chemical warheads.  Though there has been no mention of Hezbollah obtaining this technology, Israel has issued its population new gas masks to preempt Hezbollah's development of this capability.[35]
It is unclear whether Peres's accusation that Syria actually provided Hezbollah with long-range Scud missiles is true.  The U.S. has not corroborated Israeli claims publicly; instead, Washington has said that Syria took actions towards transferring long-range Scud missiles to Hezbollah, but there is no evidence that the Syria completed the transaction and that Hezbollah actually possessed the missiles.[36]  It is also unusual for such claims to come first from a political figure in Israel, instead of a military or intelligence official.[37]  Moreover, Israel could have justified and carried out a strike on a caravan carrying the missiles into Lebanon through an interpretation of Resolution 1701; previous Israeli operations, including strikes targeting Syria's al Kibar nuclear facility in September 2007 and a weapons convoy moving through Sudan in January 2009, show that Israel will not hesitate to strike to preempt a threat.  The head of Israel's military intelligence research department, Brigadier General Yossi Baidatz, on the other hand, claimed on May 4 that the transfer of long-range missiles is "only the tip of the iceberg" and that Hezbollah's arsenal consists of "thousands of rockets of all types and ranges, including long-range solid-fuel rocket and more precise rockets."[38]   He noted that Hezbollah has two different identities: its commitment to jihad and its political commitment in Lebanon, and that, for the time being, Hezbollah was only interested in preparing its arsenal for conflict with Israel, not for carrying out an attack.[39]
What is clear is that the transfer of Scud missiles to Hezbollah would have both military and political ramifications.  Militarily, the missiles increase Hezbollah's range in the region and the possession of ballistic missile systems makes the group a more potent threat to Israel in the event of a conflict.  Politically, the alleged Scud missiles transfer has revealed the extent of Lebanese government support for Hezbollah and Syria's influence in Lebanon.  Additionally, Syria's actions and statements have prompted congressmen to reexamine the Obama Administration's rapprochement with Syria by questioning the appointment of a new U.S. ambassador to Syria.  Israel, for its part, has laid the groundwork for a strike on weapons caravans into Lebanon, and U.S. statements condemning the arming of Hezbollah indicate potential support for such a strike.  In a broader context, Hezbollah's threat to Israel through its possession of Scuds pales next to the threat that a nuclear Iran poses; however, an increasingly well-armed Iranian proxy in Hezbollah raises the stakes for Israel if it is forced to act against the perceived existential threat of a nuclear weapons-capable Iran.  
Timeline of Scud Missile Crisis:
Late 2009: Reports indicate that Syria trained Hezbollah militants to operate Scud missiles in military bases in eastern Syria.[40]
February 26: Assistant Secretary for Near Eastern Affairs Jeffrey Feltman met with Syrian Ambassador Imad Moustapha to discuss the transfer of sophisticated ballistic missile technology to Hezbollah.[41]
March 1: National Security Council delivered U.S. concerns to Ambassador Imad Moustapha that Syria was passing ballistic missiles to Hezbollah.[42]
March 10: Undersecretary of State for Political Affairs William Burns State Department met with Ambassador Moustapha to deliver the same message.[43]
April 1: Senate Foreign Affairs Committee Chairman John Kerry met with Syrian President Bashar al Assad and said that the U.S. remained "deeply concerned" about the movement of advanced weapons to Hezbollah.[44]
April 11: Kuwaiti newspaper al Rai al A'am published a report on Syria supplying Scuds to Hezbollah.[45]
April 13: Israeli President Shimon Peres directly accused Syria of supplying Hezbollah with Scud missiles.  "Syria claims it wants peace, while at the same time it delivers Scuds to Hezbollah whose only goal is to threaten the state of Israel," he said during a speech on Israeli public radio.[46]
Israeli Defense Minister Ehud Barak said in reference to the Syrian transfer of Scud missiles to Hezbollah that Israel was tracking the group's rearmament.  He added, "We have been saying our piece for some time now – we have no plans to attack Lebanon, and we recommend and hope that everyone will preserve the quiet.  But the entry of systems like this that disturb the balance endangers stability and quiet."[47]
Hezbollah MP Mohammad Ra'ad said the Israeli accusations that Syria supplied Hezbollah with Scud missiles are not new and are part of a "symphony we're used to hearing."[48]
April 14: White House spokesman Robert Gibbs said, "We are obviously increasingly concerned about the sophisticated weaponry that is allegedly being transferred."  He added, "We have expressed our concerns to those government and believe that steps should be taken to reduce any risk and any danger."[49]
April 15: A Syrian Foreign Ministry statement denounced allegations that Syria had supplied Hezbollah with Scud missiles.  "For some time, Israel has been running a campaign claiming that Syria has been supplying Hezbollah with Scud missiles in Lebanon.  Syria strongly denies these allegations which are an attempt by Israel to raise tensions in the region."[50]
April 16: Hezbollah MP Hussein Haj Hassan refused to confirm or deny Israeli allegations that Hezbollah had acquired Scud missiles from Syria.  He said that the group was arming itself but "what we have is not their business."[51]
April 17: Hezbollah MP Ali Fayyad said that the Americans "are encouraging Israel to carry out an aggression against Lebanon that they are trying to endorse at the international level."  He continued, "The United States is thus placing itself in a position of complicity in the event of aggression and it will have to take responsibility."[52]
April 18: Report emerges that Israel had delivered a warning to Syrian President Bashar Assad in early April saying that it would respond to missile attacks from Hezbollah by hitting Syria.[53]
April 19: State Department warned the Deputy Chief of Mission Zouheir Jabbour against the "transfer of any arms, and especially ballistic missile systems such as the Scud, from Syria to Hizballah.  The transfer of these arms can only have a destabilizing effect on the region, and would pose an immediate threat to both the security of Israel and the sovereignty of Lebanon."[54]
April 20: Senate Select Committee on Intelligence Chairman Dianne Feinstein said, "I believe there is a likelihood that there are Scuds that Hezbollah has in Lebanon.  A high likelihood."[55]
Senate Foreign Relations Committee Chairman John Kerry said that the arms transfer "has not been confirmed."[56]
Lebanese Prime Minister Saad Hariri compared the accusations of Scuds in Lebanon to those of weapons of mass destruction in Iraq.  He said, "Threats that Lebanon now has huge missiles are similar to what they used to say about weapons of mass destruction in Iraq.  These are weapons that they did not find and they are still searching for."[57]
April 21: Hezbollah condemned UN Security Council Resolution 1559 calling on the group to give up its arms.  "Hezbollah is not a militia, as the United Nations describes it, but a Lebanese resistance movement that defends its territory."[58]
Assistant Secretary of State for Near Eastern Affairs Ambassador Jeffrey Feltman testified before the House Foreign Affairs Subcommittee on the Middle East and South Asia that the U.S. had "reiterated to the Syrians [its] grave concern and alarm over the reports that Syria may have provided SCUD missiles to Hizballah."[59]   Feltman declined to answer a panel question asking whether the U.S. has evidence supporting Israeli claims on the Scud transfers.[60]
April 22: U.S. officials expressed doubts as to whether long-range Scud missiles had been transported to Hezbollah in Lebanon.  "We don't think Scuds of any shape or size have been moved to Lebanon."[61]
April 24: Lebanese Army Chief Jean Kahwaji said that he was convinced that there were no Scud missiles in the country and that it would not be possible to bring them across the Lebanese border undetected.[62]
Egyptian Foreign Minister Ahmed Abul Gheit dismissed Israel's claims over Hezbollah's acquisition of Scud missiles.  "These allegations are lies and are laughable," he said.  "Egypt stands by Lebanon under all conditions and in the face of all threats."[63]
April 26: Syrian presidential adviser Buthaina Shaaban said, "the [Scud] missiles are too big to be moved undetected in a tiny country like Lebanon where Israeli reconnaissance planes fly overhead on a daily basis."  She described allegations of a missile transfer as "ridiculous."[64]
U.S. and Israeli Defense Secretaries Robert Gates and Ehud Barak spoke on Syria's arming of Hezbollah at a press conference after a meeting at the Pentagon.  Gates said that Hezbollah has received weapons of "ever increasing capability" from Syria and that "We are at a point now where Hezbollah has far more rockets and missiles than most governments in the world."  Barak noted the missiles could "disrupt the very delicate balance in Lebanon."[65]
April 28: Hezbollah MP Hassan Fadlallah responded to U.S. reactions against allegations that Hezbollah has received Scud missiles from Syria saying that "Our choice was and still is to secure all the arms of resistance that we can.   There is a great difference between weapons that only serve invasions, occupations and aggressions, such as those of the United States and it ally Israel … and weapons of an honorable resistance that liberates, protects, and defends."[66]
April 28: A U.S. anti-terrorism assessment team visited the Masna'a border crossing, in eastern Beqa'a, in a visit planned months ago.  Hezbollah MP Nawaf Moussawi spoke out against the visit saying that it was "an attempt by the U.S. embassy to impose it hegemony over Lebanon."[67]
April 29: U.S. Secretary of State Hillary Clinton said in a speech to the American Jewish Committee that Syria transferring longer-range missiles to Hezbollah "would pose a serious threat to the security of Israel" and "would have a profoundly destabilizing effect on the region."[68]
April 30: Iranian Vice President Mohammed Reza Rahimi warned Israel that Tehran would "cut off Israel's legs should it dare strike Syria and Lebanon" at a joint press conference with Syrian Prime Minister Muhammad Naji al Otarii.[69]
May 1: Nasrallah reiterated that Hezbollah would "neither deny nor assert its possession of any arms" and said that any weapon that Hezbollah possesses it has "the right to own" because "we want to use this weapon to defend the dignified, oppressed people who are threatened by" Israel.[70]
May 1: Syrian Foreign Minister Walid al Mualem said, "We warn the United States not to adopt false Israeli allegations and we say what destabilizes the security of the region is in fact beefing up Israel with all the latest U.S. weaponry and abetting Israeli allegations at our expense."[71]
May 3: President Barack Obama renewed U.S. sanctions against Syria for the next year.  He said that Syria's "continuing support for terrorist organizations and pursuit of weapons of mass destruction and missile programs, continue to pose an unusual and extraordinary threat to the national security, foreign policy and economy of the United States."[72]
May 3: Head of Israel's Military Intelligence research department BG Yossi Baidatz said that "Weapons are transferred to Hezbollah on a regular basis and this transfer is organized by the Syrian and Iranian regimes.  Therefore, it should not be called smuggling of arms to Lebanon – it is organized and official transfer.  He called the recent alleged transfer of long-range missiles the "tip of the iceberg."[73]
May 5: UNIFIL Major General Alberto Asarta Cuevas reported that there was "no evidence of any Scud missiles in UNIFIL's area of operations.... These missiles are large and difficult to hide."[74]
May 8: Lebanese President Michel Suleiman said, "To demand now, in this regional atmosphere full of dangers and the drumbeats of war that Israel is banging every day, and before we reach an agreement on a national defense strategy to protect Lebanon, we cannot and must not tell the resistance [Hezbollah] … 'Give us your weapons and put it under the state's command.'"[75]
Lebanese Parliament Speaker Nabih Berri, leader of Amal, said that Lebanon should pursue weaponry for its army and for the Resistance (Hezbollah).  He said, "All what the resistance owns is not worth the price of a phantom plane the U.S. provides to Lebanon's enemies."[76]
May 9: Israeli President Shimon Peres told Russian President Dmitry Medvedev, who is scheduled to visit Syrian President Bashar al Assad on May 10, that Israel was not interested in confrontations with Syria, nor did Israel intend to escalate tensions.[77]
---
View Citations