September 03, 2015
Al Qaeda in the Indian Subcontinent: Almost Forgotten
Introduction
The rise of the Islamic State of Iraq and al Sham (ISIS) to the forefront of the global jihadist movement challenges al Qaeda's prominence and influence. The ISIS counter-state that does away with the Iraq-Syria border, as well as its growing presence in such places as Libya, the Sinai, and Afghanistan, are proof of the group's power and the effectiveness of its strategy. The leader of ISIS, Abu Bakr al Baghdadi, described al Qaeda's leadership as individuals who have become misguided and who have misled the global jihadist movement.[1] Baghdadi demands allegiance from all Muslims and claims the title, emir al mumineen, commander of the faithful, which was held for decades by Taliban leader Mullah Omar. ISIS's growth has taken its toll on the al Qaeda network. Groups that had once been associated with al Qaeda have splintered, declaring their loyalty to Baghdadi. Al Qaeda's name no longer carries the same recruitment power it once did.
Yet, al Qaeda is not defeated. The core network remains and its leaders are committed to al Qaeda's ideology. It continues to be active throughout the Muslim-majority world, and its affiliated groups in the Maghreb, Horn of Africa, Arabian Peninsula, and Syria continue to follow guidance from al Qaeda's leader Ayman al Zawahiri. Zawahiri responded to Baghdadi's challenge for leadership of the global jihadist movement, as competition between the groups escalated. On September 3, 2014, he announced the establishment of a new Pakistan-based affiliate that would oversee operations in the neighboring countries of India, Bangladesh and Myanmar: al Qaeda in the Indian Subcontinent (AQIS).[2] The announcement came just two months after the Islamic State's declaration of a caliphate under Abu Bakr al Baghdadi ("Caliph Ibrahim") on June 29, 2014.[3] The establishment of AQIS was probably an attempt to unite the splintered jihadist movement in the Indian subcontinent, a region that is home to over 30 percent of the world's Muslim population, where ISIS has yet to develop a significant presence.[4]
Al Qaeda's newest affiliate is still emerging, but may not develop into the regional force waging jihad in the Indian subcontinent Zawahiri envisioned. AQIS has faced setbacks due to U.S. airstrikes, resulting in the loss of several influential leaders.[5] The group has yet to launch an offensive in India or Myanmar and has also failed to carry out a significant attack in Pakistan since September 18, 2014, when it killed an Islamic Studies scholar.[6] AQIS has been nearly forgotten a year after its public debut and is not yet a major regional threat.
The Situation: Islamist Militancy in Pakistan and the Indian Subcontinent
There are already well-established Islamist militant groups in Pakistan and the Indian subcontinent that broadly work toward a shared objective of overthrowing the local governments and replacing them with governments based on shari'a. Many of these militant groups share resources, such as training camps, and also coordinate or cooperate in operations. Pakistan has the most active theater of jihad in the Indian subcontinent and as such, plays an influential role in shaping the jihadi movements in its neighboring nations.
The Pakistan Theater
The Pakistan government and military historically maintained close ties with Islamists and served as a safe-haven for several militant groups. These groups established strongholds in Pakistan over the years and have interconnected networks of operation. There are three major sub-groups of Islamist militant organizations based in Pakistan and they can be grouped according to the primary regions where they carry out their attacks. It is to be noted that many of these groups have targeted Westerners within their given attack zones, even if sometimes such attacks are not the group's primary focus. The three sub-groups include:
India attack zone
Afghanistan attack zone
Pakistan and Western world attack zones
India attack zone: The militant organizations that fall under this category wish to unite the disputed Kashmir region with Pakistan and see India as their main adversary. These groups are largely located in Azad Kashmir (Pakistan administered Kashmir) and Punjab, regions neighboring Indian-occupied states of the same names. Lashkar-e-Taiba (LeT) is perhaps, the most infamous of these groups. LeT is responsible for several high profile attacks on India, notably the 2008 Mumbai terror attacks, which killed over 160 people, including 6 Americans. Pakistan's Inter-Services Intelligence (ISI) has close ties with LeT and initially helped establish a safe-haven for the militants in Kashmir. LeT has never carried out an attack against the Pakistan state, further indicating its cordial relationship with ISI. LeT is also known to have served alongside the Taliban, Haqqani Network, and al Qaeda against U.S.-led coalition forces in Afghanistan.[7] Pakistan still refuses to outlaw LeT's political front Jamaat-ud-Dawa (JuD), which the UN, U.S., and India, among others, have sanctioned as a terrorist organization.[8] LeT has strong links to al Qaeda, and JuD even offered funeral prayers for the late al Qaeda emir Osama bin Laden.[9] Other major groups located in Kashmir and focused on liberation from India include, Hizb-ul-Mujahideen (HM), Harkat-ul-Mujahideen (HuM), and Jaish-e-Mohammad (JeM). Most of these groups have close ties to the Afghan mujahideen, and have previously sent fighters to Afghanistan in support of the Afghan Taliban, al Qaeda, and the Haqqani network, although their primary focus is on Kashmir.
Afghanistan attack zone: There are several militant groups in Pakistan, primarily based in the Federally Administered Tribal Areas (FATA), that are exclusively involved in attacks within Afghanistan. Chief among these groups is the highly influential Haqqani Network. The Haqqani Network maintains a safe haven in North Waziristan and used to be supported by the ISI.[10] The Network, an integral component of the Afghan Taliban, is responsible for numerous spectacular attacks on U.S.-led coalition forces in Afghanistan.[11] It also maintains close ties with al Qaeda.[12] The Haqqani Network's involvement with and support for al Qaeda sometimes goes unstated. A study from the Combatting Terrorism Center concluded that the Haqqani Network is the single most important entity that helped establish, develop, and sustain al Qaeda's role in the global jihad by providing training and other resources.[13] The Pakistani military has historically been reluctant to launch direct attacks against the Haqqani Network as it pursues some of Pakistan's interests in Afghanistan, such as the 2008 bombing of the Indian embassy in Kabul.[14]
Pakistan and Western world attack zones: The Tehrik-e-Taliban Pakistan (TTP) is perhaps one of the most prominent Pakistani militant groups, with close ties to the Afghan Taliban as well as al Qaeda. The TTP operates largely from North Waziristan, a tribal district in the semi-autonomous FATA, and is an amalgamation of several loose factions. These factions are spread out throughout Pakistan and are known to be operational in Karachi, Khyber Pakhtunkhwa, and Punjab. Although the TTP's primary goal is to overthrow the Pakistani government, it also attacks Western targets within the region and outside. The TTP displayed its ability to launch attacks outside Pakistan when it claimed credit for the failed 2010 car bombing in New York City.[15]  The TTP is a Sunni militant group and has launched several attacks against Shia Muslims.[16] Other notable sectarian militant groups involved in jihad within Pakistan include Lashkar-e-Jhangvi (LeJ) and Sipah-e-Sahaba Pakistan.
The Indian Subcontinent Theater
In India, the jihadi movement is closely associated with that of Pakistan. The major theater of jihad in India is the Jammu and Kashmir region, where Azad Kashmir-based militant groups fight to unite the disputed region with Pakistan. Separately, Pakistan-based militant groups such as Lashkar-e-Taiba (LeT) and Jaish-e-Mohammad (JeM) have conducted multiple attacks within India. The Indian Mujahideen (IM) is perhaps the most well known India-based militant group, and is considered to be associated with LeT.[17] Top IM leaders have been trained in LeT camps in Pakistan.[18] The group has carried out attacks all around India and has aims of creating an Islamic caliphate across South Asia.[19]
Bangladeshi militant groups are predominantly focused on establishing an Islamist regime in the country. Harkat-ul-Jihad-al Islami Bangladesh (HuJI-B) and Jamaat-ul-Mujahideen Bangladesh (JMB) are the prominent militant groups and have carried out several large-scale attacks in the country. HuJI-B is known to recruit from the persecuted Rohingya population of Myanmar, in addition to local Bangladeshi men. Ansarullah Bangla Team (ABT) and Ansar al Islam Bangladesh are newly established militant groups that have been responsible for the killing of several secular bloggers. Both these groups have strong links to al Qaeda.
AQIS's Role in Jihad
Zawahiri claimed that AQIS had been established after two years of recruiting fighters and uniting them under the al Qaeda banner.[20] The group pledged allegiance to both Zawahiri and Mullah Omar, during the announcement of its establishment.[21] AQIS's objectives follow those of al Qaeda: wage jihad against the United States for its promotion of disbelief in Islam, revive the Islamic Caliphate and support the Islamic Emirate of Afghanistan under the Afghan Taliban, and establish a society based on shari'a in the Muslim-majority world.[22] AQIS would probably serve as the direct link for radical Islamist groups already existent in the Indian subcontinent to al Qaeda core, the part of the organization directly under Zawahiri's leadership.
There appears to be a strong regional component to AQIS's leadership, which is also an indicator of groups possibly associated with it. AQIS emir Asim Umar and late shura council member Imran Ali Siddiqi have had close ties with Harkat-ul-Mujahideen (HuM). Usama Mahmoud, the AQIS spokesman, praised the efforts of several deceased jihadi leaders for their contributions to the establishment of AQIS in the region.[23] The affiliations of these militants reveal that AQIS is perhaps associated with several regional Pakistani jihadi groups. It might also indicate that the formation of AQIS was in fact, an effort to organize and unite the Indian subcontinent jihad. These groups include, but are not limited to:[24]
Afghan Taliban (Afghanistan)
Tehrik-e-Taliban Pakistan (TTP) (Pakistan)
Harkat ul Jihad al Islami (HuJI) (Bangladesh and Pakistan)
Harkat-ul-Mujahideen (HuM) (disputed Kashmir region)
Harkat-ul-Mujahideen al Almi (HuMA) (Pakistan)
Brigade 313 (Pakistan)
Jaish-e-Mohammad (JeM) (Pakistan)
Lashkar-e-Jhangvi (LeJ) (Pakistan)
Jundullah (Pakistan)
Ansar ut-Tawhid wa al Jihad in Kashmir[25] (disputed Kashmir region)
Ansar al Islam Bangladesh (Bangladesh)
Ansarullah Bangla Team (ABT) (Bangladesh)
AQIS's ties to al Qaeda core and the Afghan Taliban help to establish the group's credentials in the Indian subcontinent. It is likely that the TTP will remain within the al Qaeda network – working with both al Qaeda core and AQIS – but independently. AQIS would be the al Qaeda affiliate operating in Pakistan and providing critical support to like-minded groups in the Indian subcontinent. The group is unlikely to establish an operating base in India or Myanmar, but appears to have affiliates in Bangladesh. Ansar al Islam Bangladesh appears to be the official AQIS affiliate in the country, but this title is likely an acquired one. The group initially carried out attacks on secular bloggers and claimed them separately from AQIS.[26] On May 12, 2015, Ansar al Islam Bangladesh claimed the killing of blogger Ananta Bijoy Das on behalf of AQIS but on August 7, 2015, declared itself as the Bangladeshi branch of AQIS when it claimed the killing of blogger Niloy Chowdhury. The group may have become an official affiliate of AQIS over time. Ansarullah Bangla Team (ABT), interestingly, also claimed some of these same attacks.[27][28] Global media reported that the arrested mastermind of the Niloy Chowdhury killing was a member of ABT, indicating that the group was perhaps another affiliate of AQIS.[29] ABT, however, refuted this claim and denounced any connection to the Chowdhury killing, Ansar al Islam Bangladesh, or even AQIS.[30]
AQIS Leadership
Click to enlarge chart.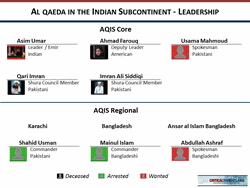 AQIS conceals the identities and past experiences of its leaders and operational members. The group only reveals information in eulogy statements when an important member, usually part of its leadership, is killed. The given nationalities of the militants truly represent the regional aspect of the group as they largely include Pakistanis, Indians and Bangladeshis. AQIS appears to communicate primarily in Urdu—an indication that the group is headquartered in Pakistan. The Bangladeshi affiliate of the group, however, communicates in Bangla. In addition, most of the AQIS leadership is highly experienced in the jihadi movement in Pakistan, having formerly held positions of leadership in affiliated groups.
Asim Umar (emir): There is considerable conflict regarding the origins of Maulana Asim Umar, the reclusive radical Islamic scholar-turned-AQIS leader. Initial reports claimed that he is a Pakistani national and studied at Jamia Uloom-e-Islamia, a Pakistani seminary in Karachi, and at Darul Aloom Haqqania, an Islamist madrassa in Khyber Pakhtunkhwa known for its jihadi alumni.[31] Later reports, however, suggested that Umar may be an Indian citizen and studied at the famous Darul Uloom seminary in Deoband, Uttar Pradesh, India.[32] This report is more likely to be true, as Indian intelligence officers appear to believe that Umar is likely to be of Indian origin.[33]  He is rumored to have been an active member of Harkat-ul-Mujahideen (HuM), a militant group with close ties to al Qaeda, located in Indian Kashmir. He is also said to have hosted former al Qaeda chief, Osama bin Laden,[34] gaining the trust of core leadership in the process. Al Sahab media foundation, al Qaeda's media wing, identified Umar as the head of al Qaeda's shari'a committee for Pakistan, prior to his appointment as AQIS emir.[35] He started appearing on al Sahab publications as early as February 2013, criticizing democratic rule and promoting shari'a in the Indian subcontinent.[36] Umar appears in all his videos with his face obscured but can be identified by his distinctly high-pitched voice and his fast paced, emphatic delivery style.
Ahmad Farouq (former deputy-emir): A U.S. drone strike killed Farouq, the deputy leader of AQIS on January 15, 2015 in North Waziristan, Pakistan.[37] AQIS spokesman, Usama Mahmoud claimed that Farouq was from Islamabad, Pakistan, while White House Press Secretary Josh Earnest stated that Farouq was an American citizen.[38] Farouq apparently completed his education from the International Islamic Institute in Islamabad and joined the jihad in Pakistan shortly after. Farouq served as al Qaeda's head of preaching and media in Pakistan, before being appointed as the Deputy Emir of AQIS.[39]
Usama Mahmoud (spokesman): Very little information is available about the elusive AQIS spokesman.
Imran Ali Siddiqi (former shura council member): A U.S. drone strike killed Siddiqi, also known as Haji Sheikh Waliullah, on October 11, 2014 in Tirah Valley, Khyber Agency, Pakistan.[40] Siddiqi, a veteran al Qaeda operative, was a member of AQIS shura council. Usama Mahmoud, the spokesman of AQIS, stated that Siddiqi was involved in the jihad since the 1990s and also spent several years in prison for orchestrating an attack on the U.S. consulate in Karachi in 2002.[41] Prior to joining AQIS, Siddiqi was allegedly involved with Harkat-ul-Mujahideen (HuM) and had also formed an offshoot, Harkat-ul-Mujahideen al Almi (HuMA), which was involved in several attacks against Western targets in Pakistan.[42]
Qari Imran (former shura council member): A U.S. drone strike killed Qari Imran, an AQIS shura council member, on 05 January 2015 in Datta Khel, North Waziristan, Pakistan.[43] In his eulogy, Maulana Asim Umar mentioned that Imran hailed from Multan, Pakistan, and was the head of the "Khorasan committee" of the AQIS shura council.[44] The "Khorasan" region historically contains Afghanistan, the Afghanistan-Pakistan border, and parts of Iran, Uzbekistan, and Tajikistan. Imran also served the jihad in Afghanistan, Tajikistan and Kashmir.[45]
Regional Leadership: The arrests of the heads of Karachi and Bangladesh affiliates suggest that AQIS is broken down into regional affiliates with their own leadership structures. Mainul Islam, chief coordinator for AQIS in Bangladesh, was arrested in Dhaka on 02 July 2015.[46] Shahid Usman, head of AQIS in Karachi, was arrested on 12 December 2014. He previously served in the militant group Harkat ul Jihad al Islami and was trained in Afghanistan.[47] AQIS's affiliate in Bangladesh, Ansar al Islam Bangladesh's, spokesman is Mufti Abdullah Ashraf. There is currently no information available about him.
Attacks, Targets, and Trends
AQIS announced that it has been operating since early 2013, although the group was only formally established in September 2014.[48] The group has targeted secular bloggers, moderate professors, and the Pakistani security forces. Usama Mahmoud clarified the scope of AQIS's targets, following the 16 December 2014 Peshawar school massacre in which Tehrik-e-Taliban Pakistan (TTP) militants killed over 130 schoolchildren. Mahmoud condemned the attack and clarified that AQIS finds it against the teachings of shari'a to target children, women and innocent Muslims.[49] He further explained that AQIS routinely consults its religious scholars before conducting an offensive.[50]
AQIS Attacks: February 15, 2015 – September 3, 2015

Date

Event Type

Description

Victim(s)

Location

02/15/2013

Attack

AQIS militants killed Rajib Haider, an atheist Bangladeshi blogger

1 killed

Mirpur, Dhaka, Bangladesh

09/02/2014

Attack

AQIS militants killed Brigadier Fazal Zahoor, a senior official in Pakistan army[51]

3 killed, 9 injured

Sargodha, Punjab, Pakistan

09/06/2014

Hijacking

Failed attempt to attack U.S. warships after briefly hijacking PNS Zulfiqar[52]

1 killed

Naval Dockyard, Karachi, Pakistan

09/18/2014

Attack

AQIS militants killed Dr. Mohammad Shakil Auj, a liberal scholar and dean of Islamic studies at University of Karachi[53]

1 killed

Karachi, Pakistan

11/15/2014

Attack

AQIS militants killed Dr. A.K.M. Shafiul Islam, a professor at a Bangladeshi university

1 killed

Bihashpalli, Bangladesh

02/26/2015

Attack

AQIS militants killed Avjit Roy, an atheist Bangladeshi-American blogger[54]

1 killed

Dhaka, Bangladesh

03/30/2015

Attack

AQIS militants killed Washiqur Rahman, a secular Bangladeshi blogger

I killed

Dhaka, Bangladesh

05/12/2015

Attack

Ansar al Islam Bangladesh militants killed Ananta Bijoy Das, a secular Bangladeshi blogger[55]

1 killed

Sylhet, Bangladesh

08/07/2015

Attack

Ansar al Islam Bangladesh militants killed Niloy Neel, a secular Bangladeshi blogger[56]

1 killed

Goran, Bangladesh
AQIS issued a report claiming 18 different assaults on the Pakistani police between November 2013 and October 2014, in addition to the attacks listed in the table.[57] These attacks occurred almost exclusively in the Karachi area.
Click to enlarge map.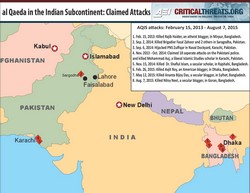 AQIS also appears to be involved in kidnapping and extortion. Ali Haider Gillani, the son of former Pakistani Prime Minister Yusuf Raza Gillani, is in AQIS custody, according to The News International.[58] The report suggested that AQIS is demanding approximately $19 million for the release of Haider, who was abducted on 9 May 2013 during an election campaign in Multan, Pakistan.[59] Initial reports claimed that TTP was responsible for the kidnapping and had demanded the release of some of its arrested leaders for freeing Haider Gillani.[60] It is likely that TTP transferred the custody of Gillani to AQIS, indicating that the group still functions in coordination with the al Qaeda network. There is a large degree of cooperation between militant groups in Pakistan, and TTP's close links to al Qaeda core and AQIS is evidenced in this case. AQIS held two prominent Western hostages until their deaths due to a U.S. airstrike in January 2015. Al Qaeda militants abducted American hostage Warren Weinstein, an aid worker, from his home in Lahore, Pakistan, in 2011, while Giovanni Lo Porto, an Italian aid worker, was kidnapped from Multan, Pakistan, in January 2012. Usama Mahmoud later released a statement announcing that the two hostages had converted to Islam before their deaths and that they were "loved and respected" by the mujahideen.[61]
Conclusion
AQIS was initially projected to become a major player in the Indian subcontinent's jihad. The group, however, appears to be deeply fractured and its inability to carry out or even attempt an attack in Pakistan since October 2014 implies that the group is under pressure from operations carried out by the Pakistani military. Operation Zarb-e-Azb, for instance, which is an offensive to combat militancy in Pakistan's troubled tribal regions, reduced AQIS's activity and eliminated over 50 of its members, including several of its senior leaders, as of April 2015.[62] The group has yet to attempt a large-scale attack since the failed hijacking of PNS Zulfiqar in September 2014, indicating that the group is perhaps lacking in funds and/or manpower. AQIS's only active affiliate, Ansar al Islam Bangladesh, appears to be incapable of conducting large-scale attacks and has specialized in the targeted killings of secular bloggers in Bangladesh. AQIS has suffered losses in Bangladesh too. Bangladeshi security forces have taken strict measures to curb militancy in the region, leading to the arrests of several of AQIS's influential members, including top leadership.[63] These attacks and arrests have been a major blow for the group, which is yet to launch an offensive in India, considered as its chief target.
AQIS appears to be distant from al Qaeda core and its other major affiliates. AQIS leader Asim Umar and spokesman Usama Mahmoud both pledged allegiance to Mullah Omar, the former leader of the Afghan Taliban, during the establishment of the group.[64][65] The group, however, is yet to eulogize Mullah Omar, following the recent confirmation of his death.[66] All other al Qaeda affiliates have eulogized the former Taliban leader, who was seen as emir al mumineen, commander of the faithful, by al Qaeda. AQIS has also not eulogized important al Qaeda officials, notably Nasser al Wahayshi, who was killed in June 2015. Wahayshi served as general commander of al Qaeda core and was also the leader of al Qaeda in the Arabian Peninsula (AQAP).
The announcement of Mullah Omar's death presents ISIS with an opportunity to expand its growth in Afghanistan, and then possibly, Pakistan. ISIS's Wilayat Khorasan will look to capitalize on the power vacuum in Afghanistan to absorb groups unhappy about the appointment of the new Taliban leader Mullah Akhtar Mansour.[67] AQIS's ineffectiveness has led to the defection of the prominent Pakistan-based militant group, Islamic Movement of Uzbekistan (IMU). IMU, formerly closely associated with al Qaeda, pledged allegiance to the Islamic State leader Abu Bakr al Baghdadi in August, 2015.[68] The Islamic State also recently established a base in Pakistan, adding to AQIS's woes.[69] This would mean that in addition to resisting Pakistani military attacks on its bases, AQIS would also have to be prepared for an Islamic State assault. Al Qaeda's arrival to the Indian subcontinent was initially expected to be a major step to counter Islamic State's domination of the global jihadist movement. AQIS has failed to live up to this lofty expectation, and its inability to prevent ISIS from spreading its jihad to the Indian subcontinent jihad is testament to its ineffectiveness. The group might still strengthen its efforts and establish its regional presence, but looking back at its first year of official existence, AQIS appears to have failed to develop into the regional force it was expected to become.
---
View Citations