IRAN FILE
The Iran File is a weekly intelligence summary that synthesizes events from the past week and forecasts what to expect in the future. 
Loading...
Loading...
Tehran ups Pressure on Europe Further
[Notice: The Critical Threats Project frequently cites sources from foreign domains. All such links are identified with an asterisk (*) for the reader's awareness.]
Key Takeaway: The Iranian regime may violate the Joint Comprehensive Plan of Action (JCPOA) in the near future.
Atomic Energy Organization of Iran (AEOI) spokesperson Behrouz Kamalvandi announced on May 20 that the AEOI will quadruple its low-enriched uranium (LEU) "production capacity." This increase does not violate the JCPOA. The JCPOA mandates a 300 kilogram (kg) limit on Iranian LEU and heavy water stockpiles, however, which Iran could exceed in the coming weeks or months. President Hassan Rouhani announced on May 8, 2019, one year after the US withdrew from the nuclear deal, that Iran would no longer adhere to the stockpile limits. The regime seeks to pressure Europe into providing Iran concrete economic incentives to remain party to the agreement. The move was also partly in response to a US decision on May 3 to revoke sanctions waivers relating to Iran's civilian nuclear program that allow Iran to export its LEU and heavy water. Europe may reimpose sanctions on Iran if it violates the JCPOA.
The Iran File will resume the week of June 3, 2019.
---
NUCLEAR DEAL DEVELOPMENTS
AEOI quadruples LEU production rate. AEOI spokesperson Behrouz Kamalvandi *announced on May 20 that the AEOI will quadruple its LEU "production capacity." Kamalvandi emphasized that the increase is within the framework of the JCPOA. He added that Iran could soon exceed the JCPOA-mandated 300 kg stockpile limit.
---
REGIONAL DEVELOPMENTS & DIPLOMACY
Iranian proxies and partners escalate against the US and partners in the region. Iran's regional proxies and partners have attacked US and partner interests throughout the region in recent weeks. Unidentified militants fired a rocket toward the US Embassy in Baghdad on May 19. The rocket missed the embassy and caused no casualties. An Iraqi Counter Terrorism Service official claimed that the Iranian-backed proxy Kataib Hezbollah fired the rocket. Iranian-backed militias, including Kataib Hezbollah, subsequently condemned the attack. Islamic Revolutionary Guards Corps (IRGC) Quds Force Commander Maj. Gen. Qassem Soleimani recently told Iranian-backed forces in Baghdad to "prepare for proxy war" against the US. This influenced the US decision to evacuate nonessential American employees at the Baghdad Embassy and the US Consulate in Erbil on May 15.
Iran may also seek to co-opt regional proxies and partners to threaten Saudi and Emirati oil assets. Unknown perpetrators attacked four Saudi, Emirati, and Norwegian oil tankers near Fujairah Port, United Arab Emirates, on May 12. The US and a Norwegian insurer both assessed that the Iranian regime likely facilitated the attack. The Iranian-backed al Houthi movement then conducted a drone attack against two Saudi oil facilities 500 miles from the Yemeni border on May 14. The attacks may be part of an Iranian strategy to co-opt its regional proxies and partners to disrupt global energy trade, create uncertainty in the oil market, and attack Saudi Arabia and the UAE where they are vulnerable.
The US and Iran separately discuss regional affairs with Oman. Foreign Minister Mohammad Javad Zarif *met with Omani Foreign Minister Yusuf bin Alawi bin Abdullah in Tehran on May 20 to discuss international affairs and bilateral relations. This comes after US Secretary of State Mike Pompeo held a phone call on May 16 with Omani Sultan Qaboos bin Said al Said to discuss regional issues, Iran, and Yemen. Oman has historically served as a diplomatic mediator between the US and Iran.
---
MILITARY & SECURITY
IRGC undergoes personnel and structural changes. Supreme Leader Ayatollah Ali Khamenei appointed four individuals to senior IRGC positions in recent weeks. Khamenei appointed IRGC Commander Maj. Gen. Mohammad Ali Jafari as Baghiyatollah Social and Cultural Headquarters head on April 21. Khamenei replaced Jafari with IRGC Deputy Commander Maj. Gen. Hossein Salami. Khamenei then *appointed IRGC Coordination Deputy Brig. Gen. Ali Fadavi as IRGC deputy commander and IRGC Cultural and Social Deputy Brig. Gen. Mohammad Reza Naghdi as IRGC coordination deputy on May 16. Salami and Fadavi often use inflammatory and anti-American rhetoric. Salami subsequently appointed IRGC Intelligence Organization Deputy Chief Brig. Gen. *Hossein Nejat as IRGC cultural and social deputy and IRGC Brig. Gen. *Hassan Mohaghegh as IRGC Intelligence Organization deputy chief on May 18.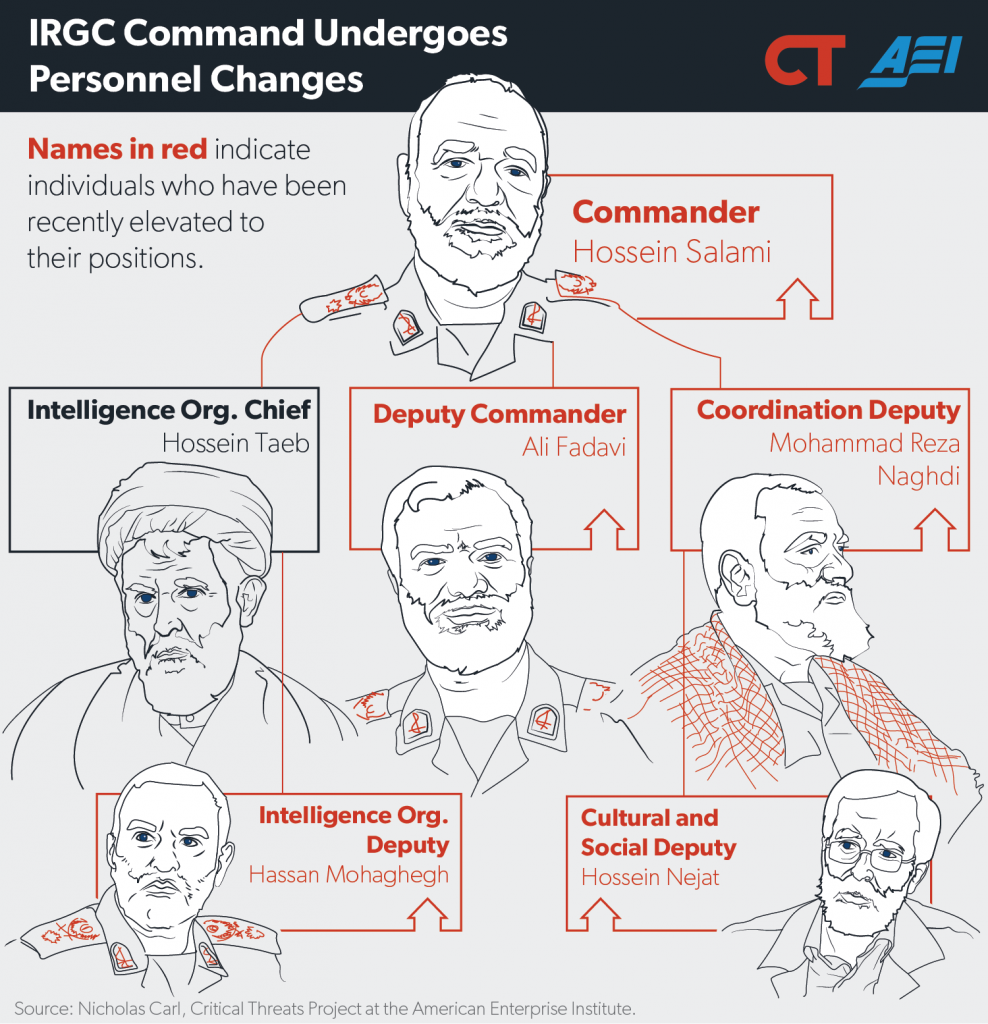 Khamenei also *ordered structural changes to the IRGC amid heightened tensions between the US and Iran. Iranian media *reported that the IRGC Intelligence Organization will take on a more regional focus and specifically assess the United States' "daily pattern of behavior." Iranian media also claimed that the organization will integrate with the Strategic Intelligence Directorate. Salami confirmed that Hojjat ol Eslam Hossein Taeb will remain IRGC Intelligence Organization chief.
Artesh commanders plan for possible escalation with the US. Artesh Commander Maj. Gen. Abdol Rahim Mousavi *convened with Artesh Ground Forces Commander Brig. Gen. Kiomars Heydari, Artesh Air Force Commander Brig. Gen. Aziz Nasir Zadeh, Artesh Navy Commander RADM Hossein Khanzadi, and Artesh Khatam ol Anbia Air Defense Base Commander Brig. Gen. Alireza Sabahi Fard on May 18. The senior Artesh commanders discussed the strategic, operational, and tactical combat readiness and preparedness of their forces. The commanders also discussed the regional situation. *Nasir Zadeh, *Khanzadi, *Sabahi Fard, and Artesh Commander Senior Adviser Brig. Gen. *Farzad Esmaili have all separately visited Artesh facilities and bases around the Persian Gulf in recent weeks.
Nuclear Deal's Future Falls into Uncertainty 
[Notice: The Critical Threats Project frequently cites sources from foreign domains. All such links are identified with an asterisk(*) for the reader's awareness.]
---
Forecast: The Iranian regime will renege on some of its commitments to the Joint Comprehensive Plan of Action (JCPOA) to pressure Europe into offering Iran immediate and concrete economic benefits. The regime intends to signal its dissatisfaction with Europe's efforts to preserve economic ties with Iran and portray strength against mounting U.S. pressure. The regime may leave or violate the JCPOA and resume its nuclear activities if Europe fails to offer Iran satisfactory economic deliverables.
The regime partially suspended its JCPOA commitments in response to mounting U.S. pressure and stalled European efforts to preserve economic ties with Iran. Iranian President Hassan Rouhani made the announcement during a nationally broadcast speech on May 8, 2019, exactly one year after U.S. President Donald Trump withdrew the U.S. from the JCPOA. Rouhani *stated that Iran will no longer limit its low-enriched uranium (LEU) and heavy water stockpiles in accordance with Article 26 of the JCPOA. The article states that Iran declared that it would treat reimposed U.S. sanctions "as grounds to cease performing its commitments under this JCPOA in whole or in part." The announcement came after the U.S. revoked sanctions waivers relating to Iran's civilian nuclear program, which allowed Iran to export its LEU and heavy water on May 3. Iran would need to cease its production of both if it reached the JCPOA-mandated stockpile limits and could not export the LEU and heavy water.
Regime officials emphasized that this partial suspension of commitments is not a withdrawal from the deal but rather signals discontent with Europe's unwillingness to circumvent U.S. sanctions. Europe seeks to use a humanitarian trade mechanism, known as the Instrument in Support of Trade Exchanges (INSTEX), for medicinal and food trade with Iran, but progress has been slow, and the mechanism is currently inoperative. Rouhani stated that Europe must fulfill its commitments to maintain banking ties and oil trade with Iran, implying that INSTEX and humanitarian trade are not enough. Rouhani also emphasized Iran's willingness to continue negotiations with Europe and that Iran will return to fulfilling all its JCPOA commitments when Europe meets its economic expectations.
The regime may leave or violate the JCPOA if Europe fails to satisfy its demands. Rouhani stated on May 8 that Iran will no longer adhere to uranium enrichment limits and will resume construction at the Arak Heavy Water Reactor Facility if Europe fails to provide Iran economic deliverables in 60 days. European nations emphasized their continued support for the JCPOA in response to this announcement but also cautioned Iran against abandoning its commitments. An unidentified French official reportedly warned that any Iranian violation of the JCPOA will "oblige [Europe] to reimpose sanctions." It is very unlikely Europe will fully satisfy the regime's economic expectations, particularly within the 60-day deadline, making it likely that the deal will fray further if it does not collapse altogether.
The JCPOA's collapse could significantly increase already-high tensions between the U.S. and Iran. The U.S. expedited the deployment of a carrier strike group and bomber task force to the Persian Gulf on May 5 in response to intelligence of potential Iranian threats to American forces in the region. The intelligence reportedly detailed possible attacks in Iraq, Syria, Kuwait, the Persian Gulf, and the Bab el Mandeb Strait off the Yemeni coast. The U.S. also assessed that the regime was moving short-range ballistic missiles in the Persian Gulf, possibly in preparation for an escalation near the Strait of Hormuz. The JCPOA's collapse and resumption of the regime's nuclear program could further exacerbate these tensions and trigger an intentional or unintentional military escalation between Iran and the United States.
Next up on the Regime's Hit List: Instagram
[Notice: The Critical Threats Project frequently cites sources from foreign domains. All such links are identified with an asterisk(*) for the reader's awareness.]
---
The Iranian Judiciary blocked Telegram this time last year. Iran may soon block another popular social media application: Instagram.
Forecast: The Iranian Judiciary may soon block the popular social media application Instagram. Regime officials, including Supreme Leader Ayatollah Ali Khamenei, have recently criticized social media networks for inciting anti-regime sentiments, moral and financial crimes, and violence in Iran. Instagram's suspension of several accounts linked to Islamic Revolutionary Guards Corps (IRGC) commanders and the recent killing of a cleric in Hamedan have renewed calls for greater social media restrictions in Iran. Recent events could serve as cover for the regime to preemptively ban Instagram in an effort to stymie protester coordination and foreign influence ahead of any future protests in Iran.
Regime officials have been pushing for Instagram's ban over the past year. The Iranian Judiciary *blocked the popular messaging application Telegram on The original publication of this Iran File had incorrectly put the date for the Judiciary ban on Telegram as April 30, 2019. April 30, 2018. Regime officials since have signaled their intent to ban Instagram. First Deputy Prosecutor General of Iran Hojjat ol Eslam Mohammad Mosaddegh *told Fars News Agency that Instagram will be blocked on July 4, 2018. Mosaddegh cited concerns about Instagram celebrities taking advantage of innocent people to steal their money. However, Information and Communications Technology Minister Mohammad Javad Azari Jahromi quickly *denied Mosaddegh's claim. Deputy Iranian Prosecutor General for Cyberspace Affairs Javad Javid Nia *stated in early December 2018 that many religious scholars have been calling for blocking Instagram. Javid Nia followed up on January 2, 2019, claiming that Iran's Judiciary had filed an injunction to block Instagram but had not ruled on the matter to allow Iran's Supreme Cyberspace Council time to reach full consensus on the matter. Javid Nia noted that a majority of the Supreme Cyberspace Council agrees that blocking Instagram is necessary. Javid Nia also noted that the Iranian Judiciary can block Instagram on its own and will do so if the Supreme Cyberspace Council does not act soon.
Recent events, including the IRGC's foreign terrorist organization (FTO) designation and the killing of a cleric, have renewed Instagram as a regime target. The Trump administration designated the IRGC as an FTO on April 15. Instagram suspended the accounts of several IRGC commanders on April 16, including IRGC Quds Force Commander Maj. Gen. Qassem Soleimani and Armed Forces General Staff (AFGS) Chief IRGC Maj. Gen. Mohammad Hossein Bagheri. Instagram also suspended the accounts of non-IRGC regime officials, most notably Judiciary Chief Hojjat ol Eslam Ebrahim Raisi. Instagram, however, quickly *revoked the suspension of Raisi's account. More recently, a man in Hamedan killed a cleric on April 27. The assailant, reportedly a former IRGC member, posted photos and videos of himself with his weapons following the assassination on his personal Instagram account. Local Law Enforcement Forces (LEF) later *killed the man. Supporters and those who reportedly knew the assailant also posted videos on Instagram discussing the man's motives and expressing their support for his cause. Khamenei *spoke about the killing during a meeting with senior LEF commanders on April 29. Khamenei stated that he had himself seen four of the man's photos on Instagram. Khamenei used the occasion to call for stricter gun controls and cyberspace restrictions. On the same day, Passive Defense Organization Commander IRGC Brig. Gen. Gholam Reza Jalali called for governmental control over social networks in times of crisis. Jalali *stated that "social media networks [during] times of crisis move the people against the government and places the executive system under pressure. . . . It must be controlled."
Iran has developed a homegrown Instagram alternative and may use that as a platform to replace Instagram. Supreme Cyberspace Council Secretary Abolhassan Firouz Abadi *stated that "so far there is no directive for the blocking" of Instagram on April 24. Firouz Abadi, however, stressed the need to create a domestically made Instagram and will do so in the near future. Iran is already running an Iranian Instagram in an effort to replace the American original. The regime prepared several alternatives to Telegram before finally banning Telegram in spring 2018. Iranian-built alternatives to popular applications have been poorly received by the Iranian population and seen as a means by which the regime can spy on and monitor its citizens' cyber activities. Google recently removed two alternatives to Telegram from Google Store on April 25 over concerns of regime espionage. Regime attempts to restrict people's speech and internet freedoms will only add to their list of unresolved and worsening grievances.
The regime may ban Instagram preemptively in advance of future massive economic protests, which may require a more violent crackdown. The chance for future domestic unrest and economic protests are high and will increase over the coming weeks as U.S. economic pressure on Iran continues to mount. Regime fears over protest coordination via mobile applications and foreign influence on Iran's protest scene could lead the regime to target Instagram soon. The regime previously *blocked Instagram, albeit temporarily, during the Dey Protests in late December 2017. Regime fears over the reignition of widespread protests throughout Iranian cities and towns will likely result in further regime action against factors that can enable a stronger, more organized protest movement. The regime also likely fears that it will have to take more brutal measures the next time widespread protests occur in Iran. The regime wouldn't want such measures documented. A regime ban on Instagram may indicate that regime officials fear a renewed protest movement. It also may indicate that they expect they will have to use more violence to quell protests.